Is an audio guide easy to use?
Basically, audio guides are designed to be easy to use. They usually contain simple instructions on how to start and stop the sound, how to move through different sections, and how to adjust the volume. Some audio guides may also include interactive features, such as the ability to learn more about specific exhibits or points of interest, or the ability to change the language of the audio.
However, there may be some complexity depending on the specific audio guide and how it is set up. For example, an audio guide that requires a user to download and install an app on their smartphone may be more complicated to use than one that is included as a separate device. Also, instructions may not be clear enough or difficult to understand, which may make it difficult to use for some visitors.
As in general, it is a good idea to test the audio guide before starting the tour and to be aware of the instruction, in case you encounter any problems. The staff at the museum or site should be able to help you with instructions and troubleshoot any problems you may have.
We have highlighted some advantages and disadvantages that can be experienced.
When you have to make a choice whether to offer an audio guide to your guests, your choice depends on your visitors' specific needs and preferences.
BENEFITS
Convenience: Audio guides can be used at any time and at the visitor's own pace.
Detailed information: Audio guides can provide more detailed information than a guide might be able to convey during a live tour.
Independence: Visitors can learn on their own without having to keep up with a group.
Multiple language support: Audio guides can offer multiple languages, which can be helpful for visitors who don't speak the local language.
Accessibility: Audio guides are particularly useful for people with visual impairments.
CONS
Lack of interaction: Audio guides lack the personal and interactive experience that a guide can provide.
Limited flexibility: Audio guides cannot adapt information to individual visitors or answer questions on the spot.
Possibility of technical problems: Audio guides can fail or the batteries can run out.
Possibility of distractions: Audio guides can be a source of distractions for other visitors or staff, if the user does not have earplugs.
Personal guide vs audio guide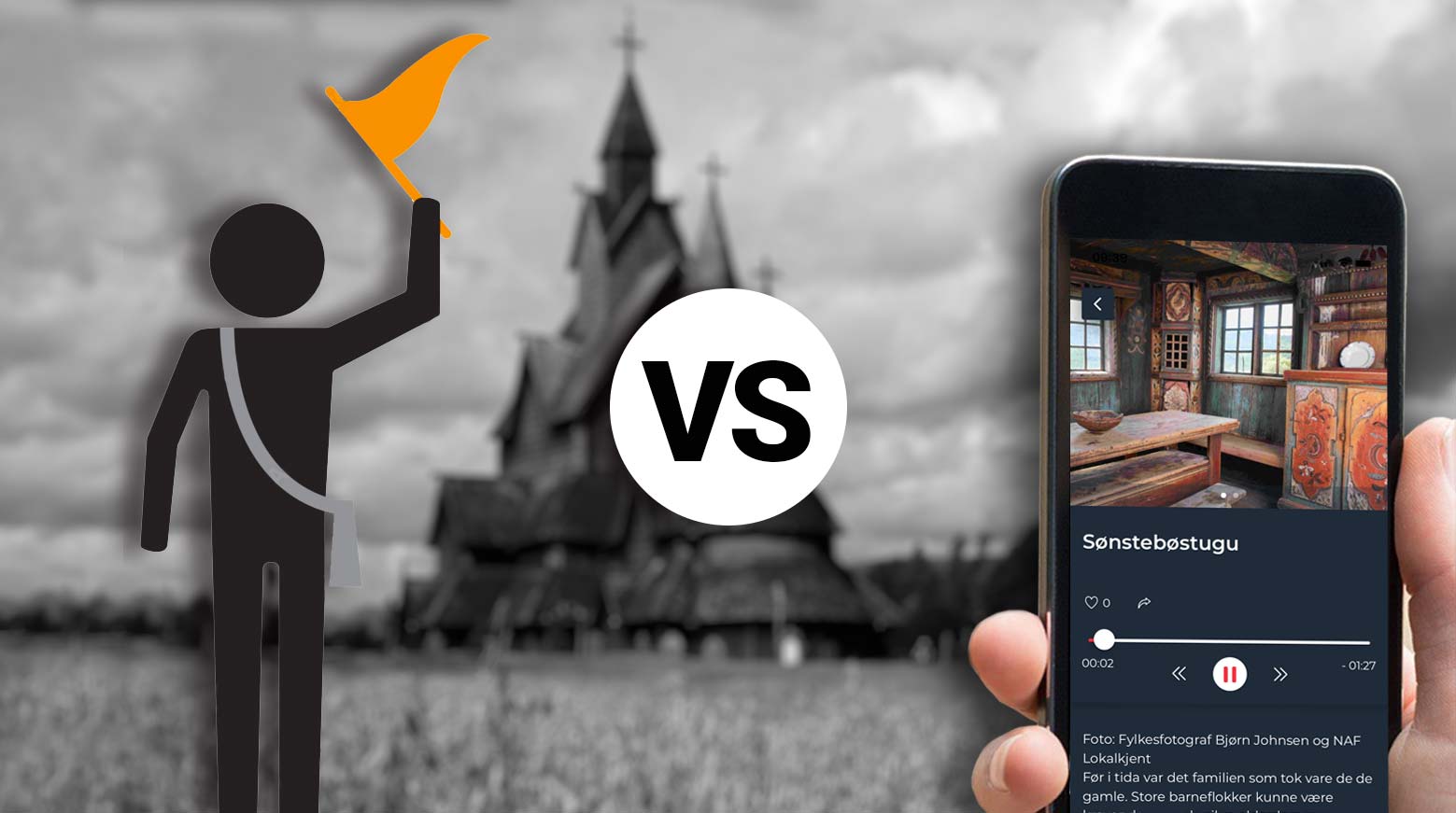 This is how the Voice Of Norway audio guide works
Download the Voice Of Norway app via the QR code
The map shows the way to the places (GPS)
The audio stories start automatically now that you are in the right place
The stories have a professional narration
Pictures supplement what you see
Available all year round and around the clock
Remember earplugs for a good listening experience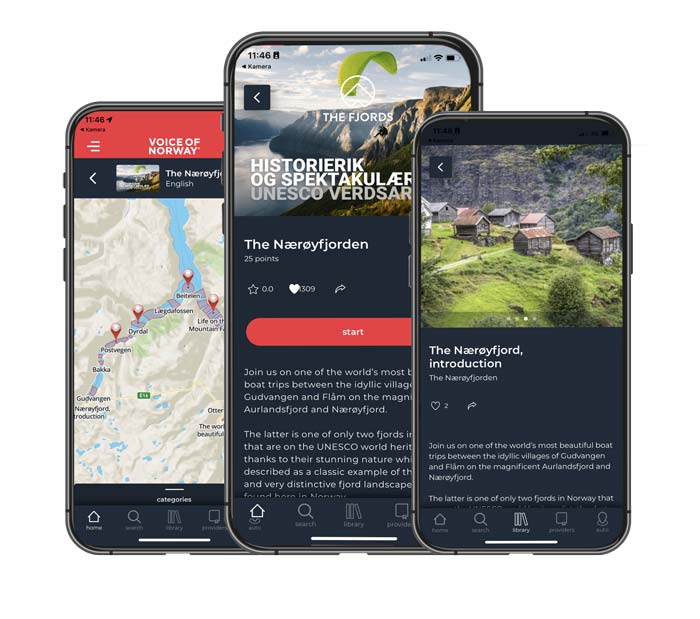 Do you take care of and make visible the cultural heritage in your place?
In the smart guide Voice Of Norway, there is room for all industries.
Learn more about the solution
Make cultural heritage visible
Deliver content on a smartphone that "everyone" has.
Can be used to communicate all types of topics in all industries.
Location-specific content.
The same audio guide on a journey throughout Norway.
Access to 1,000s of stories from all over Norway.
Space for many languages.
Does not disturb others, when using own headphones.
Does not need internet.
Contagion-friendly and available around the clock.
Updated in real time.
The solution does not require any intervention in nature.
The solution is not visually polluting.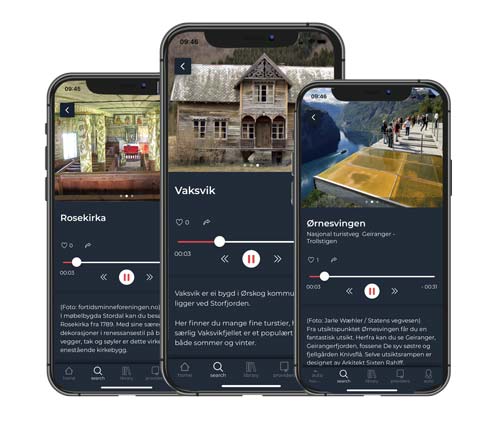 Become part of Norway's largest audio guide platform
The Voice Of Norway app is used throughout Norway. Here's how it becomes a joint service for everyone: to make the stories visible in their place – designed by yourselves.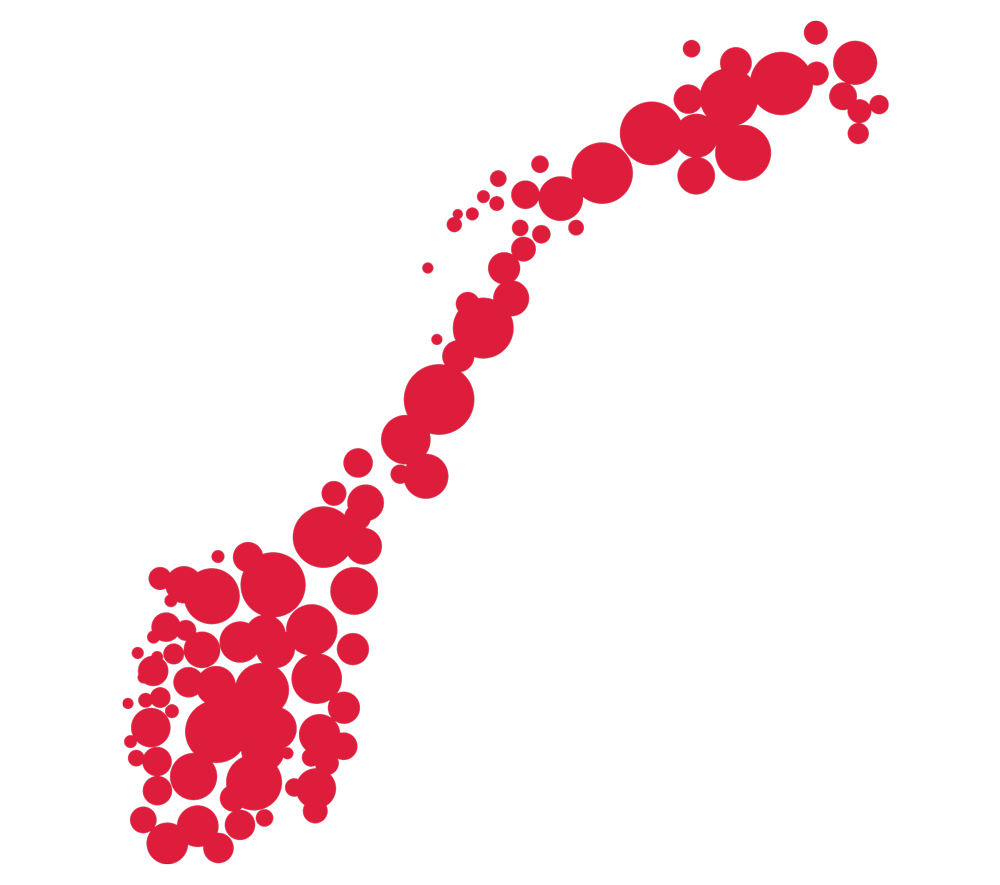 Ta kontakt med oss for å få vite mer om hvordan du kan legge til rette for denne typen formidling i din region eller område!
Team Voice Of Norway
Telefon: 94096772