Completely new experience with walking theater in audio guide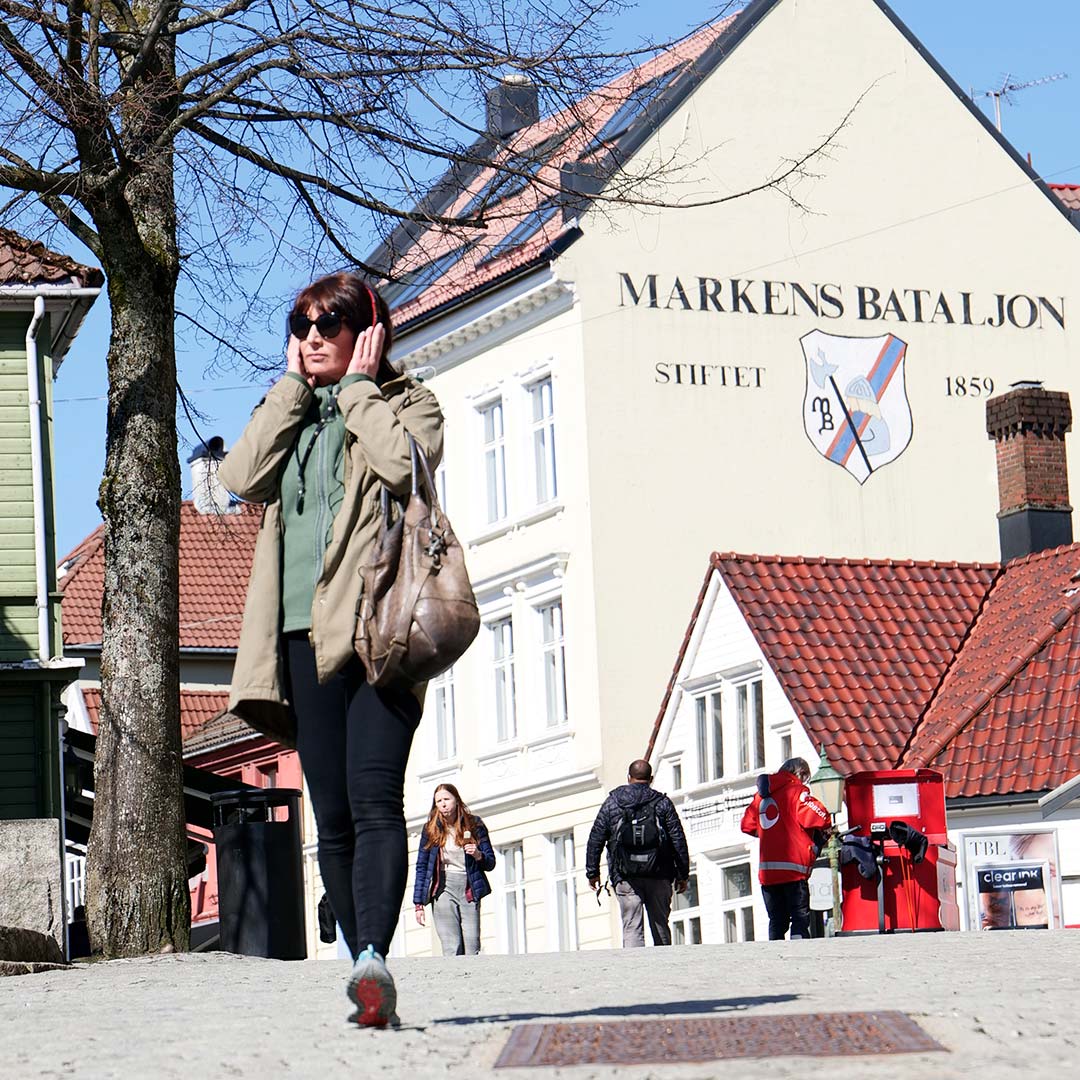 – We wanted to explore the possibilities that lie in the intersection between listening to music and city walking. It is also exciting to use GPS technology, which everyone has on their own phone. The stories get a very special nerve and closeness when you go with your own headphones and the urban space becomes the scenography. We thought Pedro Carmona-Alvarez's distinctive signature was a perfect fit for such an assignment, and he has been free to play within this format, says Silje Gripsrud, program manager for dns& at Den Nationale Scene.
Voice Of Norway , which is available to everyone.
21 actors make their mark in the city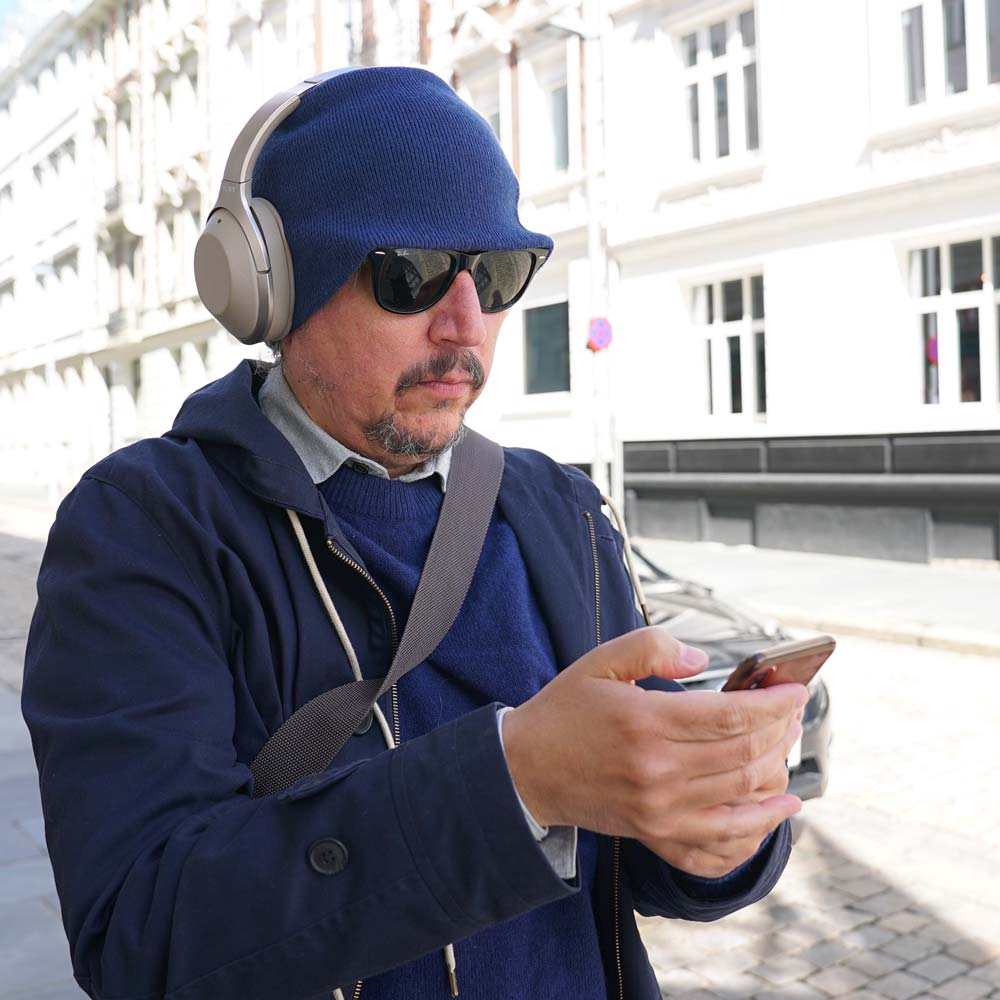 The listening performance is in the app Voice of Norway, which is often used by the tourism industry. "City of Echoes" contains stories with a wide range of mood and character, and one gets the feeling of hearing echoes from something that has happened or may happen. The frame story depicts the meeting between two old schoolmates. The sound tracks are connected to zones along a route from St. John's Church to the railway station via Nøstet and Torgallmenningen. A total of 21 actors participated in the project, which was recorded in the theatre's sound studio.
– I have been very excited about how the actors have interpreted my texts. After all, they add their own layers to the various stories, and their choices are sometimes surprising, but always interesting, says Carmona-Alvarez, who is new as a playwright.
Intertwine with each other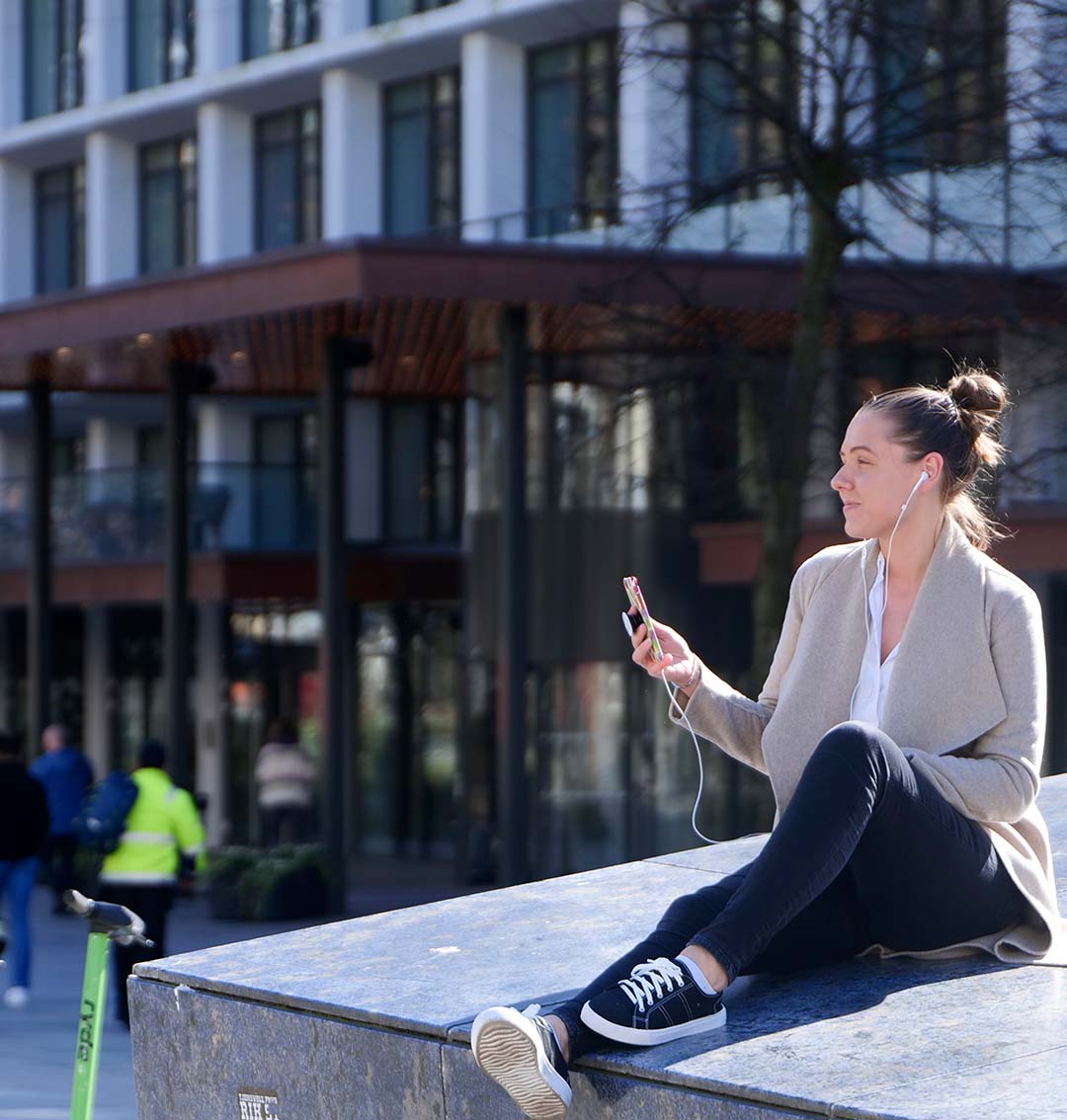 The author has lived in Bergen since the 90s. He grew up in Chile, Argentina and Kolbotn. Among Carmona-Alvarez's many publications are the novels "Bergen ungdomsteater" and "And the weather changed and it became summer and so on", and he has also written six poetry collections and a number of essays. In parallel, he has been a songwriter and musician. The lyrics often revolve around memories and music, kinship and outsiders.
– I am concerned with conversation as a form, and how different times, destinies, and to that extent artistic works, interfere with each other. For example, I am fascinated by how you can sense old things under the new, says Pedro Carmona-Alvarez.
It is free to experience the listening performance, and it is available from 22. May to the end of September. Once the app with the listening performance has been downloaded, you can follow the route whenever you want. Instructions for use and maps are posted on dns.no.
Walking theatre
- through Bergen's many streets
On the tour, you can hear 21 actors give life to the eight sub-stories. When you walk the route through Bergen's many streets, the stories start playing automatically when you walk inside the zone.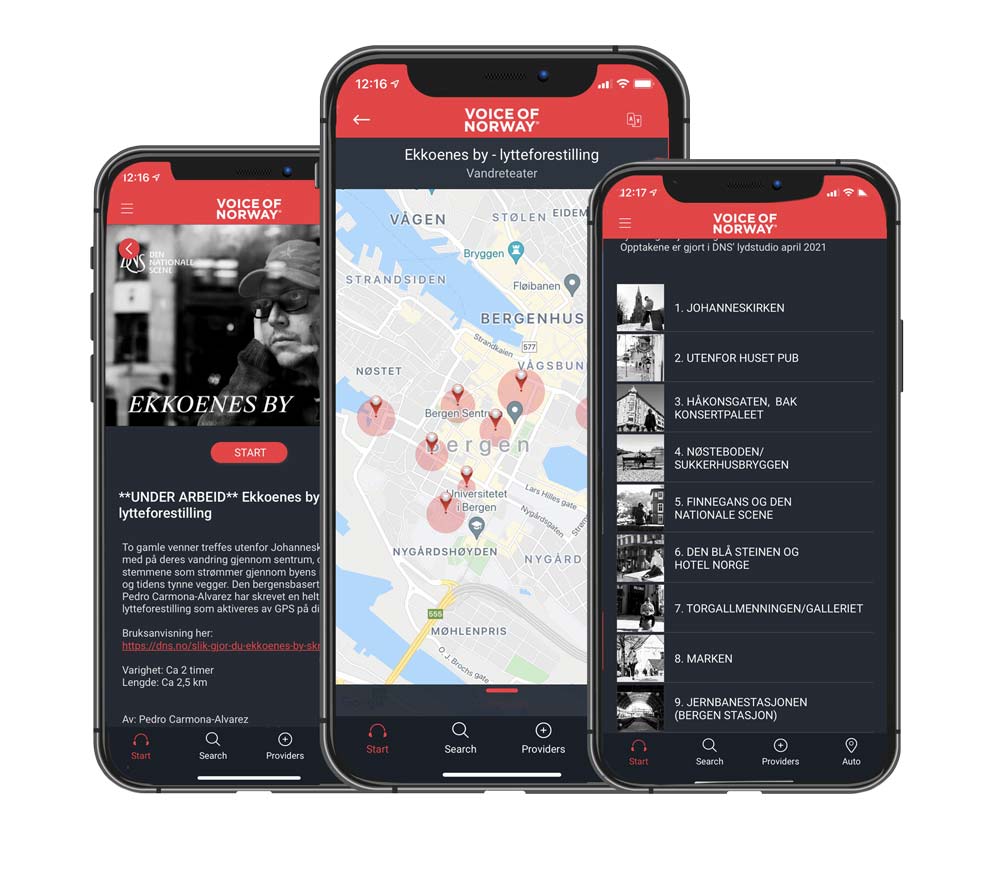 This is how the audio guide works
When you get to the right place, the story is automatically told.
The map shows where you are and where all the stories are located.
In addition, you get to see supplementary images that enhance the experience.
The guide is available around the clock.
Contagious friendly

You use your own mobile as a guide

Easy to keep distance from others

Visit the place when there are few people there

Professional guide when it suits you
The guide routes in the Voice Of Norway app
- a collaborative project with the whole of Norway
The Voice Of Norway app is used throughout Norway. This is how it becomes a joint service for all regions: to make it easy for travelers to have good experiences in Norway – designed by yourselves.
Ta kontakt med oss for å få vite mer om hvordan du kan legge til rette for denne typen formidling i din region eller område!
Team Voice Of Norway
Telefon: 94096772