Experio expands its expertise
– With industry experience from hotel management and a big heart to provide more for the tourists, we welcome the new marketing manager Ole T. Hoelseth to the Voice Of Norway team in Experio!
Will offer travelers more and charge for it
– For me, as marketing manager at a high mountain hotel, Voice of Norway was a revelation. Finally, I could offer the guests something more than a bed and food, without it costing the shirt and we could charge more, says Ole T. Hoelseth. Before he could initiate his vision, he fell victim to the corona and was laid off, but from 1. Since September, he has been marketing manager at Experio AS.
– Everyone who works in tourism recognizes this: It is not possible to attend a single course or read a single article aimed at tourism, without being told that we must offer our guests added value. Food and a bed are not enough. They must experience something, and in this storytelling is essential. At the hotel, we sold Tante Gunn's party sausages from a small butchery in Skjåk and told the guests the story that in the regions the word "black pig" was an incorporated word for the pigs that had not been reported to the tax authorities – and suddenly the sausage tasted even better!
- And how does Voice Of Norway come into this?
– I became aware of Voice of Norway at a fair in Trondheim and it was a Eureka experience. I had wracked my brain about 50 times to figure out how to offer the guests something more in terms of experiences and storytelling. People come to a high-end hotel to go hiking in the mountains, but I knew we would add an extra dimension to the hikes if they went with a guide. I wrote a blog I'm still proud of, but there are no mountain walkers who read blogs while walking, they need to be told what they see while walking.
Why didn't you sell guide services?
– Because it was too expensive. Those who worked at the hotel, they had their regular duties and did not have room in their timetable to go on guided tours with guests. Hiring a person who was only supposed to be a guide was too expensive, hiring a guide cost NOK 5,000 a day and there was no market for that. It was no wonder I loved the idea of offering guests an audio guide.
– Where does the story of electric snowmobiles come in?
– I love the idea of combining tourism products with the most environmentally friendly things Norway can offer. When Germans come to Norway, Norwegian, clean nature, wilderness and environmentally friendly tourism are as if baked into the ticket. I went to Canada to buy the world's first mass-produced electric snowmobile and was only looking forward to combining it with audio guidance from Voice of Norway, and telling the guests that the snowmobiles were charged with electricity from our own power plant.
- But that dream didn't come to fruition?
– It has become something, it just changed shape! Now I help others see what I saw. It was the corona that got me a new job, and it was extra fun that I loved the product when I was sitting on the other side of the table too. Once everything gets back to normal, I don't think we'll see a single hotel, with any self-respect, that doesn't have a guide route with Voice of Norway. The same applies to passenger transport companies. We already know that they have seen the light, because we have many customers in the sector. It's that simple: If you can sell something more than a normal sausage and tell a story about it, you'll earn more money. Can you give the guest, the passenger or the visitor a good explanation of what he or she sees by telling a story – yes, suddenly the mountain or the old seat ruins you see are much more interesting. Audio narrations add a new dimension, and that dimension is the same as cash in the till!
Brings together the whole of tourism Norway
We at Team Voice Of Norway are happy to have an enthusiastic Ole join the team!
Together, we collect all of tourism Norway in an audio guide, so that it is easy for travelers to find sights and activities in new places.
Our goal is for travelers to stay at least one day longer!
This is how the audio guide works - watch, listen and learn
Download the app
The routes where you are come up first
Go the relevant route. The map shows the way
The audio guide automatically starts telling the story when you are in the right place
See photos of the area in the app
The guide is in several languages
The guide can also be used to plan where you want to go the next day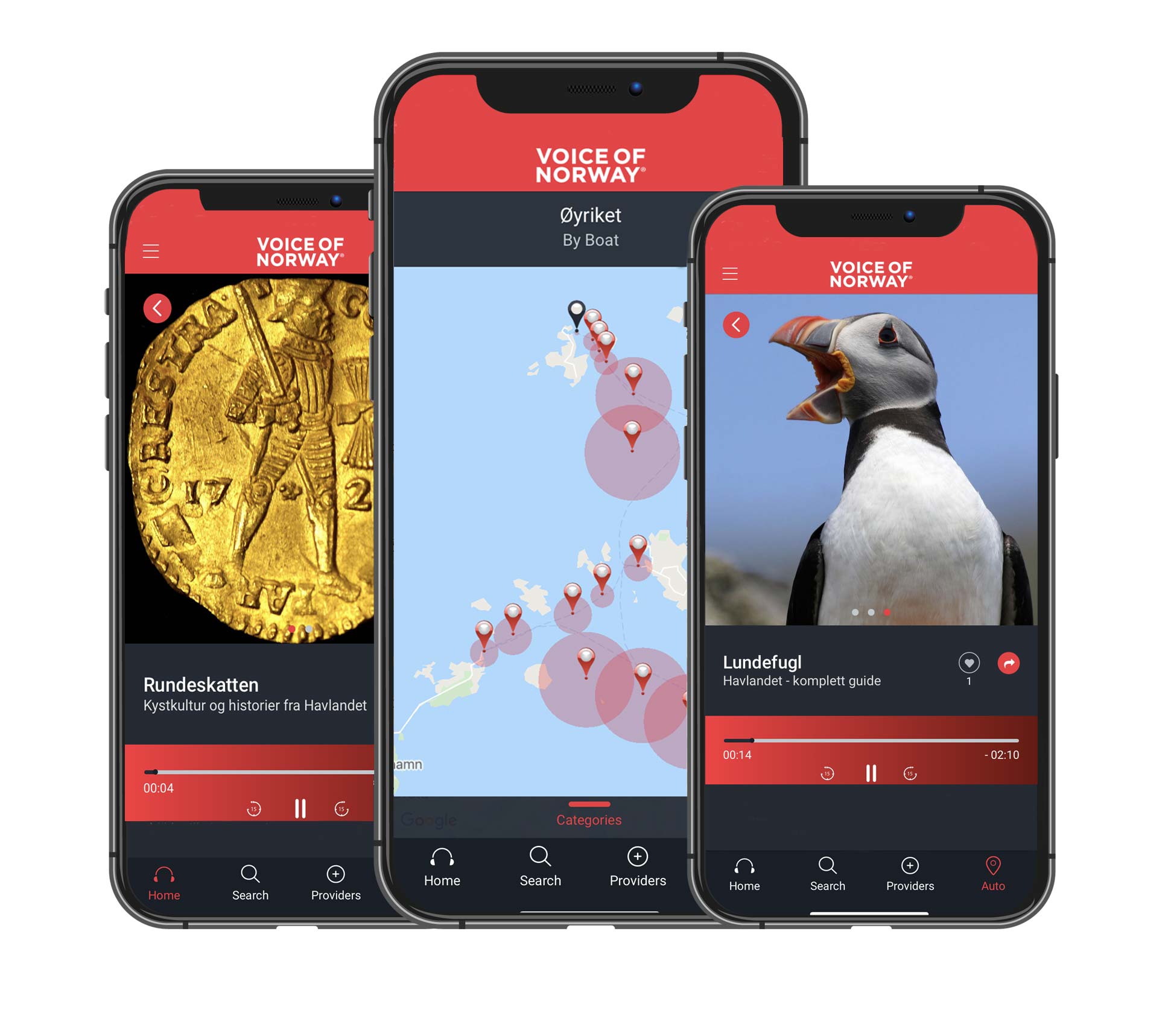 Ta kontakt med oss for å få vite mer om hvordan du kan legge til rette for denne typen formidling i din region eller område!
Team Voice Of Norway
Telefon: 94096772