Popular with permaculture
-To become a Permaculture LAND centre , several criteria must be met, explains Trude, who has previously been on the board of the Norwegian Permaculture Association. Of the criteria, it is guiding that we have had the biggest challenges with, which is why we have kept postponing the search process. With the implementation of an audio guide, we have found a solution, and in addition it will be better for people when they can get guidance no matter when they visit us. All of us who work here do this voluntarily and in our spare time, and the audio guide is of great use to all of us.
Guides in Norwegian, English and Arabic
-Many who come here are interested in learning, and we have worked well with the text so that you can learn a lot without there being too much of the good stuff, says Trude, who says that they have written the text in the audio guide themselves, in collaboration with Maria Dahl.
– It was also important to get a professional reader on the points we have. We saw Maria Dahl, who has the YouTube channel "Maria og skogen", and think she was a very good fit for this project.
– The content of our route consists of 10 points and tells both about plants in the garden and procedures in the work here. We also have a sculpture exhibition made by Steinar Auråen. The scheme can be used well in teaching and in school projects, says Trude, who is very satisfied with the follow-up she has received from Voice Of Norway.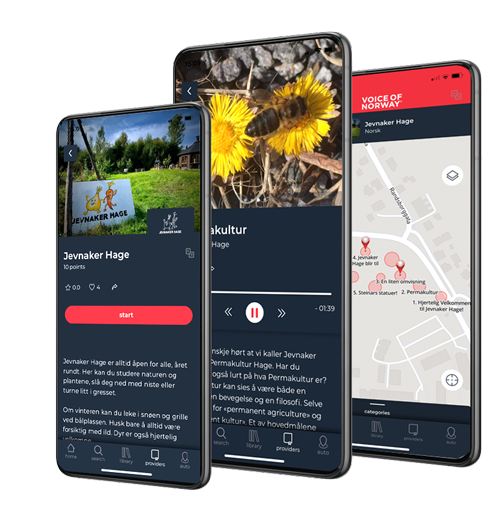 Audio guide about permaculture in Jevnaker Hage
Permaculture engaged refugees
– Refugees in the area here are also involved in our garden. They are often used to farming and have experience from farming in their home country. Among other things, Mohamed Alcheikh had bees in Syria, and now he is responsible for the bees in the garden here. Many of the refugees are families with small children, we have visited them several times through the Refugee Friends group in Jevnaker. Mohamed has therefore translated the audio guide into Arabic. In addition, Jan Bang has translated into English. It will probably be nice to be able to learn about the garden in your own mother tongue, smiles Trude.
Audio guide solves our problem
-On a visit to an artificial trail at Hvitsten, they had an alternative to a personal guide. This was a link to audio stories on a website and it was a real WOW experience for me, beams Trude. – I was simply completely enthralled when I wandered among the 40 sculptures in the garden and was told the story right in my ear. I used a headset and for the first time, without having to exert myself, I could catch everything! I quickly realized that we had to have an Audioguide in Jevnaker Hage.
– This spring I googled and found the Voice Of Norway app, where you could easily hear the content via GPS location. It was also important to us that the solution was easy to use. The app was "right in the middle of nowhere" for us, and we threw ourselves around looking for funding. We received support from Sparebankstiftelsen Jevnaker Lunner Nittedal and Jevnaker municipality, in addition to having a small Spleis, and used some of the association's funds. We believe and hope that the audio guide will pay off by making us more accessible and hopefully gaining both more members and more support in the future.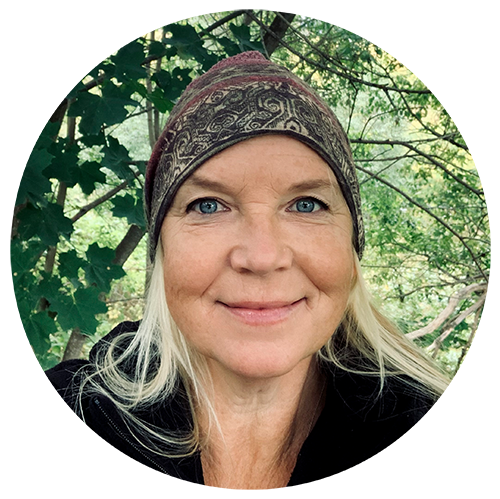 HEARING AND OTHER DIFFICULTIES
-AUDIOGUIDE SIMPLIFIES EVERYDAY
In collaboration with Jan Bang, Trude has organized permaculture courses (PDC), including in Jevnaker Hage. They have been very popular.
– But with my hearing difficulties, it has become increasingly difficult to communicate when there are many people present, and I have been more and more reluctant to give tours in recent years. The challenge was not to speak and explain, but to hear the questions that were asked in larger groups, I didn't get that, explains Trude.
-With other health challenges of various kinds, it can also be difficult to plan the day, and to reach special times in time. The experience with the audio guide is that the experiences can be adapted to everyone and that everything is simple and non-binding.
– See if you can find all 7 figures of Steinar Auråen and hear the story about them.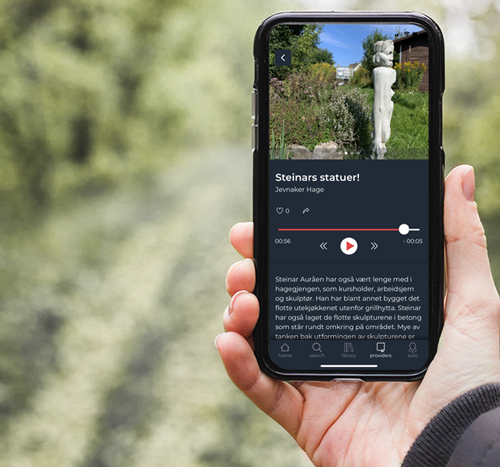 It all started with us being a small group who wanted a common place to grow. We knew little about this, and wanted a place to learn and experience together. A filling area nearby should turn out to be "right in the middle of nowhere", says Trude, who explains that they were also tipped off about Permaculture.
-We have one of the people who know the most about Permaculture in Norway, here at Jevnaker; Jan Bang. Bang came and looked at our place, the planning manager in the municipality was positive and we got started. This was in 2016 and we had huge ambitions! The area is located near the Jevnaker care and rehabilitation center, several schools, and close to the city center and public transport. We imagined that the whole municipality could use the offer. We applied for funding, got money and started up. We had some cooperation with the municipality at the start, visits to schools, kindergartens and from the care centre. The work was demanding since this was voluntary work, so eventually there were more Permaculture courses and events under our own auspices. Now it is a place where we enjoy ourselves and cultivate and learn together, in addition to having quite a few visitors.
– When Corona came, it became very difficult to arrange something here, since there were such strict restrictions. With the audio guide, the content is available all the time, and in this way we also avoid that many people gather at the same time.
Gets young people into work
– The environment in the garden is inclusive and non-binding, smiles Trude. We study nature, look at new plants that appear, what is faith? Can they be eaten? We are curious, here are activities for both young and old. We see that especially in the big cities, Permaculture is "hip", we have probably fallen behind here in the countryside too.
-We who use the garden the most are diverse in most ways, e.g. only 2 out of 5 on the board have an all-Norwegian background.
– We have more adults than young people, and we would very much like to do something about that. The current project is to search for funds to engage more young people. The scheme aims to give young people a salary for making an effort and at the same time learning something new. Everyone is of course welcome, but the young people are the ones who will pass on knowledge and enthusiasm, so it is important that we get them involved, concludes Trude with a smile.
Use your own mobile as a guide
Everything you need is in the Voice of Norway app!
The audio stories start automatically now that you are in the right place
The stories have a professional narration
Pictures supplement what you see
Available all year round and around the clock
Remember earplugs for a good listening experience
Contagious friendly

You use your own mobile as a guide
Easy to keep distance from others
You visit the place when there are few people there
Audio guide - a sustainable solution
WHEN IT SUITABLE FOR THE VISITORS
– With a guide on the phone, visitors can experience the place at their own pace, at all times of the day.
PHYSICAL ACTIVITY
– Facilitates movement and activity outside.
TEACHING FOR ALL
-Everyone gets the same good experience and to learn more.
TRACELESS
– With GPS-based information, we avoid visual littering and encroachment on vulnerable nature.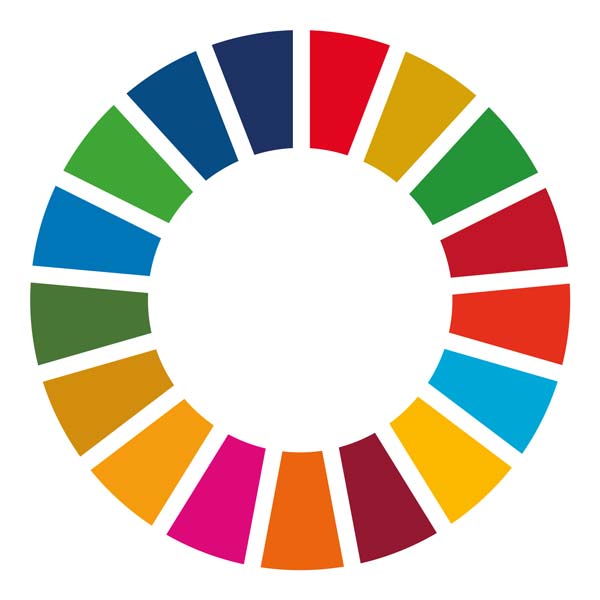 Blind and visually impaired
The visually impaired have the opportunity to listen to the stories when they get to the place where the attraction is.
Mobility impaired
In areas where the storytelling goes along a path that is adapted for people with reduced mobility, points that lie outside the path can be easily marked in the solution in such a way that the story starts where it is adapted for those who have to follow the path.
Deaf or hard of hearing
Use a headset and listen to the stories. They can also be read on the mobile screen.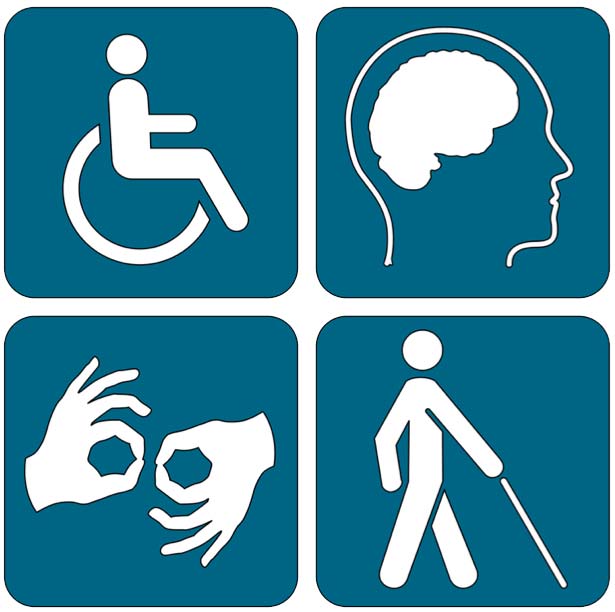 The guide routes in the Voice Of Norway app
- a collaborative project with the whole of Norway
The Voice Of Norway app is used throughout Norway. Here's how it becomes a joint service for everyone: to make the stories visible in their place – designed by yourselves.
Ta kontakt med oss for å få vite mer om hvordan du kan legge til rette for denne typen formidling i din region eller område!
Team Voice Of Norway
Telefon: 94096772