350 year anniversary in Larvik
– I have been engaged as local dramaturg for Larvik municipality in the anniversary year . The aim of the anniversary has been to highlight as many aspects of the city's history as possible. That way, we don't have to choose whether we want to be Beech City, Maritime City or Industrial City, we can choose to be all of these – because we are both a beech city and a maritime city, and a (former) industrial city that we are proud of that Thor Heyerdahl grew up here, Anne Meek begins enthusiastically, and goes on to say: -We can be proud of Bjørg Eva Jensen too, and Gro Hammerseng and Anja Edin to name a few, because we can release a breadth of stories!
Why did you choose to showcase Larvik?
-in a guide on your mobile?
– To bring out the diversity in the city's history and not least to be able to show the breadth of what we have to offer here in Larvik.
Moreover, it is available and free for everyone.
Take the tours today
Download the Voice Of Norway app and you're up and running. Remember to bring earplugs or similar, and keep a safe distance from others.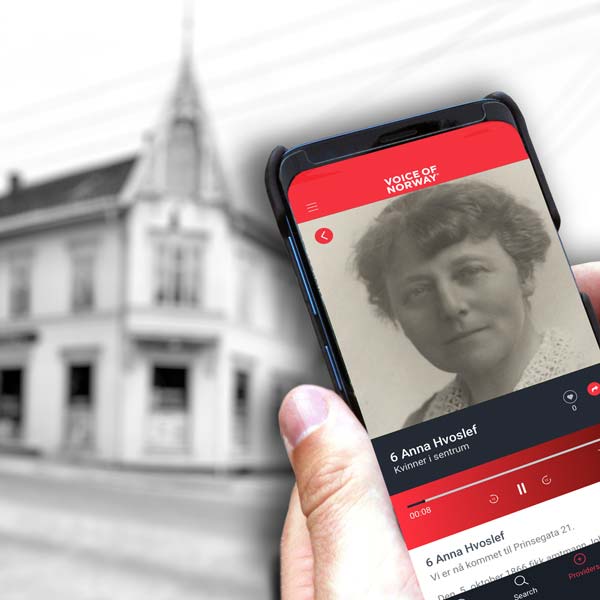 From the walking route "Women in the centre"
A trail network of the city's stories
-In my research, I see that it is cities that allow for a diversity of narratives, expressions and narrators that get the most out of their cultural investment. That is why it was so exciting for me to work with the audioguide format, because it is a medium that makes it possible for several stories to be told at the same time. It naturally piques the curiosity of the director and dramaturg in me, and after half a year of pondering and planning, we have now planned a trail network of the city's stories that will be made available through the Voice Of Norway app. It's wonderful that this is available to everyone at all times – completely free.
-Larvik has a special past as a county where strong power structures were established that have characterized the city over the centuries – and perhaps still do so. As I see it, the most important thing we can do in this anniversary is to highlight groups that have so far been given little space. Places are always changing and it is the people who live, work and visit places that change them.
– We have therefore invited various environments, associations and individuals to create trails in districts or according to themes that have occupied them. First up is the Torstrand trail, Anne explains.
-At the last city jubilee, I was 10 years old. I don't remember hearing about a single woman from the town's history. With the help of the Larvik museum and the organizations Sentralen for high-heeled shoes, we became aware that there were many exciting women to tell about. In the Women's Trail in the city centre, you can meet nine remarkable women who were pioneers in the fight for equality.
– I grew up in Larvik and am a theater instructor by profession. In recent years, I have also researched this with culture and place development and obtained a PhD in cultural studies on this topic in 2018. I therefore have a particular interest in the relationship between places and stories.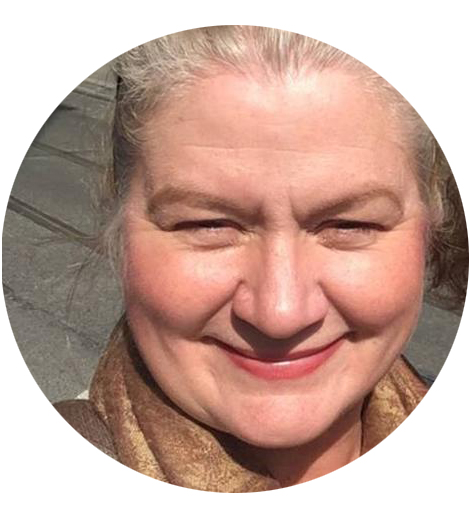 -Further plans include highlighting maritime history, more of industrial history and the city's honorary citizens. We also create a detective trail for children. In addition, we take the business community with us and in the city center we also collaborate directly with businesses.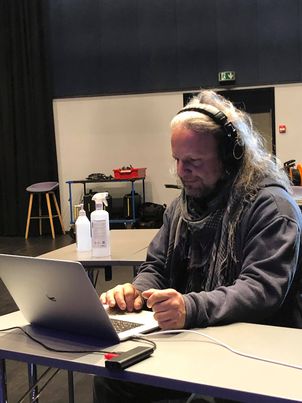 Jan Cato Skjelbred, our obedient man.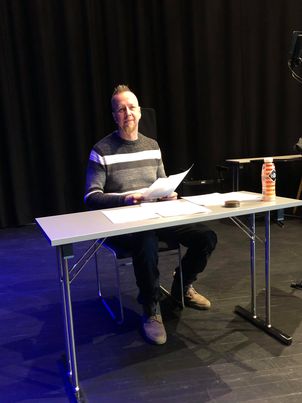 Jon Vidar Tidemand, in Tidemand's Theatre.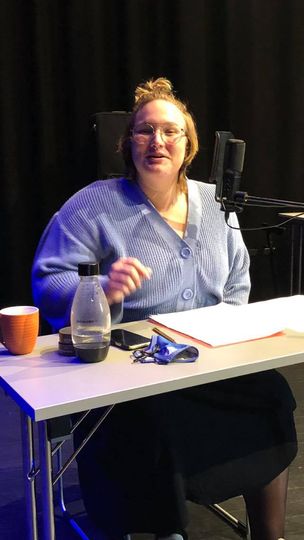 Line Kaupang is the female voice.
Good cooperation with Experio
– It has been exciting to learn about the audioguide medium in collaboration with authors who have experience with the audioguide format. They have also been good at giving us creative leeway so that we could stretch the genre a bit, smiles Anne.
Hip hip hooray for the multi-voiced city
– It has therefore been a great pleasure to help work with Larvik's many stories as local dramaturg for Larvik municipality in the anniversary year. The focus of the work has been to highlight both individuals, historical eras, companies, activities, institutions, teams and associations. Therefore, a theme has been selected for each month that will celebrate the city's diversity. The more stories we get out, the more people will feel at home, and that's how a good place is created, concludes Anne Meek, who looks forward to everyone hearing these great stories.
Main picture: local dramaturg Anne Meek, project manager Camilla Svendsen, actor Line Kaupang and writer Erling Pedersen. Photo: Kjersti Bache, Østlands-Posten (op.no)
This is how the audio guide works
With an audio guide on your mobile, you can easily find sights and other hidden gems nearby.
The map shows where you are and where all sights are located.
When you get to the point of interest, the story of this particular place is automatically told in a pleasant voice.
In addition, you get to see supplementary images that enhance the experience.
The guide is available around the clock.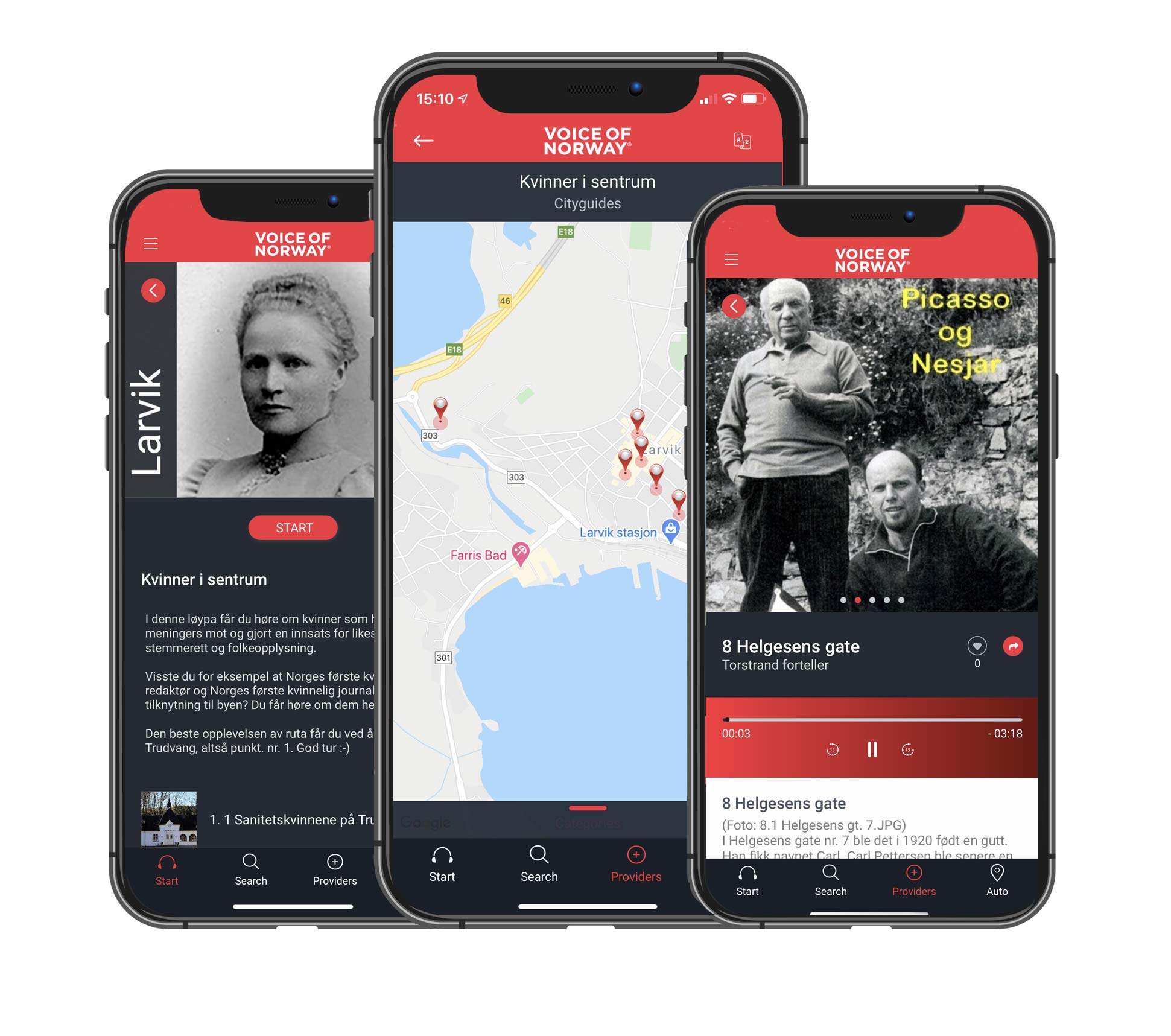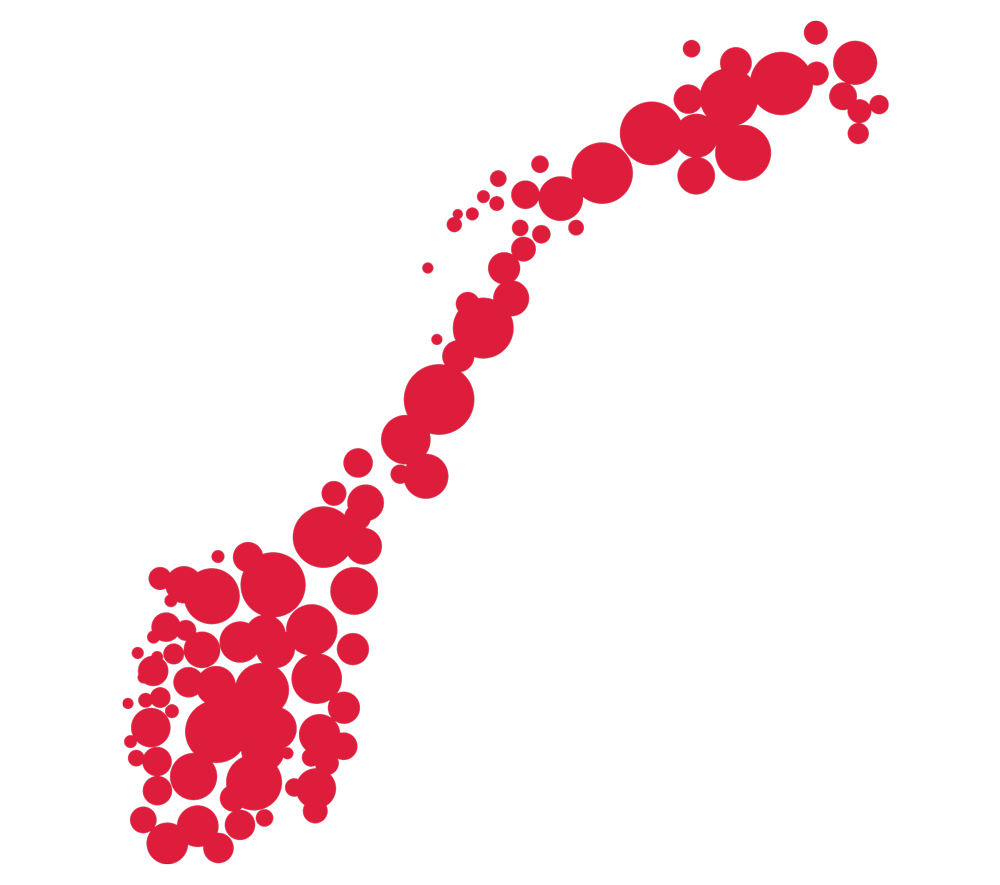 Become part of Norway's largest audio guide platform
The guide routes in the Voice Of Norway app
- a collaborative project with the whole of Norway
The Voice Of Norway app is used throughout Norway. This is how it becomes a joint service for all regions: to make it easy for travelers to have good experiences in Norway – designed by yourselves.
Ta kontakt med oss for å få vite mer om hvordan du kan legge til rette for denne typen formidling i din region eller område!
Team Voice Of Norway
Telefon: 94096772