Visible worldwide via hologram
– Through the ideas and work of the peace prize winners, we want to inspire small and large changes for a more peaceful world, says Grønneberg.
VISIBLE PEACE PRIZE WINNERS
-We create the Peace Prize Exhibition every year. The photo exhibition shows the work of the peace prize winners and visitors can learn about the important issues they stand for in an engaging way. This year, visitors can also meet the holograms of Muratov and Ressa here at the centre.
In addition, we have chosen to give everyone the opportunity to be visited by the Peace Prize winners at home in their own living room, as a hologram, he smiles and says that the Voice Of Norway app is free to download.
Maria Ressa met her own hologram
-Wow, that was cool!, said Ressa before she took several pictures together with her own hologram.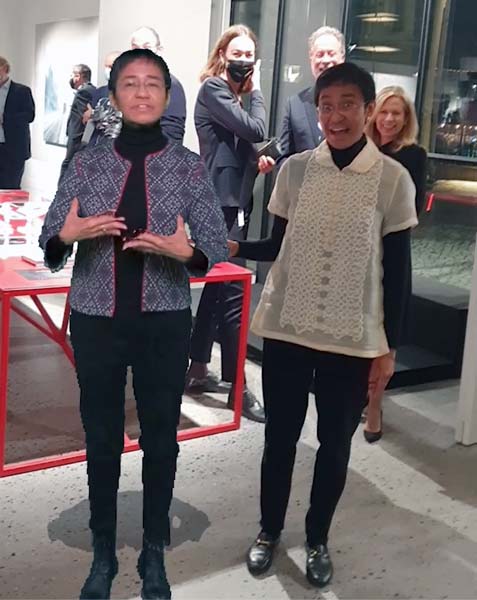 Peace Prize winner Maria Ressa as a hologram with Maria Ressa live (Director of the World Gastroenterology Program David Beasley in the background) (Photo: Nobel Peace Center / Kim Reksten Grønneberg)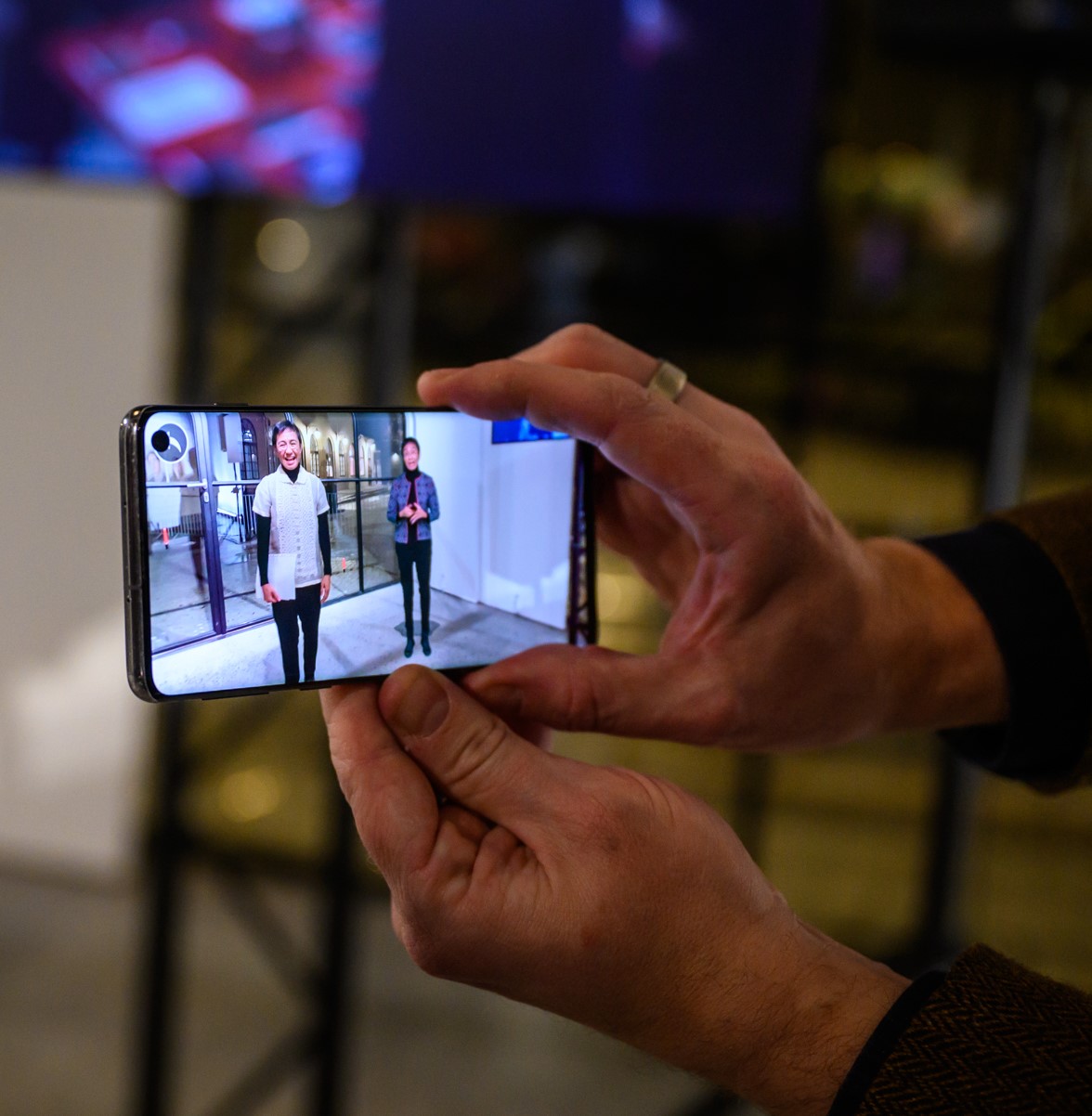 Maria Ressa poses next to herself in a hologram version. (Photo: Johannes Granseth / Nobel Peace Center).
Hologram increases geographical relevance
Kjersti Fløgstad, director of the Nobel Peace Center says the following: "This year's Nobel Peace Prize was awarded to two journalists for their courageous fight for freedom of expression in the Philippines and in Russia. If holograms can help their stories reach even further, we think it's worth exploring".
Since 1901, the Nobel Peace Prize has been awarded 102 times, to 137 prize winners. The globalization of the Nobel Peace Prize has accelerated since the 1980s, and now Metaverse can contribute to increasing its geographical relevance even further.
Nobel Peace Prize
- is made visible in hologram
– The world's most prestigious prize, the Nobel Peace Prize, is no stranger to digital ventures. The archives of the Norwegian Nobel Institute are currently being digitized, and this year's Peace Prize exhibition will be both a physical and a digital experience, says Grønneberg.
– This gives us many opportunities today, and the start of work for which we do not yet know the potential. For example, when the museum is closed, passers-by can still "meet" and take pictures with the peace prize winners outside the building, concludes Fløgstad.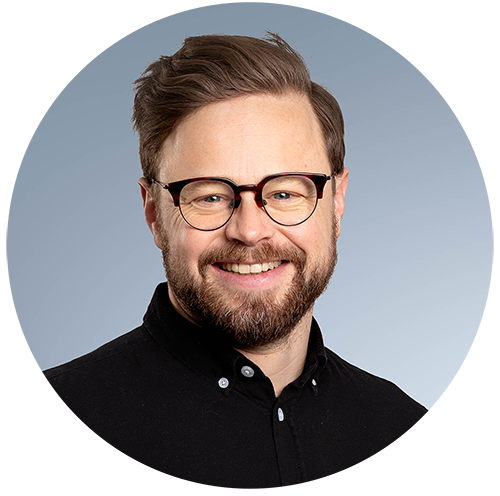 Kim Reksten Grønneberg.
Photo: Ingvill Bryn Rambøl / Nobel Peace Center
Filming the peace prize winners Ressa and Muratov
-as a hologram
When the two peace prize winners arrived in Oslo to receive their medals, they were also asked to take part in a photo shoot in 3D for Metaverse. Maria Ressa and Dmitrij Muratov are now digitized as three-dimensional holograms – ready for the virtual, augmented and metaverse future. During the opening of the Peace Prize Exhibition at the Nobel Peace Center, Ressa and Muratov were introduced to their holograms for the first time.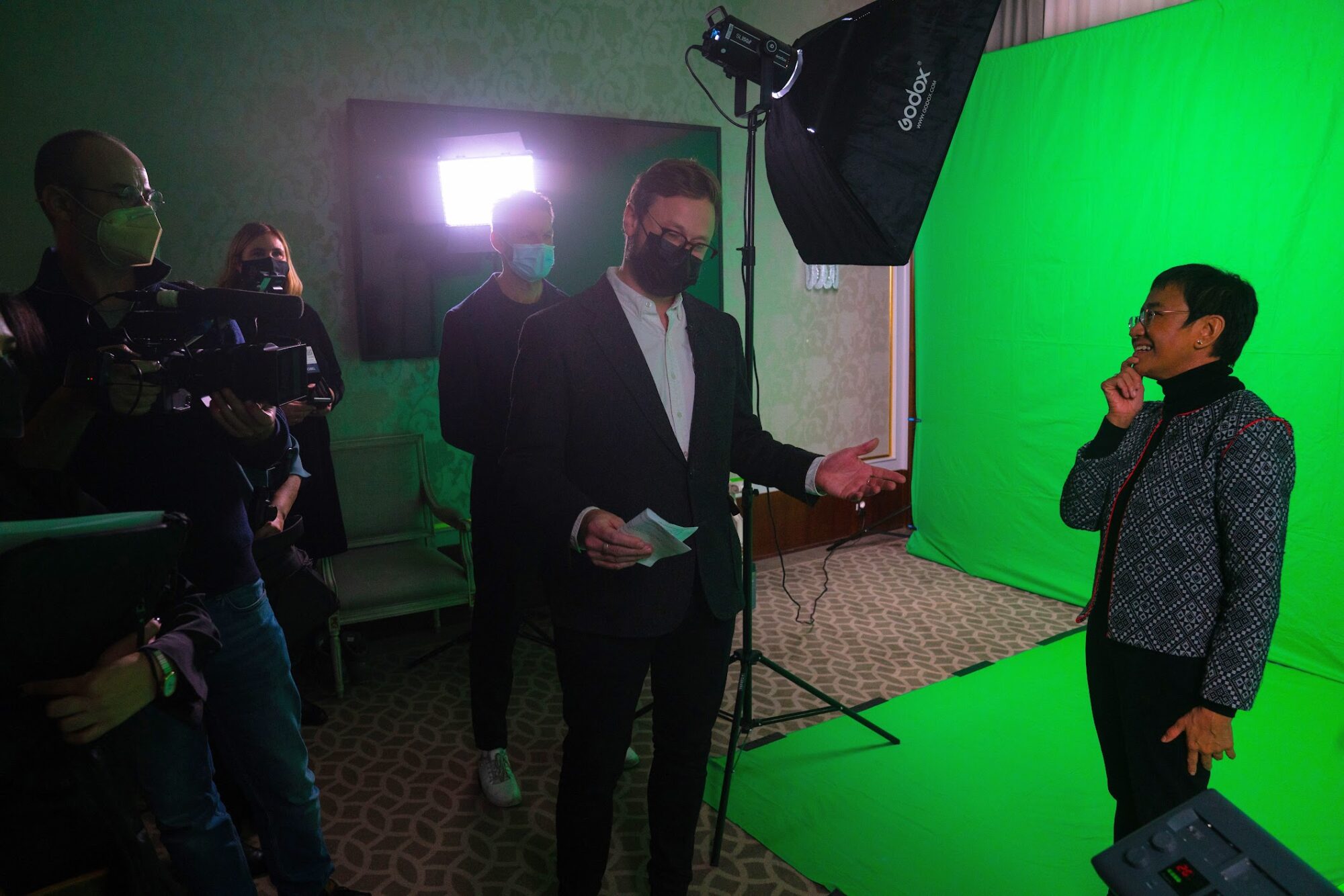 Nobel Peace Center's Kim Reksten Grønneberg in conversation with Maria Ressa (Photo: Inia James / Who Dares).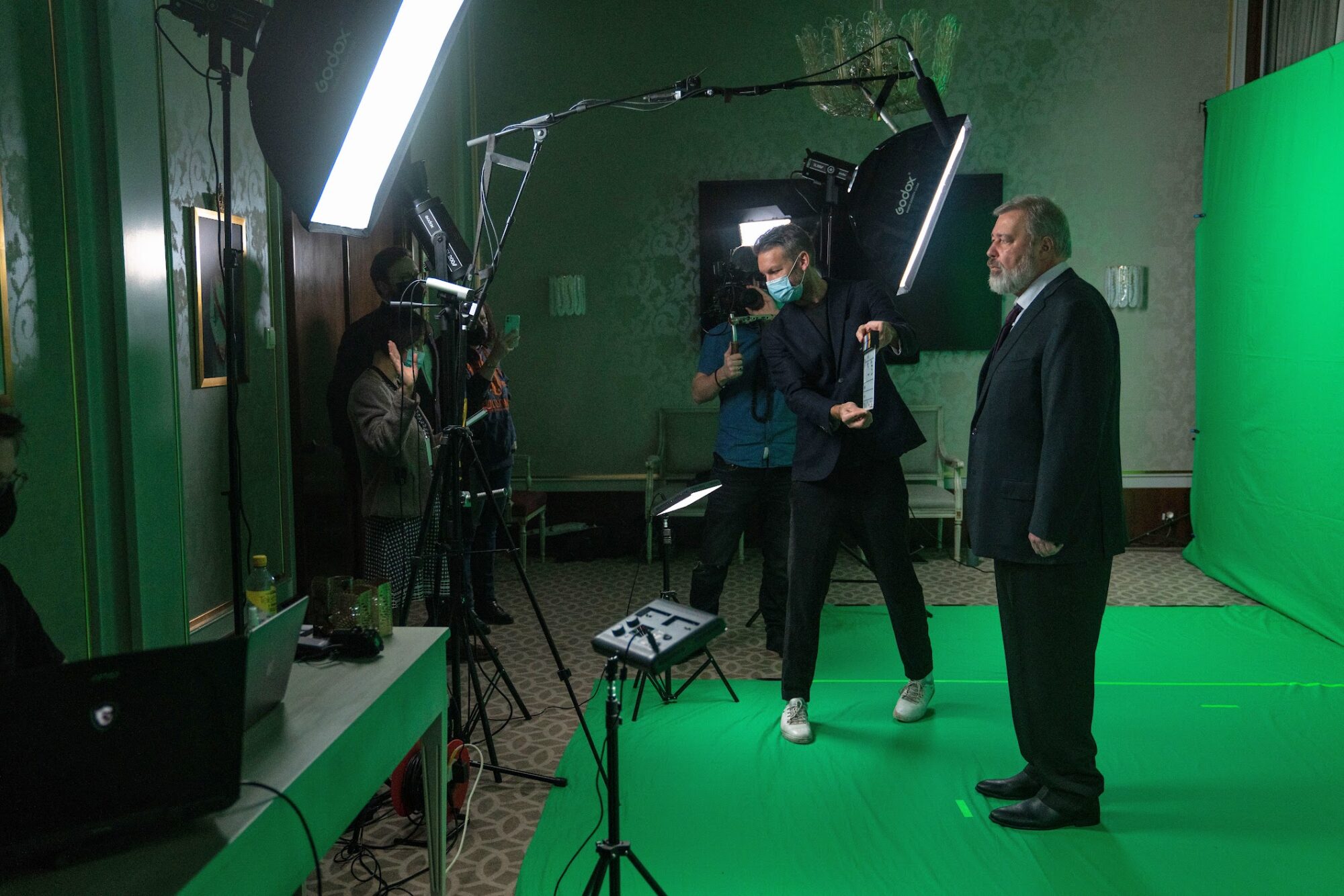 Holocaps Peder Børresen with peace prize winner Dmitrij Muratov (Photo: Who Dares / Inia James)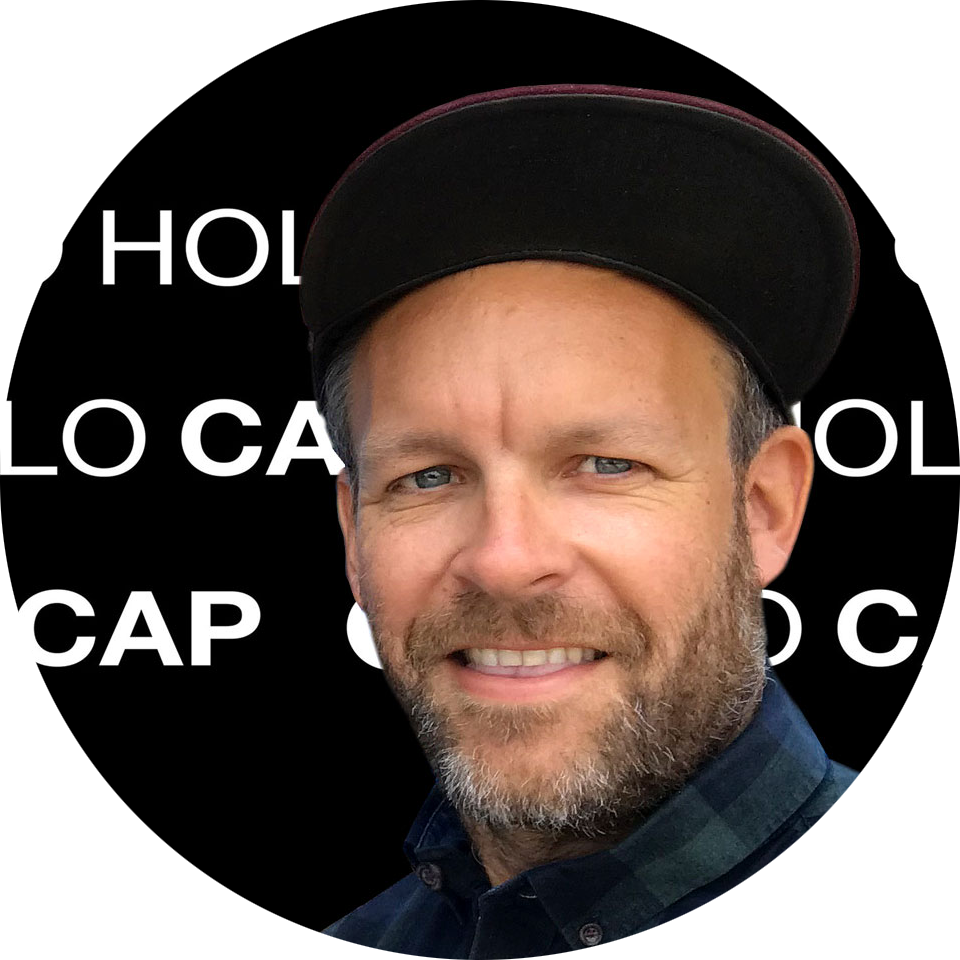 It is the Norwegian company Holocap that is responsible for recording and arranging holograms of people and objects in the Voice Of Norway app.
Holocap has developed a technology to digitize and reconstruct real people as three-dimensional holograms (in virtual, augmented and Metaverse realities). The technology is referred to as volumetric video and is predicted to be an important part of bringing human presence into Metaverse platforms in the future.
Your content in the form of hologram/AR
Guests use their own mobile as a guide
Holograms can be played wherever they are
In case of GPS positioning, the map in the app shows the way there
Available all year round, 24/7 worldwide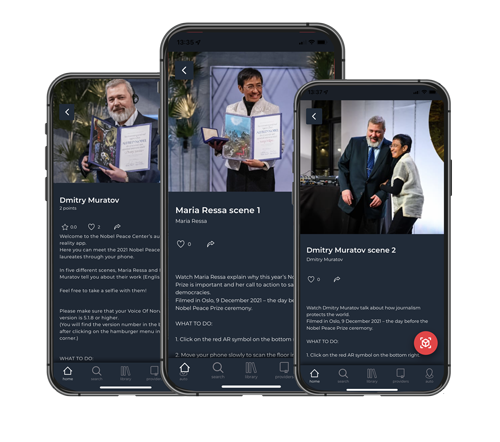 Voice of Norway smart guide
- a collaborative project
The Voice Of Norway app has been developed by the Norwegian-owned company Experio AS. The app is used throughout Norway today, and is also available to the entire world. Here's how it becomes a joint service for everyone: to make visible their own stories, designed by yourselves.
Ta kontakt med oss for å få vite mer om hvordan du kan legge til rette for denne typen formidling i din region eller område!
Team Voice Of Norway
Telefon: 94096772