– My big inspiration was Knut Borge and Torkjell Berulfsen, they were my bosses at Nitimen and Reiseradioen in NRK, says the former journalist Jon Henriksen. -Knut and Torkjell were artists of words and concerned with language and how they expressed themselves. They could build up the most beautiful sentences and bring more dimensions into the language. Enthusiasm for the language and how to express yourself I have taken with me further in my work as a narrator in the Voice Of Norway app, begins Jon Henriksen.
Our conversation has just begun. Jon sits in his studio in Ålesund, surrounded by instruments, and can say that his favorite instrument is drums and that he makes music and sound effects. I look at Jon via the PC screen and his voice slides pleasantly and calmly into my ears and easily draws me into the conversation.
– I want to express myself in such a way that the audience will have a good experience. I can happily make sounds to reinforce the event in the story, as in the story of the puffins on Runde. Furthermore, I must have faith in what I read, live into it, allow myself to be both angry and moved when the text invites me to do so. If the text is deadly boring, I try to color it, although it could easily become a parody. It's not entirely easy to revive a dead text, but you can have fun trying to revive it, he says with a big smile. As you can see, the love of language is more than just words and sentences, he explains in a gentle voice.
– When some languages have melodies and sounds that tell more than words, other languages are just harsh and without melody, Jon explains further. As a European, it is difficult to perceive mood in, for example, Arabic, Chinese and Japanese. But, that we have a rich language in Norway, I can perceive and play with that. I especially like how Nynorsk expresses poetry, emotions and drama, he explains and his voice sings elegantly as if to reinforce what he is saying.
Jon grew up in Ålesund, but at home his parents spoke Eastern. Later he moved to Oslo and experienced that his "jolly voice" became Sunnmoorish while the serious side of him spoke Eastern. This changed over time and with a Sunnmoor accent he has now given good storytelling experiences to stories from the west.
Learning a lot about places in Norway
– It's extra fun when I get additional information about stories that I already know about, says Jon.
–Peter Wessel* was a real seducer of women, according to the historians. He dealt with the wives of his fellow officers, so that his life was threatened and he had to flee, yes I did not know that, Jon laughs and brings out the warm humor in his voice.
– I am also well aware of the history of the cannon in Ålesund from earlier. But that it was so powerful that it broke the windowpanes in all the surrounding buildings when it was to be fired both towards the sea and the mountainside, well, I didn't know that either, he chuckles.
(*Peter Wessel, also known as Tordenskjold, was the most famous Danish-Norwegian war hero and naval officer who served in the Danish-Norwegian navy during the Great Nordic War.)
Click on the pictures and you can listen to the wonderful stories.
This is how the stories are made in the Voice Of Norway app
The customer receives a template of how the text should be created, and then I continue to work with the material I have received. The aim is to give listeners a feeling that they are left with a good experience when they are on tour.
The job in the studio:
The first thing I do when I get the text is to read it out loud.

We are happy to change the text if needed to make it more exciting and improve the language.

During the reading, I focus on living into the story.

Reading often takes place in several rounds, something can be read incorrectly or I haven't got the right mood.

Local place names and historical names can present challenges. Often I have to make a phone call to get this pronounced correctly.

Afterwards, I edit away noise such as coughing and squeaking.

When everything is ready, the sound files are created and added to the app.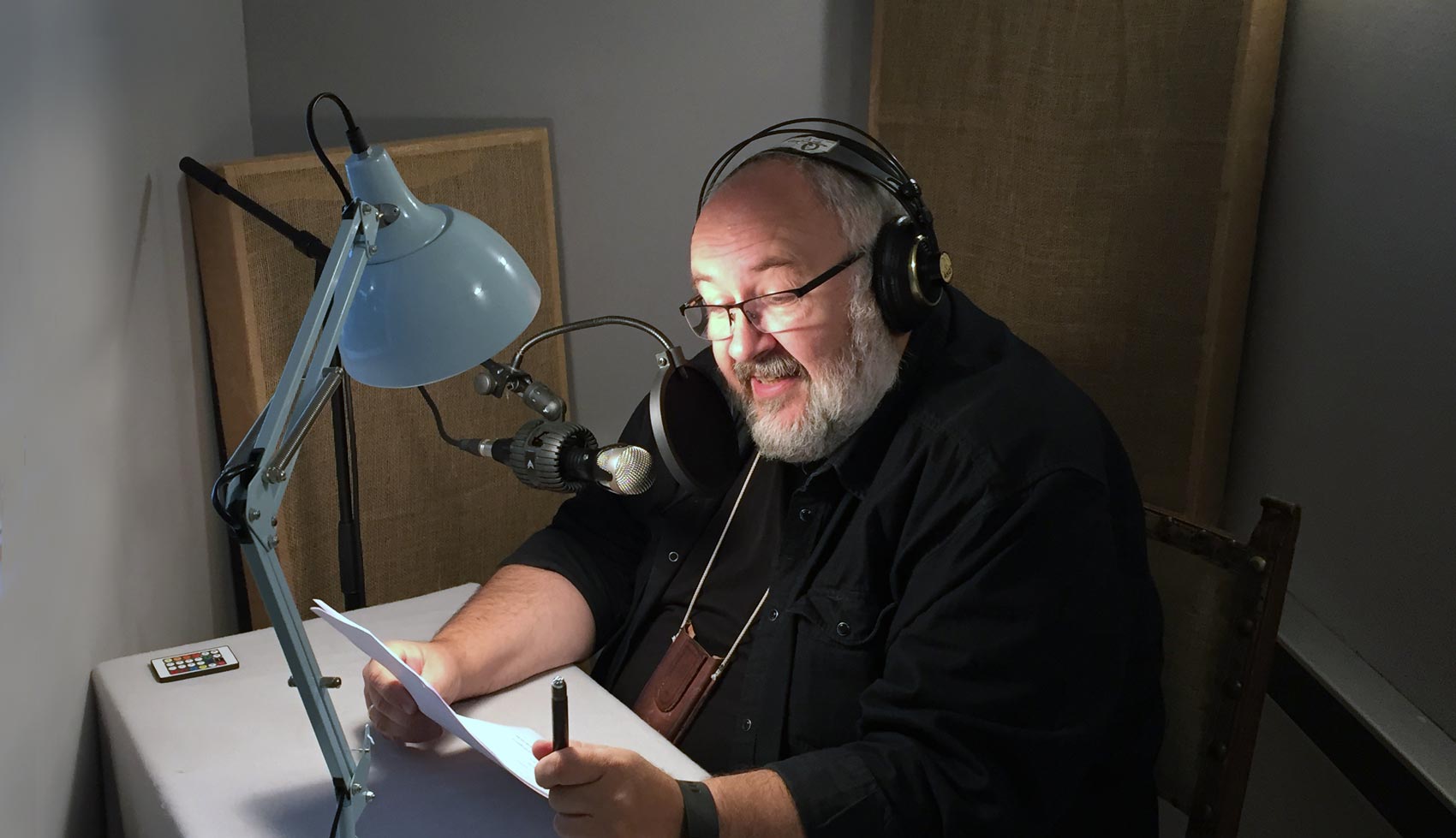 From the time at NRK, there were own technicians who took care of the technical aspects. Now I enjoy doing the whole process in my own studio.
Lived by the voice for many times - and the legacy continues
Jon now works with young people between the ages of 16-22 who voluntarily make an effort to get back to school or work. "Broen" is the name of the project and is part of Ålesund municipality's offer to young people. – I am so proud of these young people and it makes me happy to hear them say: "Oh – I can certainly do something after all".
Many people have enjoyed Jon's pleasant voice. Those who went to football matches in recent years at Kråmyra and for a number of years at Colorline Stadium could hear that his son has inherited this voting glory. Many people thought it was Jon they heard as a speaker, but there football knowledge is equal to zero! Getting a red card here would be pretty dramatic!
6 tips
when you have to create good audio stories
Choose the right length of an audio track
Write good texts, and avoid many names and years
Remember good pictures
Do not use directions such as "on the right you see"
Choose stories that captivate
Record sound in the studio and use good narration voices
In our "guide to audio guide" we go even deeper into the genre of audio stories and we elaborate on what is needed to create a good story that engages the listener during the trip.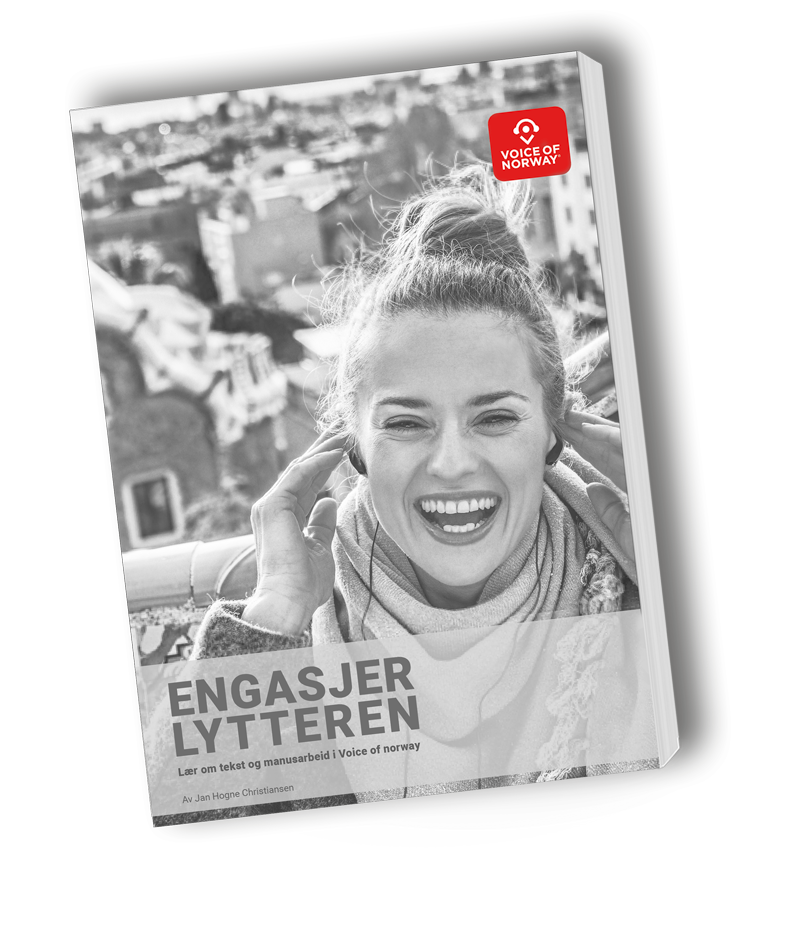 The guide routes in the Voice Of Norway app
- a collaborative project with the whole of Norway
The Voice Of Norway app is used throughout Norway. Here's how it becomes a joint service for everyone: to make the stories visible in their place – designed by yourselves.
Ta kontakt med oss for å få vite mer om hvordan du kan legge til rette for denne typen formidling i din region eller område!
Team Voice Of Norway
Telefon: 94096772