Unique podcast journey
- with Ingvar Ambjørnsen
-Now you can wander around Larvik's authentic scenery and listen to Ingvar Ambjørnsen tell about the places that have been important to him and his writing here in Larvik. The content consists partly of a dialogue between Kjeld-Willy Hansen and Ingvar Ambjørnsen, and partly of a monologue by Ingvar himself. It is all supplemented with pictures.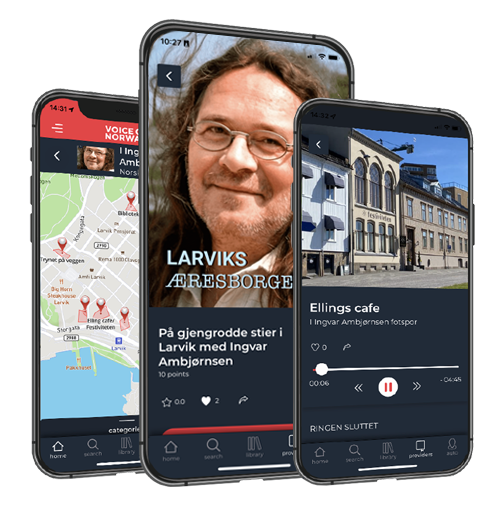 Audio guide:
"On overgrown paths in Larvik with Ingvar Ambjørnsen"
Download the tour with Ingvar Ambjørnsen
You take the trip when it suits you. Remember to bring earplugs, for a good listening experience.
The Voice Of Norway app is free to download and available for all types of smartphones. You can download the tours in a Wi-Fi zone before you leave, so you don't have to use mobile data.
The advantages of Ambjørnsen in an audio guide
You can join a lyrical tour around Larvik's streets, hear poems, poetry and conversations with Ambjørnsen, in areas that influenced his writing.
Schools, both secondary and upper secondary schools, can use the content as part of their teaching, to learn about Ambjørnsen.
Information about Ingvar Ambjørnsen is visible and taken care of in a guide solution that is used throughout Norway, as well as our own guide app.
The content is suitable for both young and old.
Information about Ambjørnsen is easily available, around the clock, on a smartphone, which most people have.
Ingvar Ambjørnsen - a literary professor
–Ambjørnsen is a diverse writer and the works he has done will stand for a long time. The works must not be dismissed as populist and something that was lost. With his earlier bajas books, juicy and lush language and now more mature and with a very good language, Ambjørnsen has become a literary professor. He is one of the greatest storytellers in Norway, and so popular that Akademia stays away. Ambjørnsen has lived as a freelance writer and received many awards. Not many people are more clear about this, and it is important to remember it, explains Kjeld-Willy Hansen.
A little about Ambjørnsen:
The book "Elling" has been translated into many languages
Wrote the best literature on anxiety and depression
The books and films about "Pelle and the Professional" got a whole generation of young people talking, and to start reading
Has gone from a long-haired weed smoker, with a background as a scout, bird watcher to becoming a naturally lyrical person
We can mention genres such as short story, nonfiction book, novel, poetry collection, column in VG.
Stands up for others who are having a hard time and allows themselves to be interviewed for free: Bokbad, Zappafestival
Honorary citizen of Larvik
– If you read about Lillevika in Ambjørnsen's books, yes, he tells about Larvik. Even though he moved when he was 17-18 years old, there are many stories from his time here. The municipality did little to promote Ambjørnsen's writing, believes Hansen, and goes on to say that Ambjørnsen is now one of 5 honorary citizens in Larvik and stands in the company of Arne Nordheim, Carl Nesjar, Antonio Bibalo and Thor Heyerdahl. Everyone has been given nice murals in the cityscape. While the others have also had busts placed around the city, the Festsalen/Festiviteten was named "Elling cafe" after Ambjørnsen, when it was renovated, concludes Hansen, who is looking forward to launching the audio guide route in Larvik.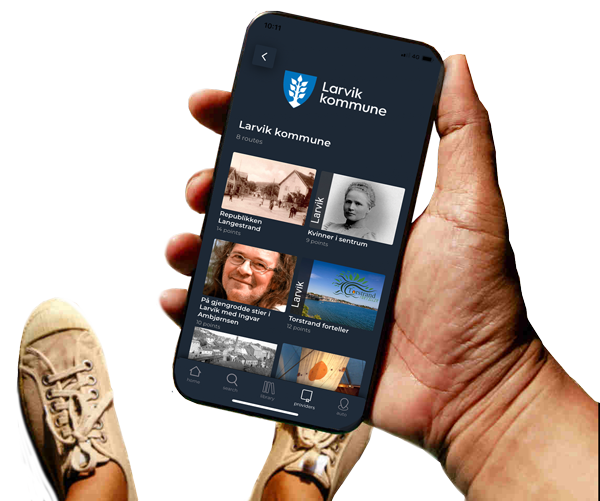 Makes Norway's largest visible
Kjeld-Willy Hansen makes visible one of Norway's largest and most varied writings in a new landscape.
-"I know him well through the ages", says Hansen, who is in dialogue with Ambjørnsen and author of the texts in the audio guide.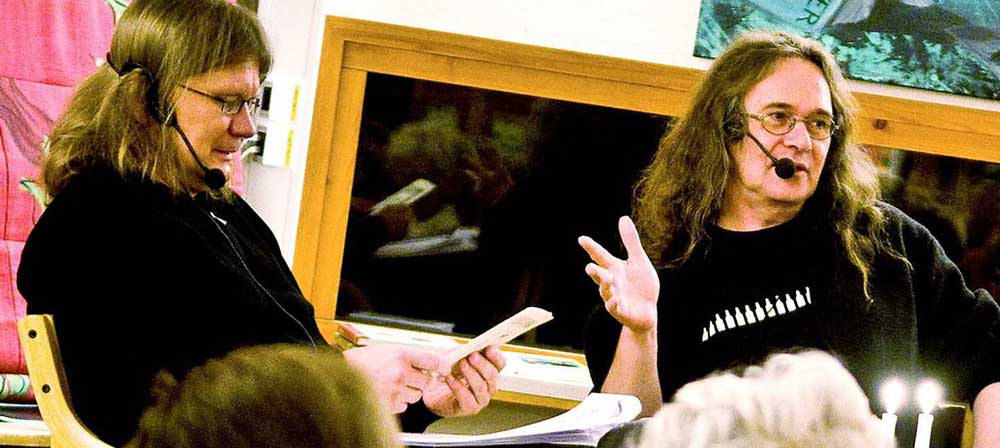 Book bath: Kjeld-Willy Hansen interviews Ingvar Ambjørnsen
A little about: Kjeld-Willy Hansen
Teacher at upper secondary school
Journalist for 15 years
Written "Östlandsposten's history"
Member of the band: Stable side hire, creates lyrics and music.
Gives a lecture: local history
The book bath
Kulturhuns and book/LP collector
Several audio guides in Larvik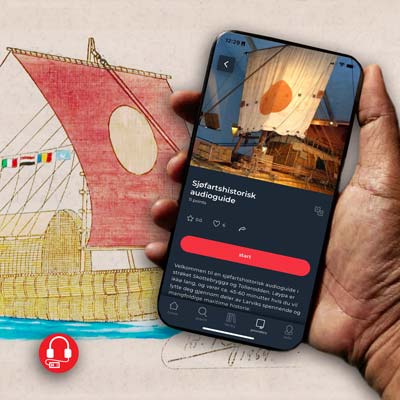 Maritime history audio guide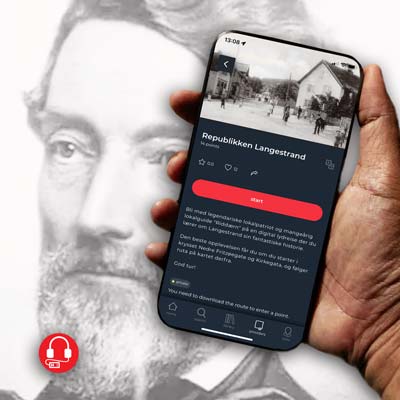 The Republic of Langestrand
I Thor Heyerdahls fotspor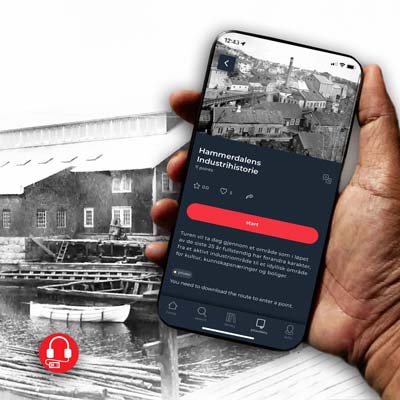 Hammerdalen's industrial history
Use your own mobile as a guide
In the Voice of Norway app, all the audio guides in Larvik are available for free!
Download the app via the QR code
The map shows the way to the places (GPS)
The audio stories start automatically now that you are in the right place
The stories have a professional narration
Pictures supplement what you see
Available all year round and around the clock
Remember earplugs for a good listening experience
Do you take care of the stories in your place?
In Voice Of Norway there is room for all industries.
Learn more about the solution
Advantages of the mobile phone as a guide
Deliver content on a device that "everyone" has.
Can be used to communicate all types of topics in all industries.
Location-specific content.
The same audio guide on a journey throughout Norway.
Access to 1,000s of stories from all over Norway.
Space for many languages.
Does not disturb others, when using own headphones.
Does not need internet.
Contagion-friendly and available around the clock.
Updated in real time.
The solution does not require any intervention in nature.
The solution is not visually polluting.
Become part of Norway's largest audio guide platform
The Voice Of Norway app is used throughout Norway. Here's how it becomes a joint service for everyone: to make the stories visible in their place – designed by yourselves.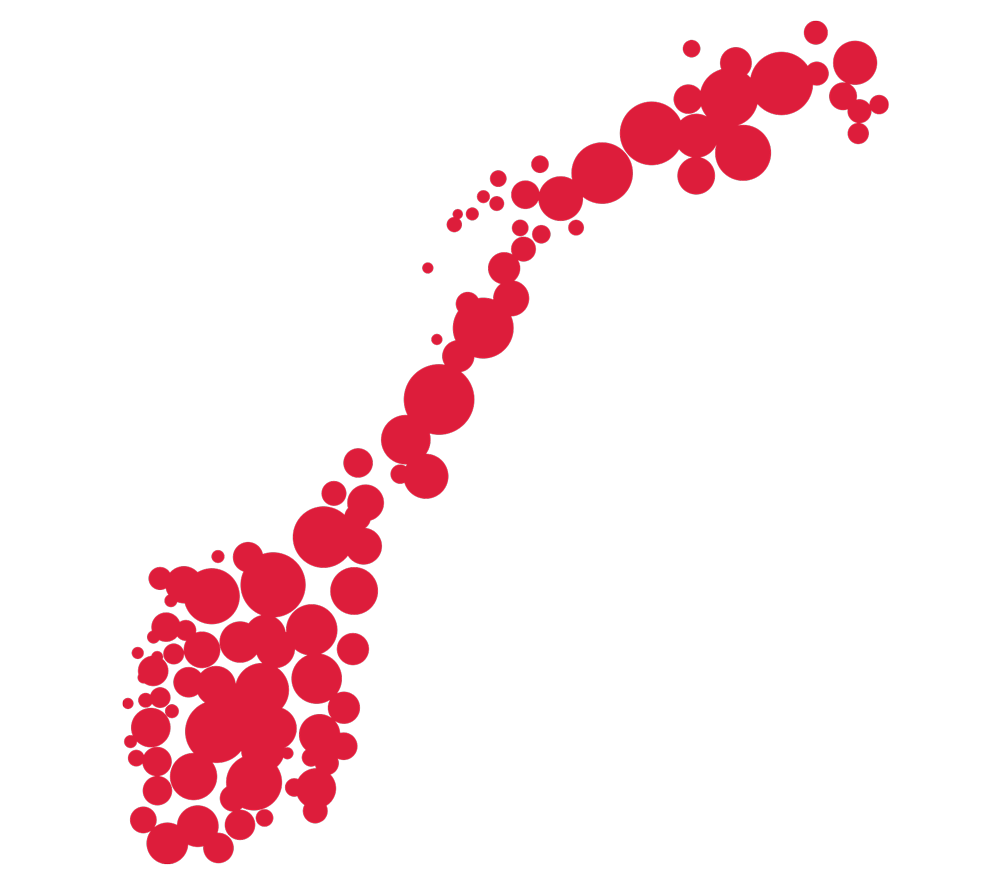 Ta kontakt med oss for å få vite mer om hvordan du kan legge til rette for denne typen formidling i din region eller område!
Team Voice Of Norway
Telefon: 94096772