– Proposing to your girlfriend can present challenges, such as having to give a speech in front of everyone you know and love, when you are modest, admits Sean. I started practicing speaking out loud to be able to speak more freely, he explains. He wrote and told stories on, among other things, YouTube, and suddenly people got in touch for help. -Some needed help with messages on answering machines and others needed help with social media. So the snowball started rolling and I gained more faith in myself, Sean smiles and gestures with his arms. Thus he also became Voice Over and our favorite English voice in the sound historians in the audio guide Voice Of Norway.
-In connection with reading Norwegian stories in English, I was challenged to read sounds such as Æ, Ø and Å and to pronounce place names and personal names correctly. So I took the trip to Norway, – and it was an experience! I got to see both Molde, Trollstigen and Geiranger, and I take the memories with me into my mind when I read the Norwegian stories, beams Sean. He laughs, and realizes that he made the first sound studio in the garage at the time, with foam boards on the walls. The project didn't keep out the photo session and dog barking, so now the sound studio is in place inside the house.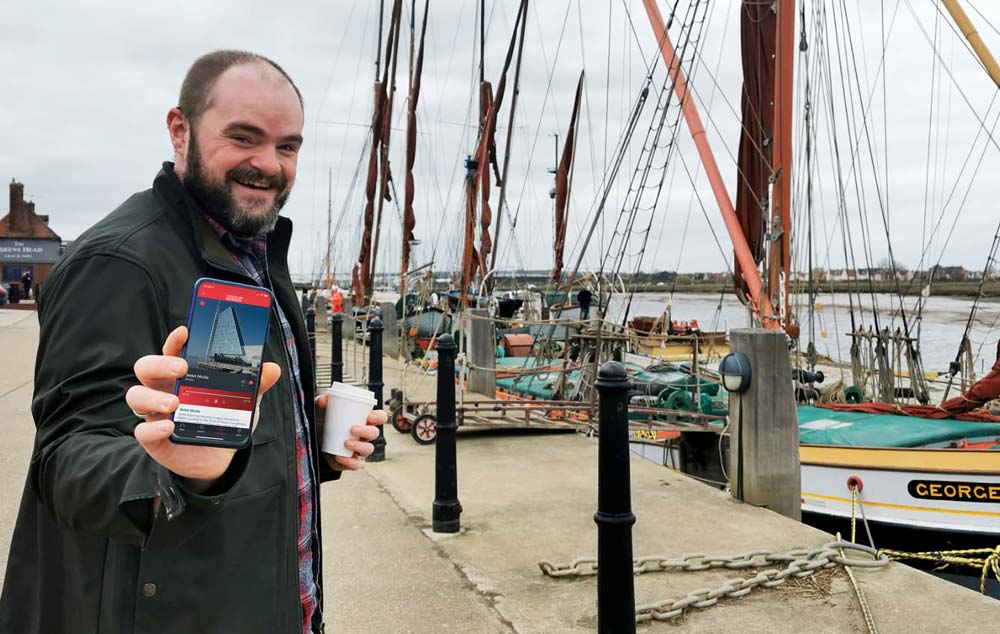 Sean Antony at home in Essex, England. Photo: His wife.
How did the wedding speech go?
Sean is smiling broadly now. – Yes, it went very well and I even made the people laugh, so I'm very happy. I can thank my wife that I have my voice as my livelihood now, he smiles.
The voice everyone wants to listen to
Now I can confirm it! Sean has a dark pleasant voice and a pleasant demeanor. He immerses himself in the conversation and his arms move like a conductor's baton in a piece of music. – It's basically speaking my own language, in a normal and confident way, says Sean when I ask what a Voice Over is. – And at the same time feel that I'm talking to someone who is here with me, says Sean and explains that he doesn't think about the microphones being there. This is how he colors the stories so that we get a great experience in the audio guide.
My inspiration is David Attenborough
-I love stories! On walks with my daughters, I use to tell stories, create voices and get into the character, but I can get feedback that they "only want to walk, and that I have to talk normally", laughs Sean. Would you say that listening to a story is better than reading it yourself? -When I was growing up I loved a show on TV called Wild Life. David Attenborough gave me an experience in these programs that I never experienced myself by reading books or being read to. He had a wonderful voice with great empathy.
-With the old stories and legends in Norway, such as trolls and vikings, I love to create drama with my voice in order to give the listener a greater experience. I want to make listeners feel all their feelings, both the scary, the beautiful and the funny, in order to set a mood in the story. Finding people with storyteller voices for the audio guide is what will separate a good story from a bad one, says Sean. And to what extent men or women are the best to tell, yes, that discussion was round at the edges. But Sean could tell that his own voice is affected by mood, and that it is by no means easy to be happy in your voice if you are sad. Listeners want to hear that.
The time he was struck dumb with admiration
– The best thing is to go out and experience the location I'm going to read about. Recently I was on a train trip and experienced that the train spiraled inside the mountain to get higher up in the terrain. When we got out on top of the mountain and got to see the view I was completely speechless. So preliminary research is useful and I also have to know when it is important to be quiet, he says, and I see that he has taken care of the memory from the train trip in Norway.
Favorite story about the gold
– The drama in Norway during the war captures me, and my favorite story is about how Norway's gold reserves came to Molde. I can imagine all the people who have fought from Oslo up here and that they managed to save the gold this day, concludes Sean Antony, and explains that he has promised to take his wife with him on his next visit to Norway.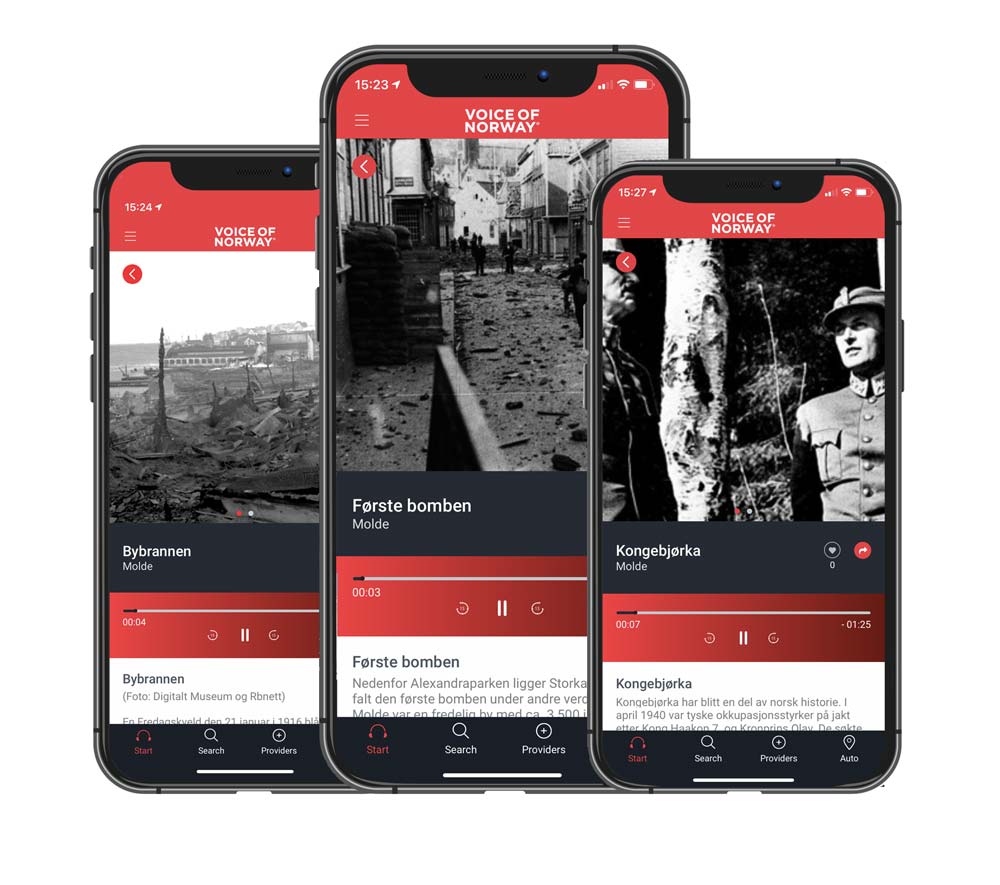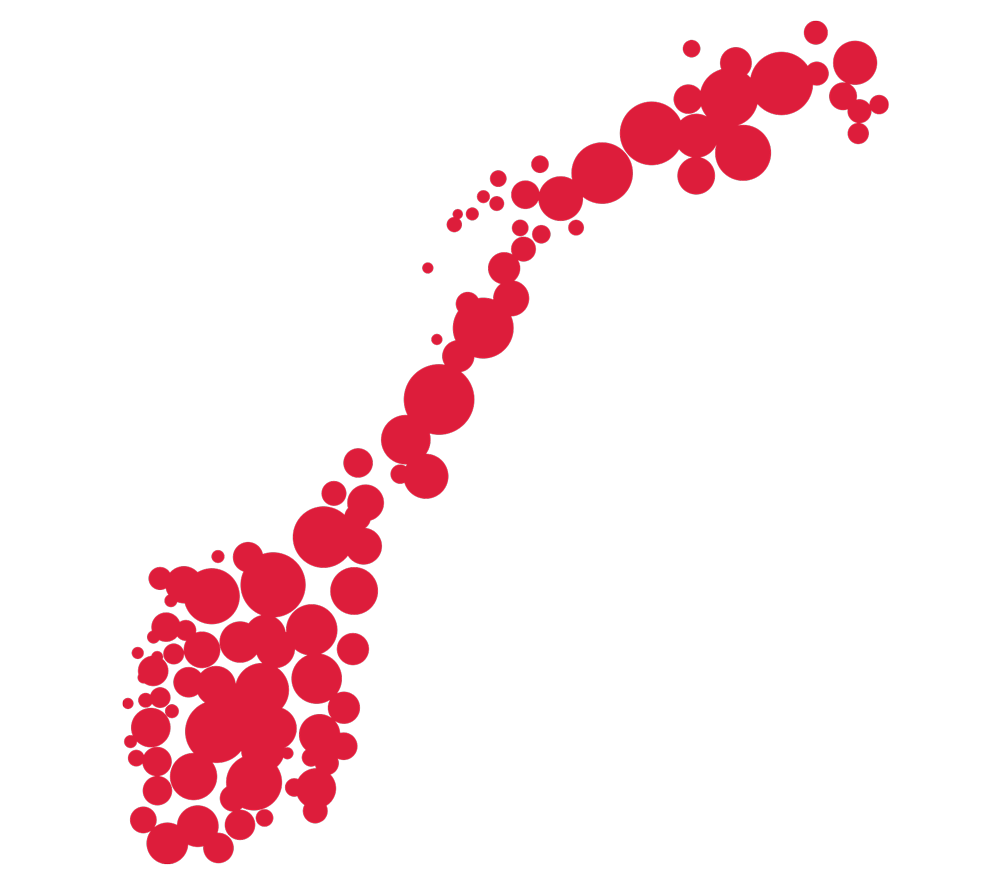 Become part of Norway's largest audio guide platform
The guide routes in the Voice Of Norway app
- a collaborative project with the whole of Norway
The Voice Of Norway app is used throughout Norway. This is how it becomes a joint service for all regions: to make it easy for travelers to have good experiences in Norway – designed by yourselves.
Ta kontakt med oss for å få vite mer om hvordan du kan legge til rette for denne typen formidling i din region eller område!
Team Voice Of Norway
Telefon: 94096772