Traceless marking
- of paths in protected areas
in Rondane National Park
– Rondane is an area with vulnerable nature, but also an area with significant visitor numbers. The fact that people use nature is positive, but at the same time we must remind them of their vulnerability.
-Through the Voice Of Norway audio guide, we give well-intentioned advice on what behavior is best when encountering wild reindeer in Rondane, and how visitors can travel without leaving footprints as much as possible, says Tore Larsson, caretaker in Rondane.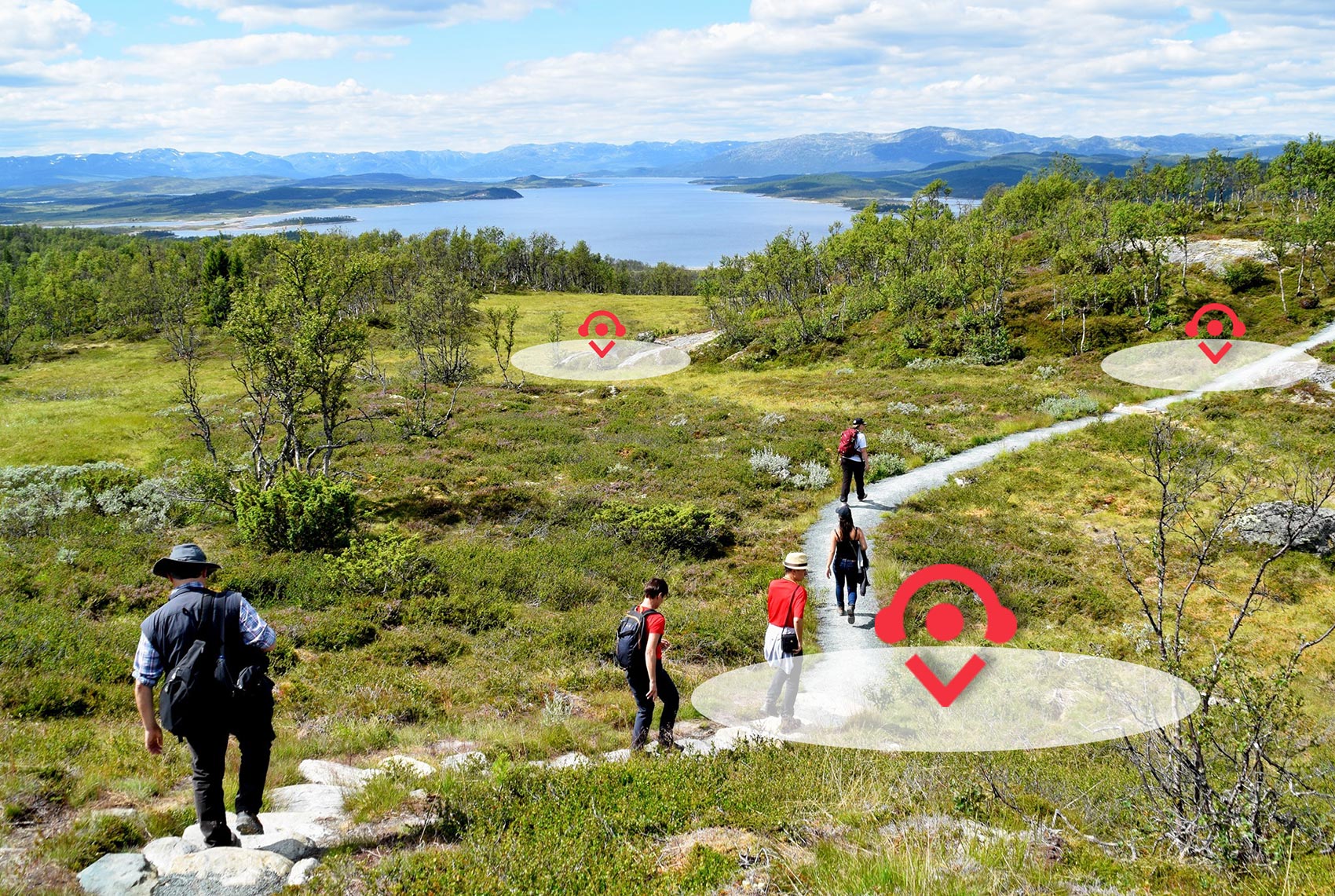 People are greedily interested
-People are greedily interested and want to be sustainable. We also see that they are very motivated to follow the advice we give. By offering this app, they get the advice where they are, and can thus remember a little better, says Larsson.
– The app has a digital map that guides those traveling in the area to where it is best to go. Each area they come to has information and advice on what to see and what to watch out for. We are proud that Ivar Nergaard, one of Norway's best voices, has read the stories, smiles Larsson.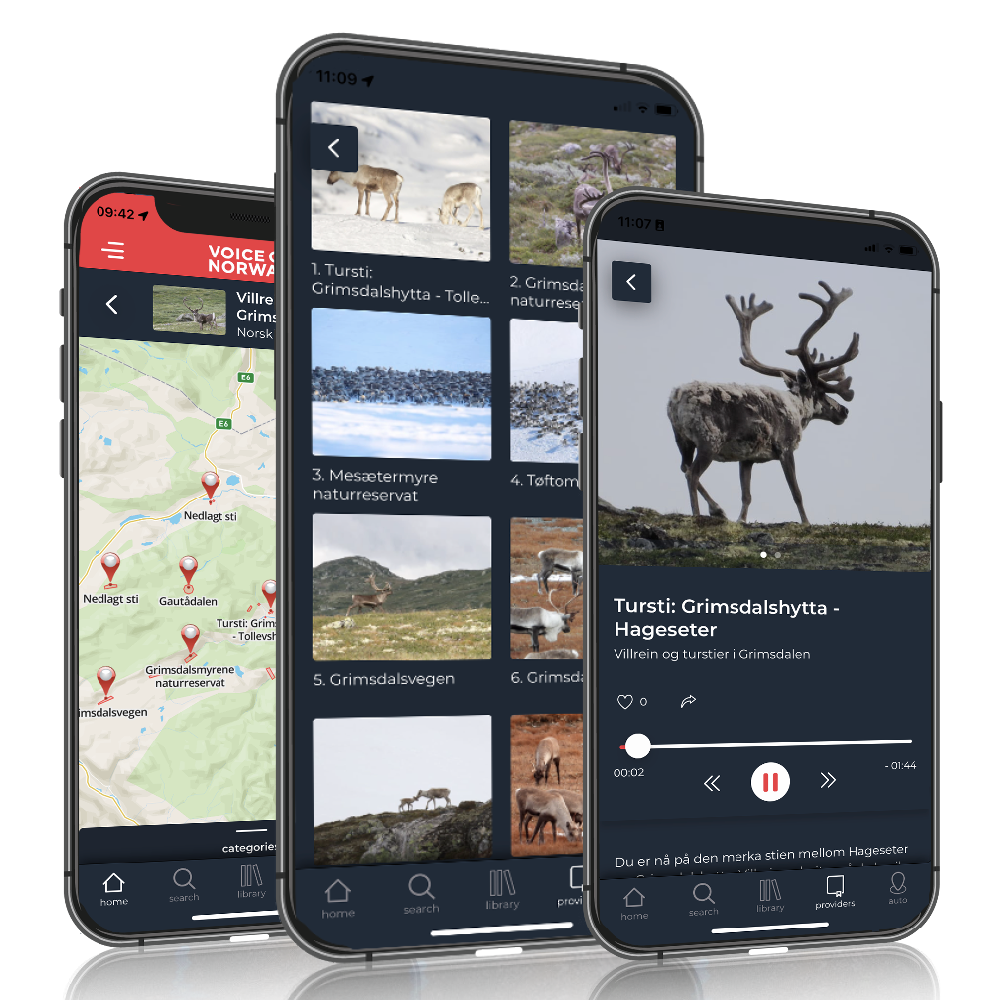 Audio guide in Rondane
Photo: Anders Mossing/Norwegian Wild Reindeer Centre
The reindeer lives on a marginal energy balance
– The busiest period is the summer. Then the wild reindeer move to grazing areas near people in order to find important food. There is a shortage of food on the plains and since they lose weight during the winter, it is important that they are allowed to build up again in the summer. During this period, the reindeer also calve and they need peace to establish mother-child relationships, and in addition, milk production is dependent on the quality of the grazing areas.
– When the wild reindeer have such a marginal energy balance, we best take care of this by following the marked paths and runs and doing as little damage as possible where we go. Disturbance of wild reindeer occurs long before it flees. It all starts with them clumping together and by then they have already used up a lot of energy. An escape requires a lot of energy, he explains.
-Many people want to see the reindeer when they are close, and you will actually have a better experience when you see the reindeer from a distance than if you see it fleeing, then you only see it from behind, he smiles.
Encourages sustainable behaviour
-In our job we learn that the number of users of nature has increased in recent years. We also see that we are recruiting different types of visitors now than before. By providing access to an audio guide on the trip, we want everyone to have a great experience in the mountains, while at the same time encouraging behavior that does not result in harm to animals and nature.
Tore Larsen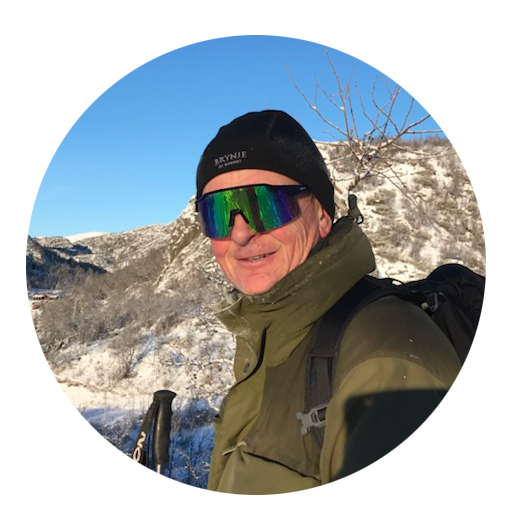 Search for information before the trip, via websites and to download the Voice Of Norway app
Watch the wind direction
Lie down so that the reindeer cannot see you and lie still until they have passed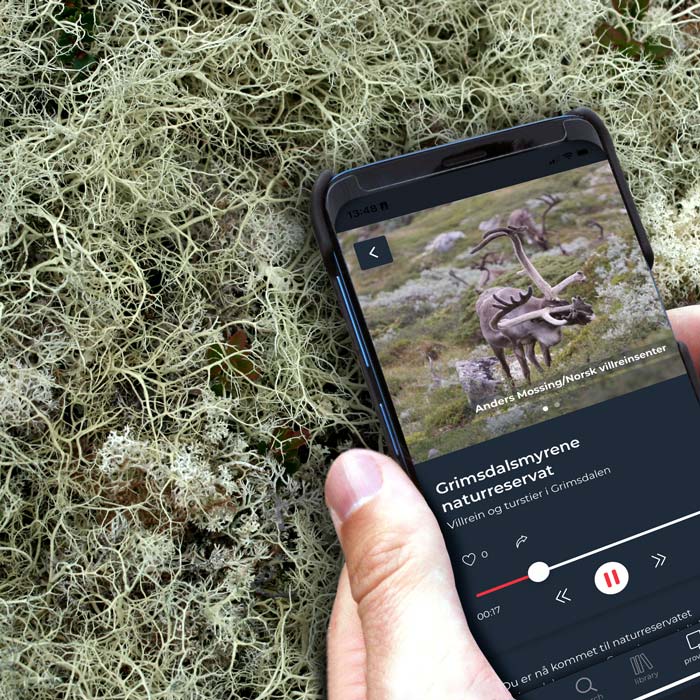 Audio guide about wild reindeer
Visitors use their own mobile phones
-as a guide
The Voice of Norway app contains everything your visitors need!
The local stories with a wonderful narration
Your photos complement what they see
The map in the app shows the way to the places (GPS)
The audio stories start automatically when the walker is in the right place
Available all year round and around the clock
Remember to download in the WIFI zone before you go on the mountain
Bring earplugs/earmuffs
The guide routes in the Voice Of Norway app
- a collaborative project with the whole of Norway
The Voice Of Norway app is used throughout Norway. Here's how it becomes a joint service for everyone: to make the stories visible in their place – designed by yourselves.
This is what our customers say
Ta kontakt med oss for å få vite mer om hvordan du kan legge til rette for denne typen formidling i din region eller område!
Team Voice Of Norway
Telefon: 94096772