The cultural capital Vestfossen
– Yes, yes, we call ourselves the Cultural Capital, here in the country, introduced, Petter Anthon Næss, who is the editor and project manager for this new digital guide in Vestfossen. – In the autumn of 2020, we wanted to create a digital guide that can make the experience of Vestfossen as vivid as possible. We landed on the solution for Experio AS, the audio guide Voice Of Norway. It has been quick to get started for all parties, and the first three routes are already available, Petter Anthon explains happily, and says that people are positive and looking forward to it!
-People here in Vestfossen care about the culture and life we have here, and we want to create a bigger experience space for us who live here and for everyone who comes here as our guests. We therefore hope that everyone who lives here will use and try this guide in the coming year.
-The digital guide appeals to curiosity and our job is to create content that makes the audience MORE curious!
The audio guide provides access in illegal places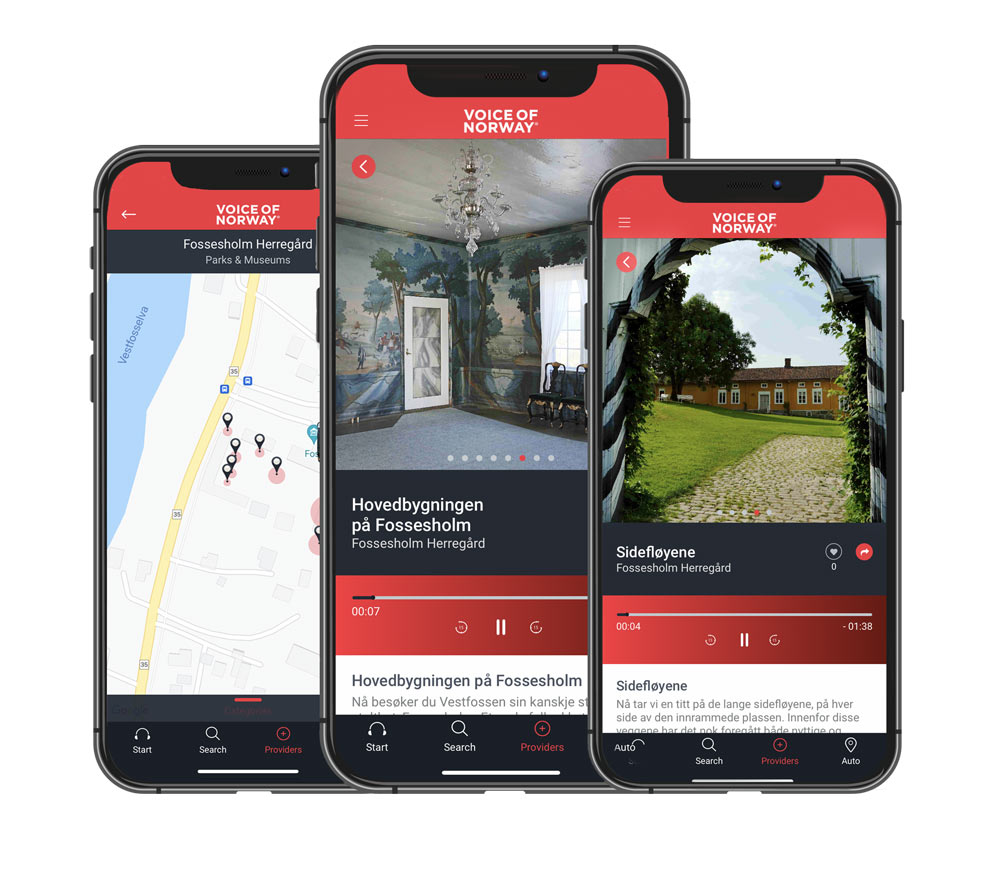 – With a guide on their own mobile, people get to see Vestfossen in a new way. The guide brings the stories to life and is available around the clock and in all seasons. The gate at Fossesholm Herregård is always open, but the houses are only open at special times . The audio guide gives you access and you can even see where you are not allowed to be. Among other things, you get to see the historic interiors inside the houses. In addition, there are links to opening times, and we see this as a supplement to regular guides.
3 adventure tours:
Voice Of Vestfossen
Vestfossen cultural landscape
Fossesholm Manor
– We have good drive and close dialogue in the process with Experio. We have worked out what we want to include in the guide, and know that the content must be quality assured. This is particularly challenging and time-consuming when stories do not have clear sources. For example, we have found wonderful photographs that we want to show off, but do not know when they were taken.
– Now we are working on making the stories both more fun and with even more quality, and are now ending the research phase.
-Vestfossen Grendeutvalg has worked well to highlight Vestfossen in the audio guide. The village committee is a bridge builder between residents and a catalyst for activities and cultural life in the municipality. Here we work across politics, subjects, culture and the commitment is great, says Petter Anthon. He will highlight key people who have worked with the content of the app.
Ellen Hals Hellerud – project administration
Ellen Pauline Steen – hostess and manager
Bent Ek – local historian who has written thousands of stories
Stein Andersen – writer, historian, musician and bank director
Bjørn Kristoffersen – visual artist, pictures
Petter Anthon Næss – project manager and editor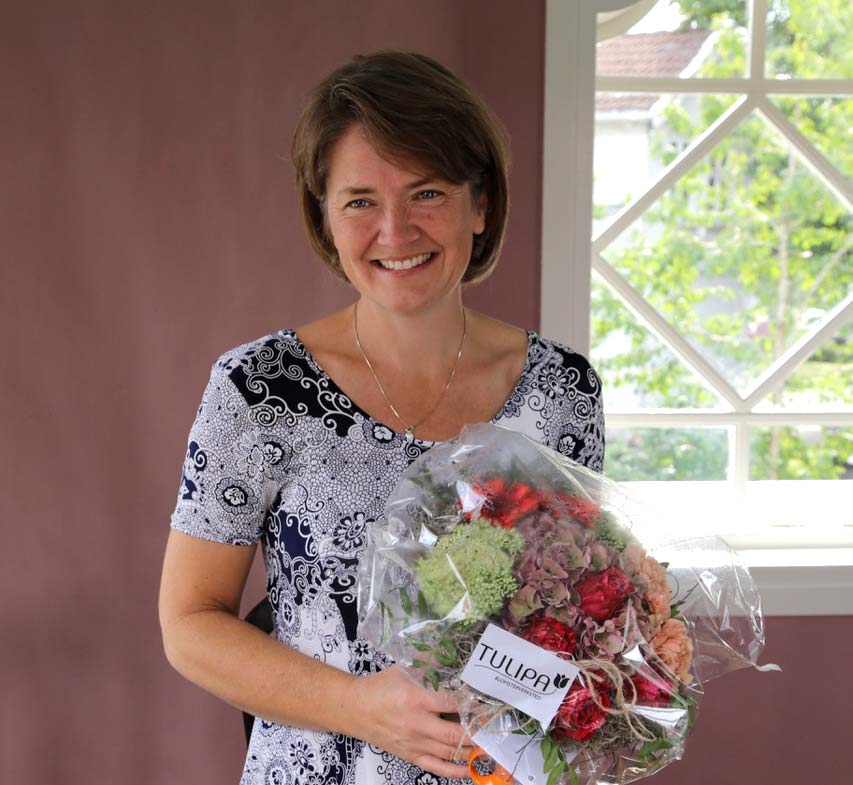 Ellen Pauline Steen – hostess and manager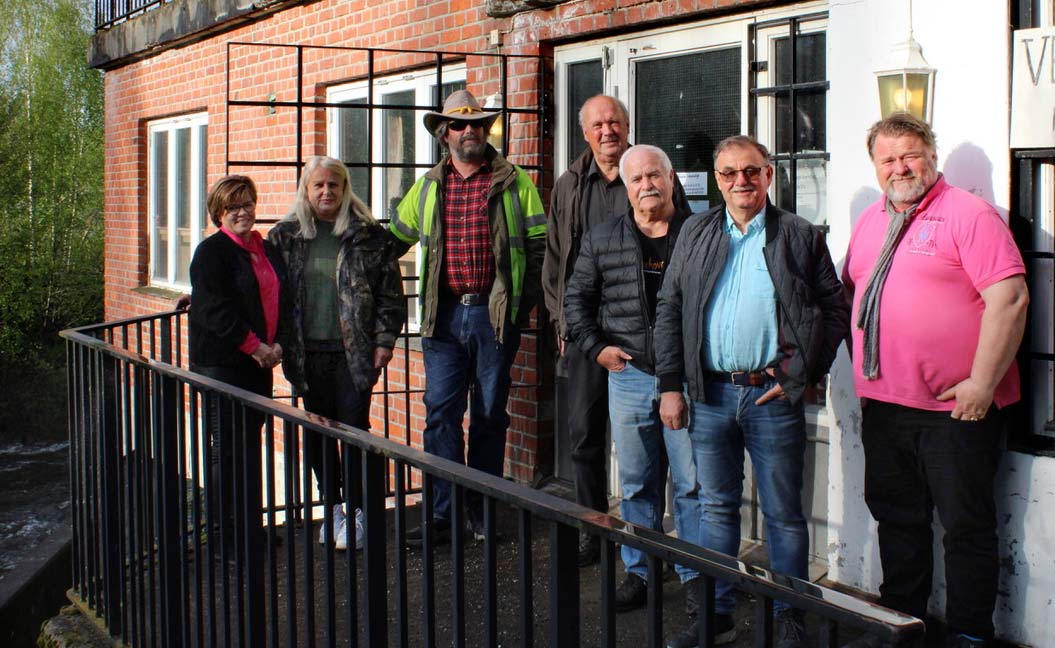 The village committee 2021, Petter Anthon Næss on the right
Morten Viskum and Bjarne Melgaard - digital experiences
-Vestfossen has a healthy local patriotism, which highlights art, culture and history. We mention; the strong labor movement and the physically working women, of whom we also see remnants today, radio theatre, baroque tours and the Haugians, who have their 250th anniversary this year. Hans Kristian Hauge was actually arrested here in Vestfossen. Together with well-known artists such as Morten Viskum and Bjarne Melgaard , we will develop the digital experience around art in collaboration with the Vestfossen Art Laboratory . I can say that all these topics are appropriate to present in the audio guide, he says.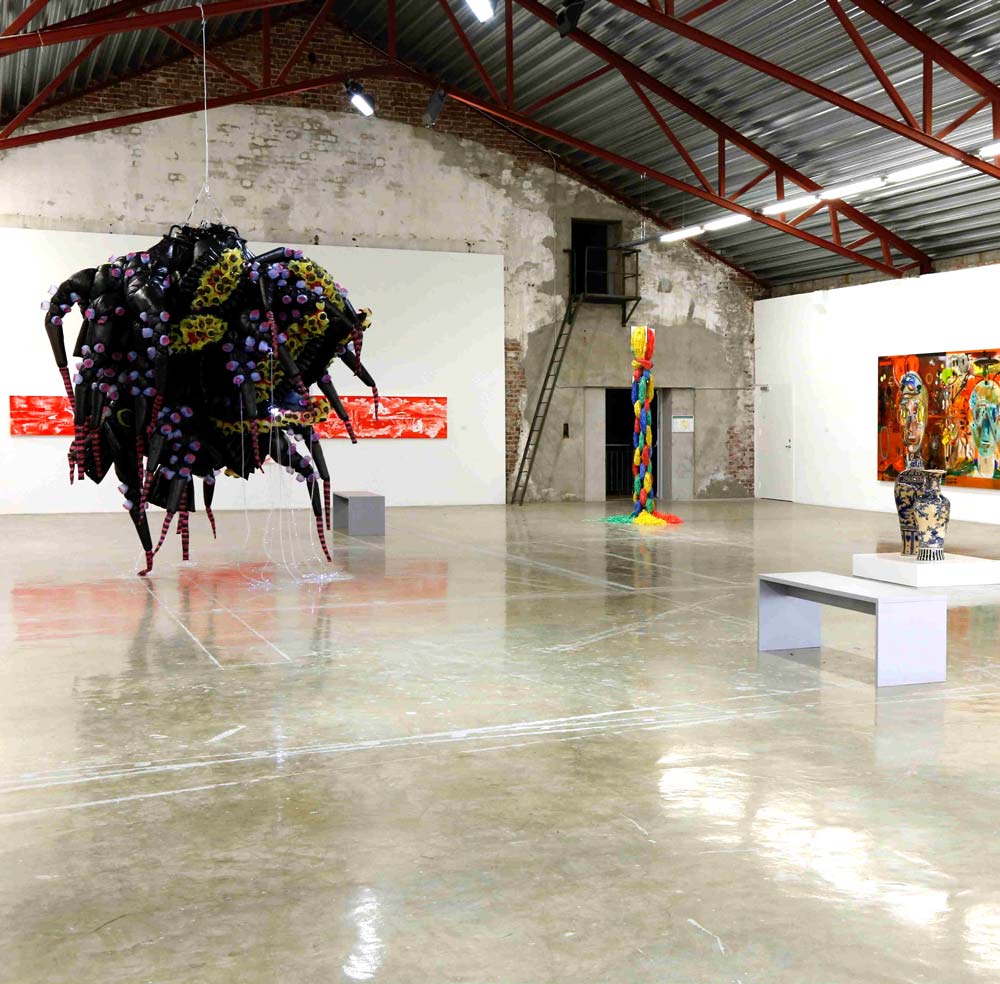 Vestfossen Art Laboratory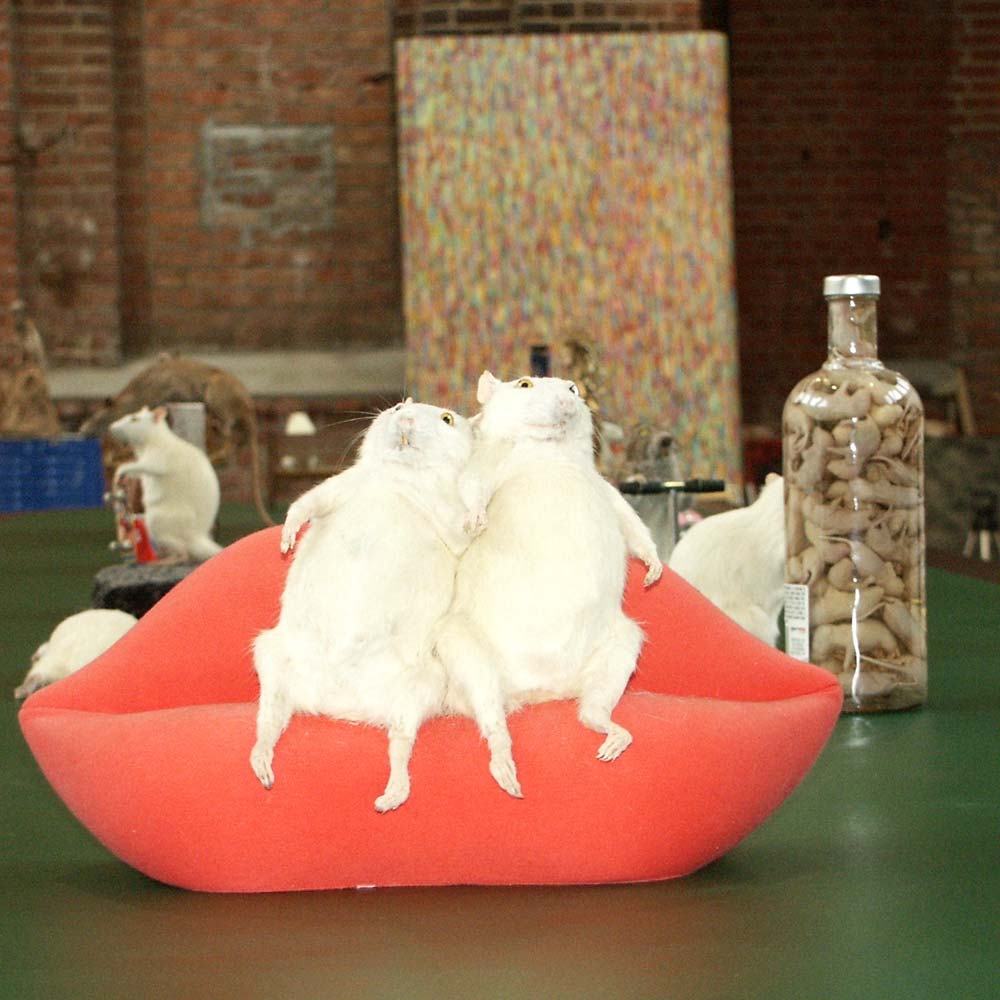 Values freedom and openness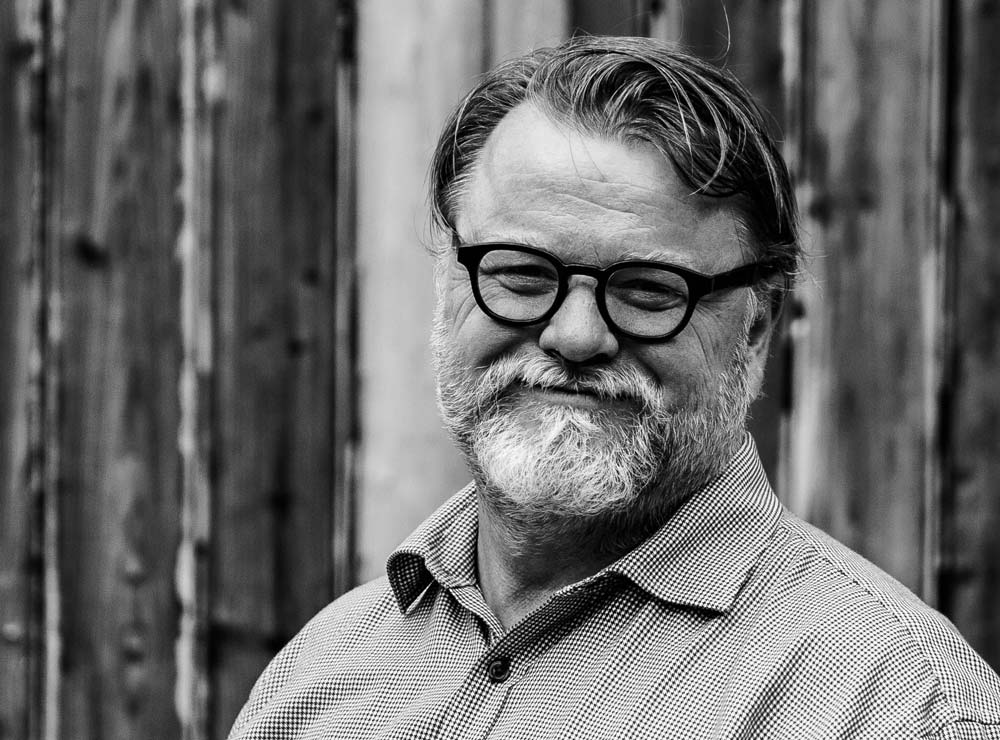 Petter Anthon has a lot of experience and background as a musician (pianist), music producer, composer, of ballet and other stage music, and has written scripts for theater and revue. He travels around Norway and the world together with artists such as Rein Alexander, Ole Edvard Antonsen, Anita Skorgan and Elisabeth Andreassen.
You grew up in Stavern and your wife in Tertnes, and now you have ended up in Vestfossen, also a small place.
– Here we have everything we need, and as long as I'm near a train, I can go where I want – we really appreciate the people here, with the freedom and openness here at Vestfossen, says Petter Anthon. And says that he will also work with music into the audio guide, both in the form of instrumental landscapes but also as effects, vibrations, nature sounds and folk music.
– We will show more sides of Vestfossen this autumn, with the aim of stopping even more people who are passing through, Petter Anthon concludes happily.
Contagious friendly

You use your own mobile as a guide
Easy to keep distance from others
Visit the place when there are few people there
Professional guide when it suits you
This is how the audio guide works
With an audio guide on your mobile, you can easily find sights and other hidden gems nearby.
The map shows where you are and where all sights are located.
When you get to the point of interest, the story of this particular place is automatically told in a pleasant voice.
In addition, you get to see supplementary images that enhance the experience.
Many languages.
Contagion-friendly and available around the clock.
The guide routes in the Voice Of Norway app
- a collaborative project with the whole of Norway
The Voice Of Norway app is used throughout Norway. Here's how it becomes a joint service for everyone: to make the stories visible in their place – designed by yourselves.
Ta kontakt med oss for å få vite mer om hvordan du kan legge til rette for denne typen formidling i din region eller område!
Team Voice Of Norway
Telefon: 94096772