Real stories
- told in real narrator's voices
"With a narrator 's voice that creeps comfortably into the ear canals, the tourists get to hear stories that range from Viking graves, stave churches, city fires, natural phenomena, war stories to children's stories"
Guiding whenever you want
Your own conveying
of culture, history and sights
- on your location
Highlight sights in your own municipality
Local stories are made by you
Visitors can experience more and stay longer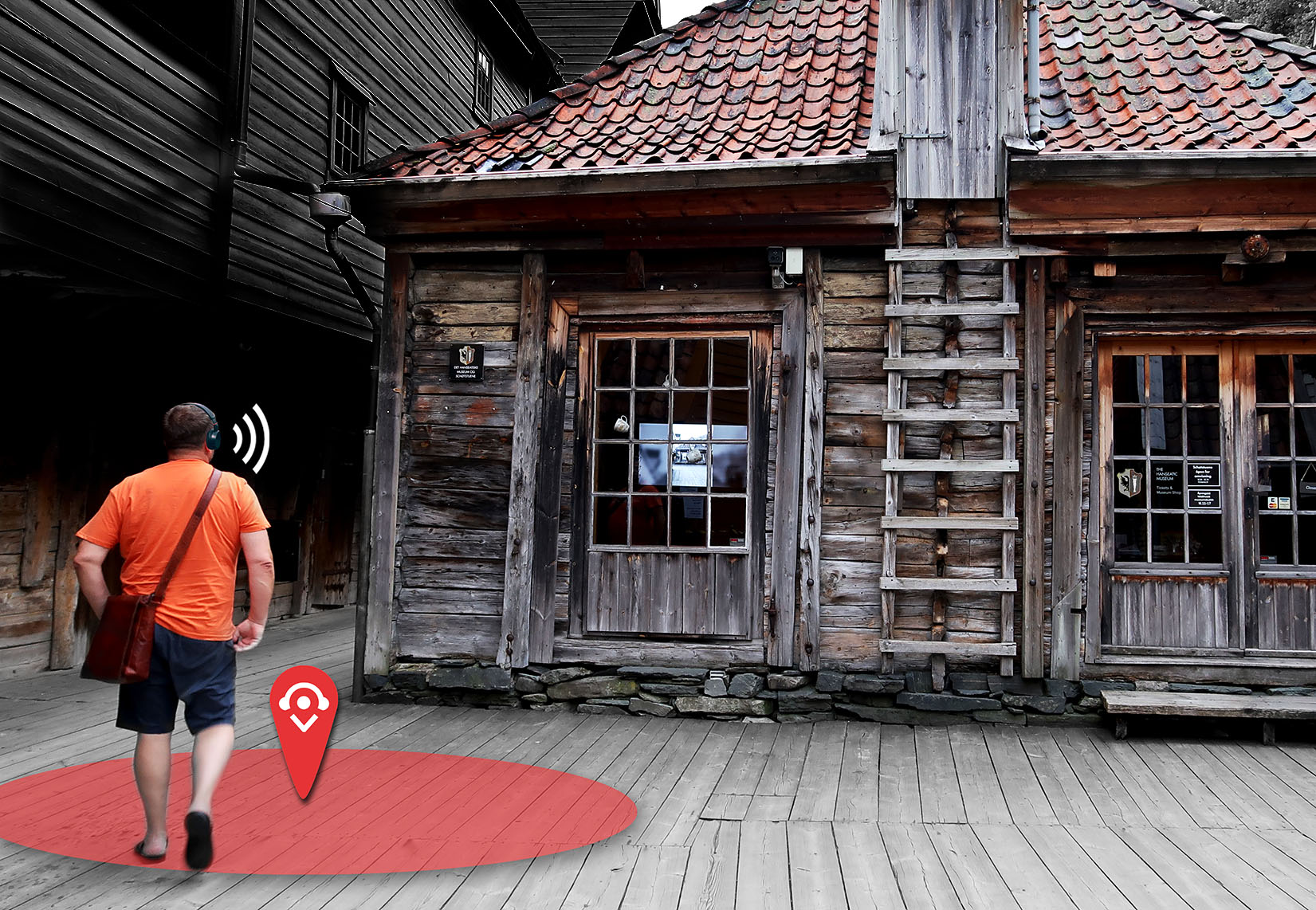 Areas of use for audio guides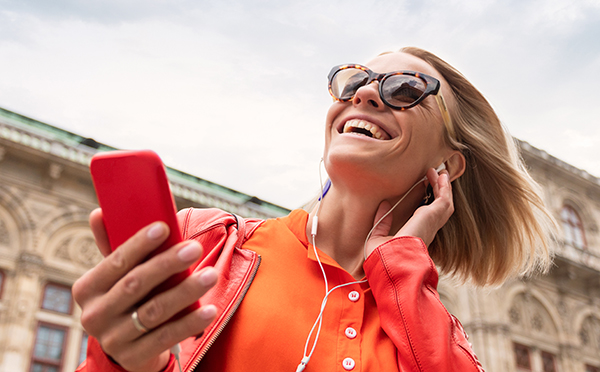 Audio guides suitable for adults
Present your region through storytelling, photos and maps on mobile.
You give travelers an added experience with an audio guide on the train journey, the bus, the boat, museum, in parks, sculpture parks, in search of street art, war stories, burial mounds, rock carvings, caves and other hidden gems.
The audio guide can be used both indoors and outdoors.
Digital fun and learning for children
Create quizzes, letter puzzles and digital treasure hunts for children. Here you can enter prizes and change the layout of the hunt as often as you like.
For example, a quiz route can go on a hiking trail. A museum area can have different digital experiences in the area and change according to the seasons. Children can look for digital balloons in summer, in autumn they hunt for ghosts, around Christmas they look for elves, while at Easter they try to find the Easter bunnies.
The children learn to use maps based on GPS, they get to know the local area, it's fun, provides motivation, and not least physical activity.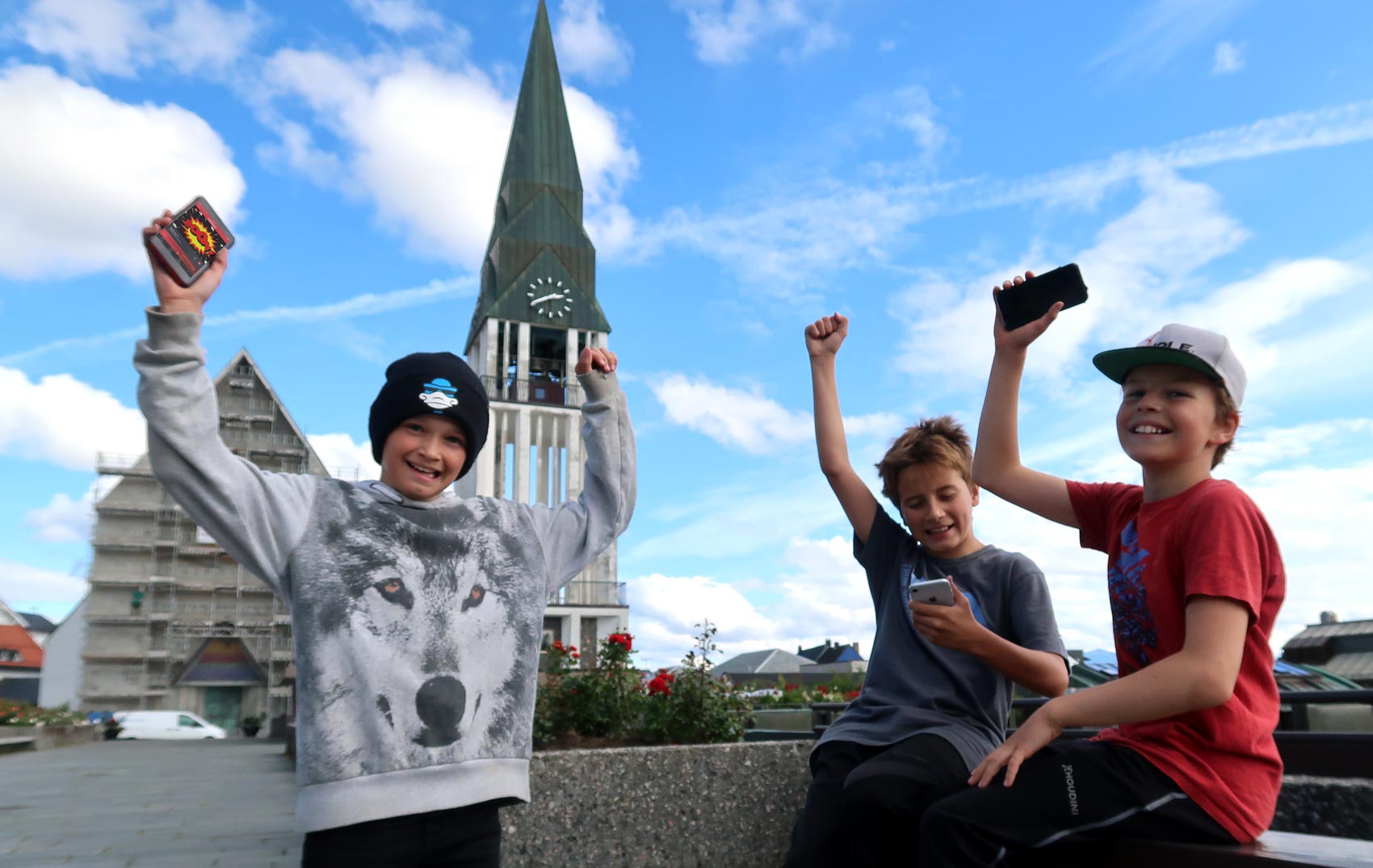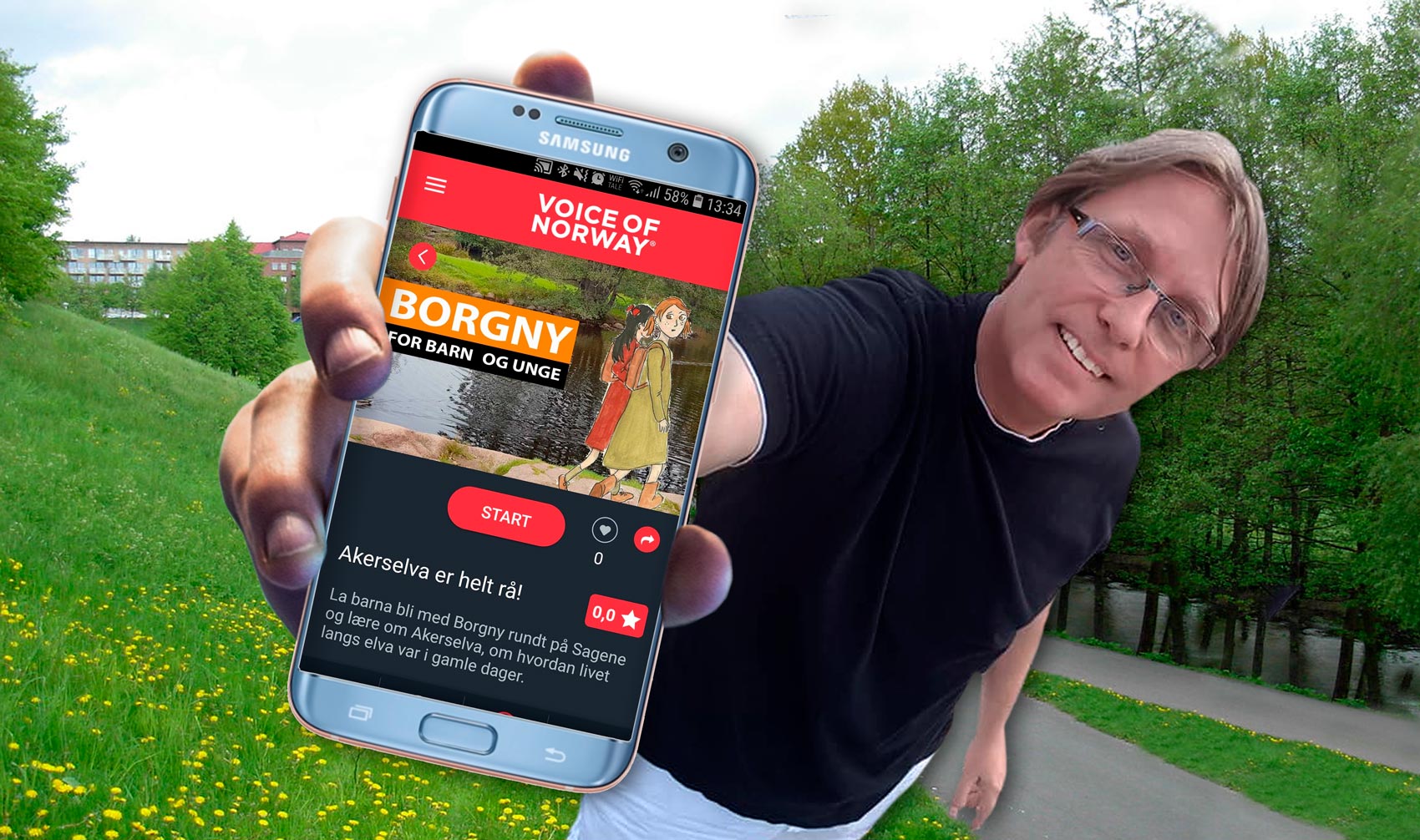 In collaboration with children's book author Jan Hogne Christiansen, Voice of Norway now organizes audio guides with educational content designed for a younger audience.
The children get to know local history through the young and timeless storyteller " BORGNY "
This is how the audio guide works
Voice Of Norway
Your visitors choose route, language, download, and then they're ready!
Innholdsoversikt
Her vil du finne tilgjengelige nedlastbare audioguider sortert etter rutene nærmest deg. Laster du ned en audioguide, kan du sette telefonen i flymodus om ønskelig, og fortsatt bruke guiden.
Språk
Innhold er tilgjengelig på flere språk, og alle rutene har gode, behagelige fortellerstemmer for å gi den beste opplevelsen for sluttbruker.
Ruter
Her finner du informasjon om den valgte ruten. Rutene er opprettet av kommuner, persontransportselskap, og reiselivsdestinasjoner. Last ned og aktiver for å komme inn i kartet.
Kart
Innholdet blir automatisk avspilt når du beveger deg innenfor radiusen på et punkt. På flere ruter er det mulig å fjernavspille punktene, som betyr at man for eksempel kan zoome inn på kartet og spille av punktene for en forsamling med elever i et klasserom.
Interessepunkt (POI)
Informasjonen presenteres med audio, bilder og tekst. Man kan trykke på pause, og spole frem og tilbake om man ønsker det. Scroll ned på skjermen for å lese tekst og eventuelt klikke på lenker.
Meny
Meny med tilgang til audiogude-ruter du har lastet ned, sluttbruker-support, Voice of Norway hjemmeside, og tutorial.
Who can use Voice Of Norway?
Local stories
in the audio guide
Voice Of Norway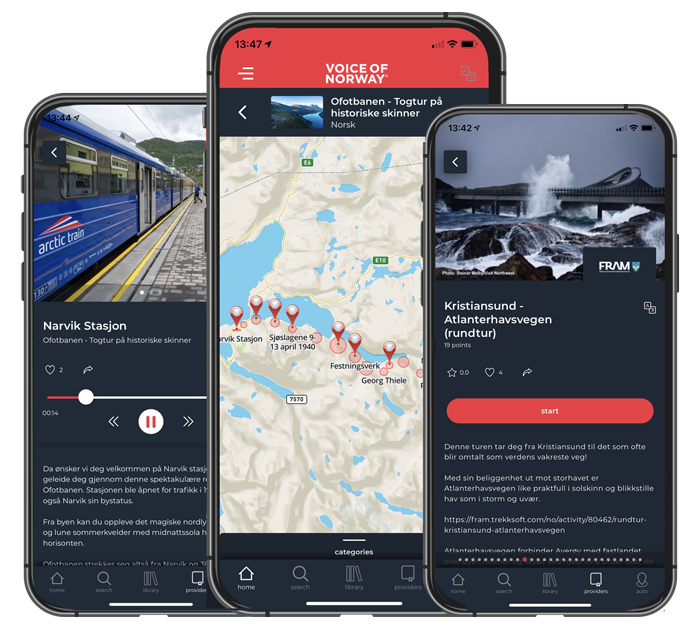 After you have been through our training program, you can add the content to the publishing tool yourself. We ensure that your content is quality assured and, in addition, translated and recorded with professional narration, if you do not choose to do this yourself.
The benefits
- as our customers see it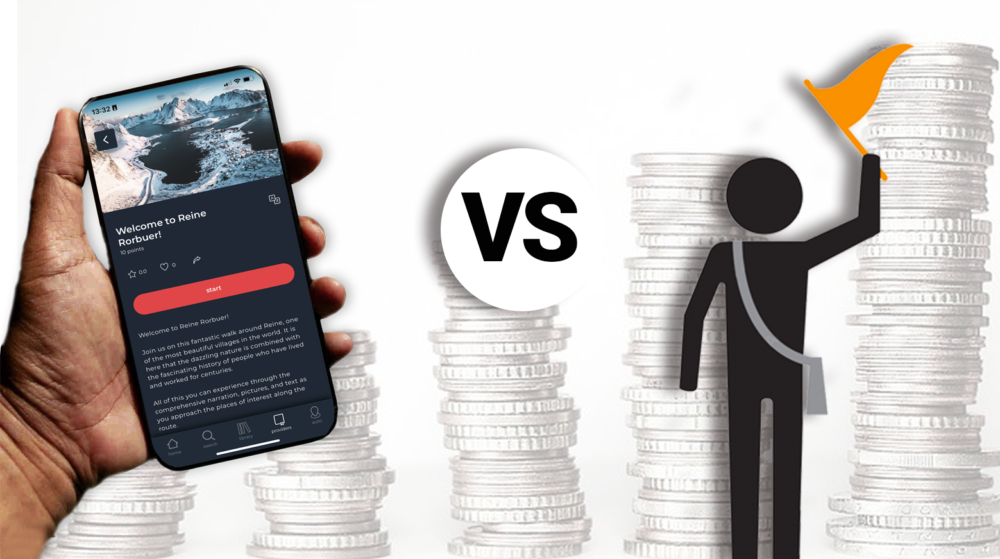 – In order to make it easier for you to assess which guide solutions are best for your business, we have taken a look at the costs that must be considered when choosing an audio guide vs a personal guide.
Read more "