Both useful and fun with quizzes!
-Do you remember this? Do you know what this is? What do you see now?
Competing with Quiz is fun!
Competitions are fun in connection with activities for children and learning at outdoor school, and at least as much fun as activities at jubilee and team-building for adults or when you have to divide groups of people in a smart way.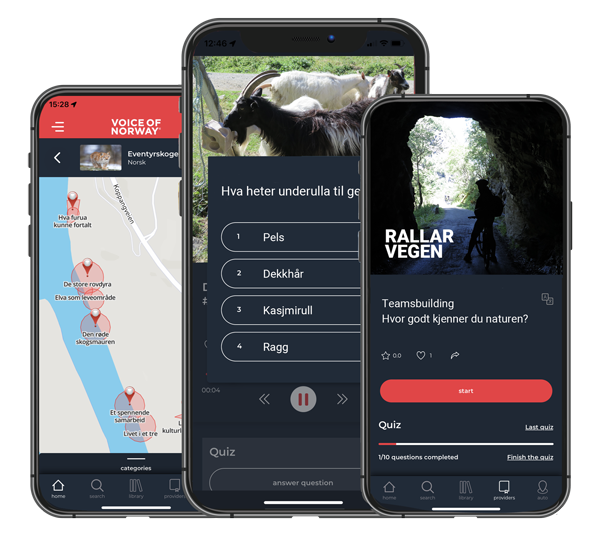 Digital quiz based on GPS point
Question with 4 answer options
You create simple questions and answers yourself
The questions are triggered by the users when they are in the right place on the map (GPS)
You can compete against yourself or in groups
Advantages of quizzes in the app
Exciting for your visitors
Easy to create quizzes – easy to change tasks
The route is easily changed – move the GPS point
Available in all languages
Easily accessible via smartphone
Information can be switched on/off
Trackless: the map in the app replaces signs, screens, brochures
Available 24/7
Open API
Do you need to activate people?
Should people be dispersed beyond an area?
Do you want to create a fun activity for children or adults?
Is learning important?
Is competing the most important thing?
Should the people go a certain direction/route?
Do you need control or management of crowds?
Quiz and the smart guide in the same solution
In Voice Of Norway there is also a smart guide, which informs the public with images, sound, hologram and map when visitors are at a given GPS location. Quizzes can be linked to these stories as a fun activity, competition or as more learning about different topics:
Culture and history
Nature and cultural trails
Art and theatre
Geology and biology
Exactly the content you want
Visitors use their own mobile phones
-as a guide
The Voice of Norway app contains everything your visitors need!
You create the local stories
The map in the app shows the way to the places (GPS)
The audio stories start automatically when the visitor is in the right place
The stories have a professional narration
Your photos complement what they see
The holograms are your actors
Available all year round and around the clock
The guide routes in the Voice Of Norway app
- a collaborative project with the whole of Norway
The Voice Of Norway app is used throughout Norway. Here's how it becomes a joint service for everyone: to make the stories visible in their place – designed by yourselves.
This is what our customers say
Ta kontakt med oss for å få vite mer om hvordan du kan legge til rette for denne typen formidling i din region eller område!
Team Voice Of Norway
Telefon: 94096772