Advantages of outdoor school
-Teaching outdoors gives pupils the opportunity to be more physically active, work creatively and collaborate with others. Outside, students get the opportunity to use their bodies and senses in a different way than in the classroom. It is important to see the teaching that takes place in the classroom and outside in context, and how it contributes to the pupils' academic and social learning and development.
Pupils learn about the local environment, using smart sound
Imagine that the class is out on a walk, and imagine that they are standing exactly where the first bomb landed during World War II. World War II, while also giving them the history of what happened on this day. Or learn about famous people in your own city by going in search of statues. Also imagine that the student can wander around a museum and not only see, but also hear the stories from the old days and not least get to see pictures of what they hear about. It doesn't stop there: you can choose the topics yourself. Knowledge of who we are and where we come from provides fertile ground for a sense of identity, and in addition the students are active. In this way, for example, we can take advantage of smart sound in school and teaching.
Cooperation with the tourism industry
– In Norway, a number of audio histories are now being prepared. They are in several categories: history, culture, art, cultural monuments, natural monuments, environmental work, flora and much more. All the stories are of high quality and are made by local celebrities and women around Norway. The stories are translated and read into several languages.
Check what's already been made at your location. The municipalities can also create such routes as they wish, based on what there is to choose from at this location.
The stories are not made specifically for tourists, but just as much for those who live there, including children!
Is this a possible collaborative project?
Primary school and upper secondary school
Pupils use mobile phones as a natural part of teaching:
Teacher of the city:

War history
stories about famous people
Architecture and art history

Learn about the old days on a walk at the village museum
Learn about geology, fauna and flora on nature and cultural trails
Create your own themes such as environmental routes
Integration of new cultures
Learning about maps and distances
In several languages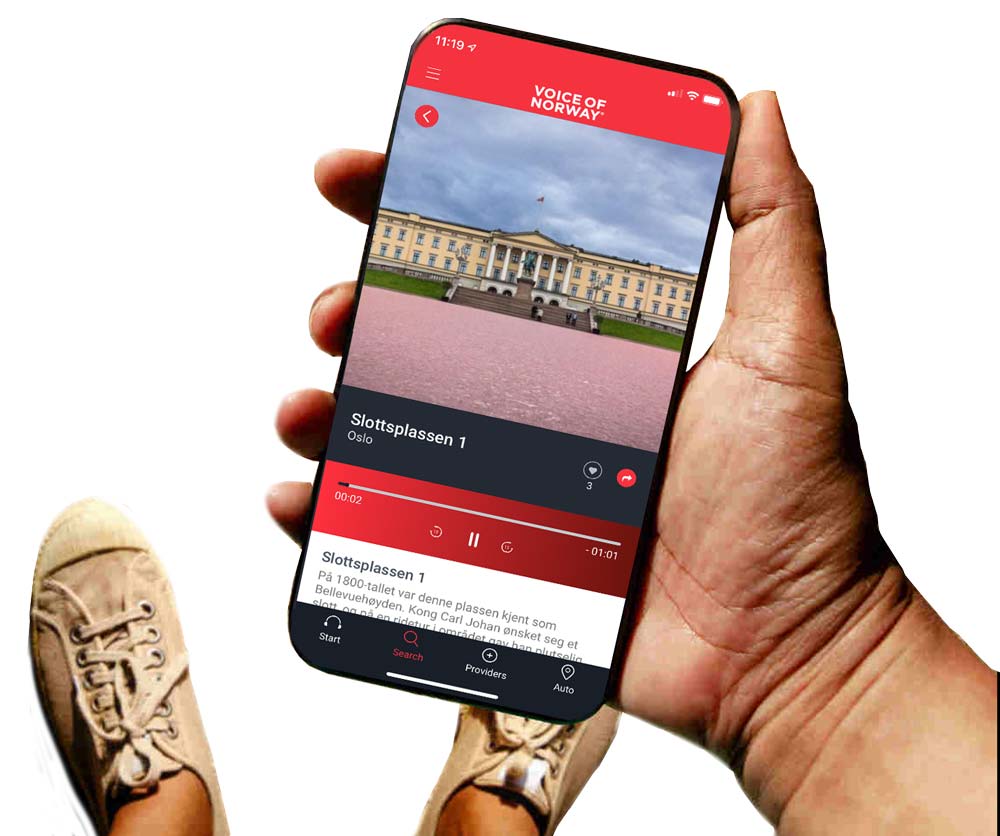 With a guide on their own mobile phone, you can welcome the students to the city they have moved to, and this is how it can be used:
Welcome new students
Tour of the area, (kindergarten, student accommodation, campus, canteen, library)
Learn more about the city the students have moved to
Student week: quiz, fun and getting to know each other, at school or in nature
In teaching
Art route at school
For recruitment
Benefits:
In as many languages as you wish
Contagious friendly
Vocational schools
- and adult education
In as many languages as desired, students can be integrated into the course of education and build competence, the tool is a guide on their own mobile phone.
Integrate new cultures
Tour of the area and the city
In teaching
Get to know each other: quizzes and fun, at school or in nature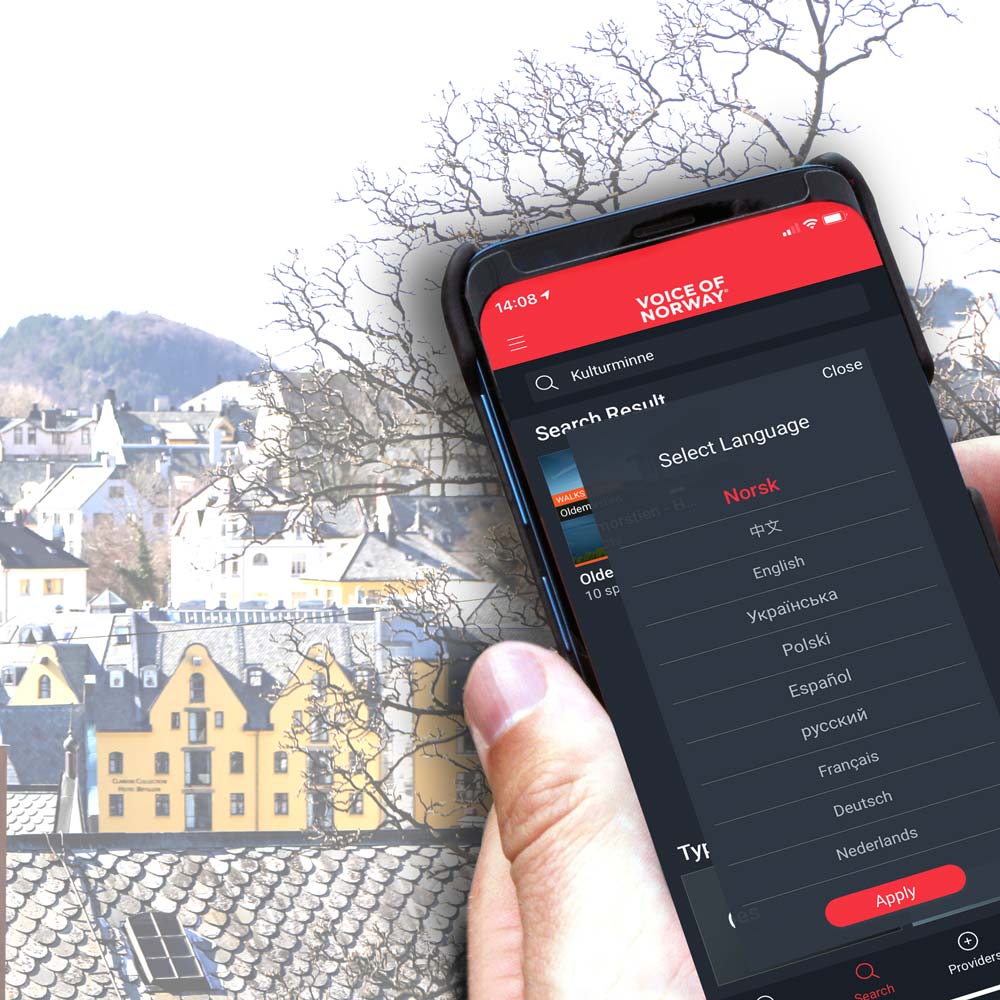 SMART SOUND IN EDUCATION
- WHAT IS POSSIBLE?
— The project covers much of the general part of subject renewal but also competence targets in the various subjects. And we think the project was so successful that we want to run it every 3 years. year so that everyone can experience it. The pupils get to know their local area, and the project has been useful and will hopefully live on, he explains.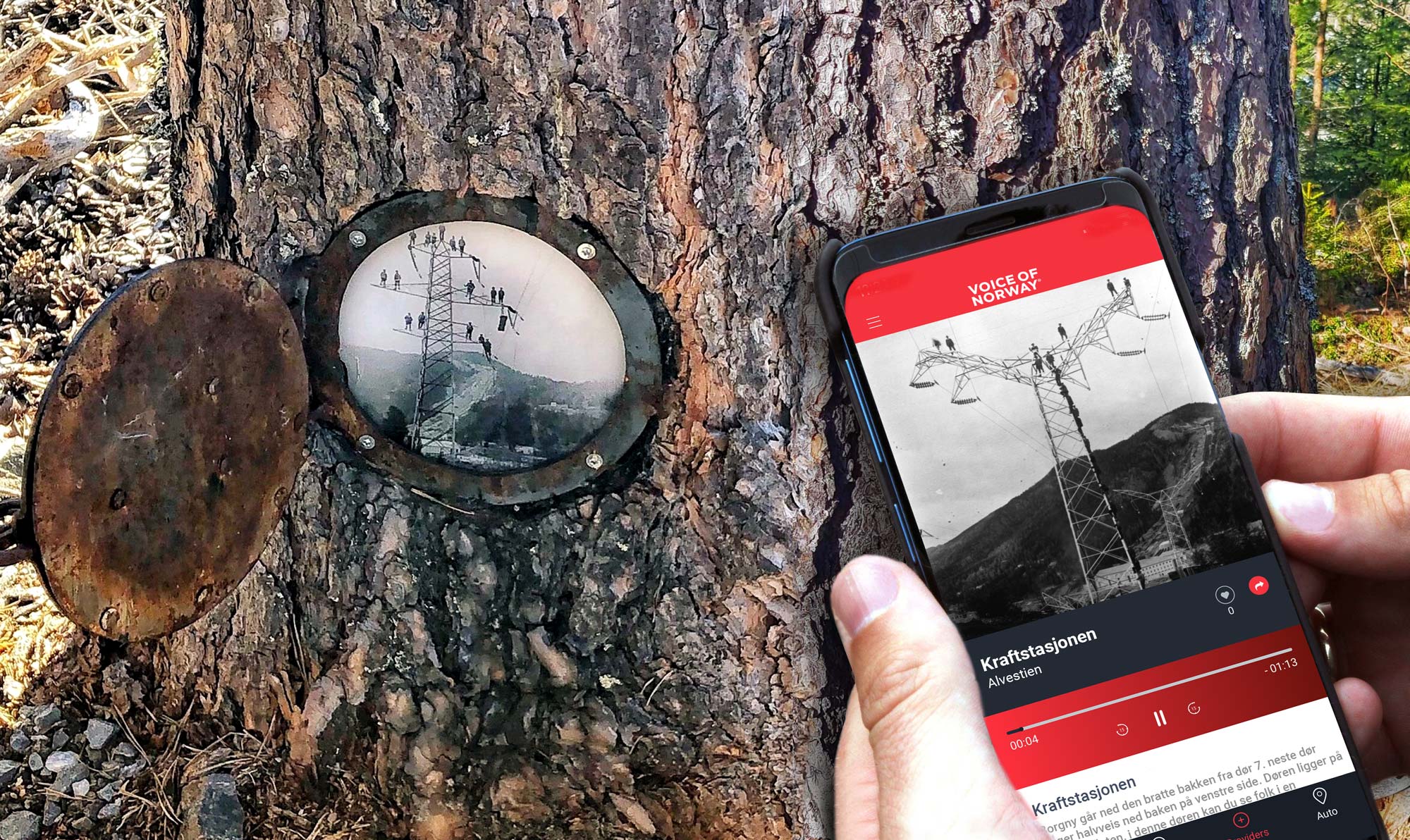 Nore and Uvdal in a collaborative project with the school
– The audio guide project will be part of The cultural school bag, says Britt Guton Halland.
Industrial history along the Akerselva
– Here, whoever wanders through this fantastic open-air museum can hear the history of industry from the 18th century up to the present day.
The 90 stories are, among other things, about the production of hats, yeast, nails, sail cloth and Solo. About blue river and child labour.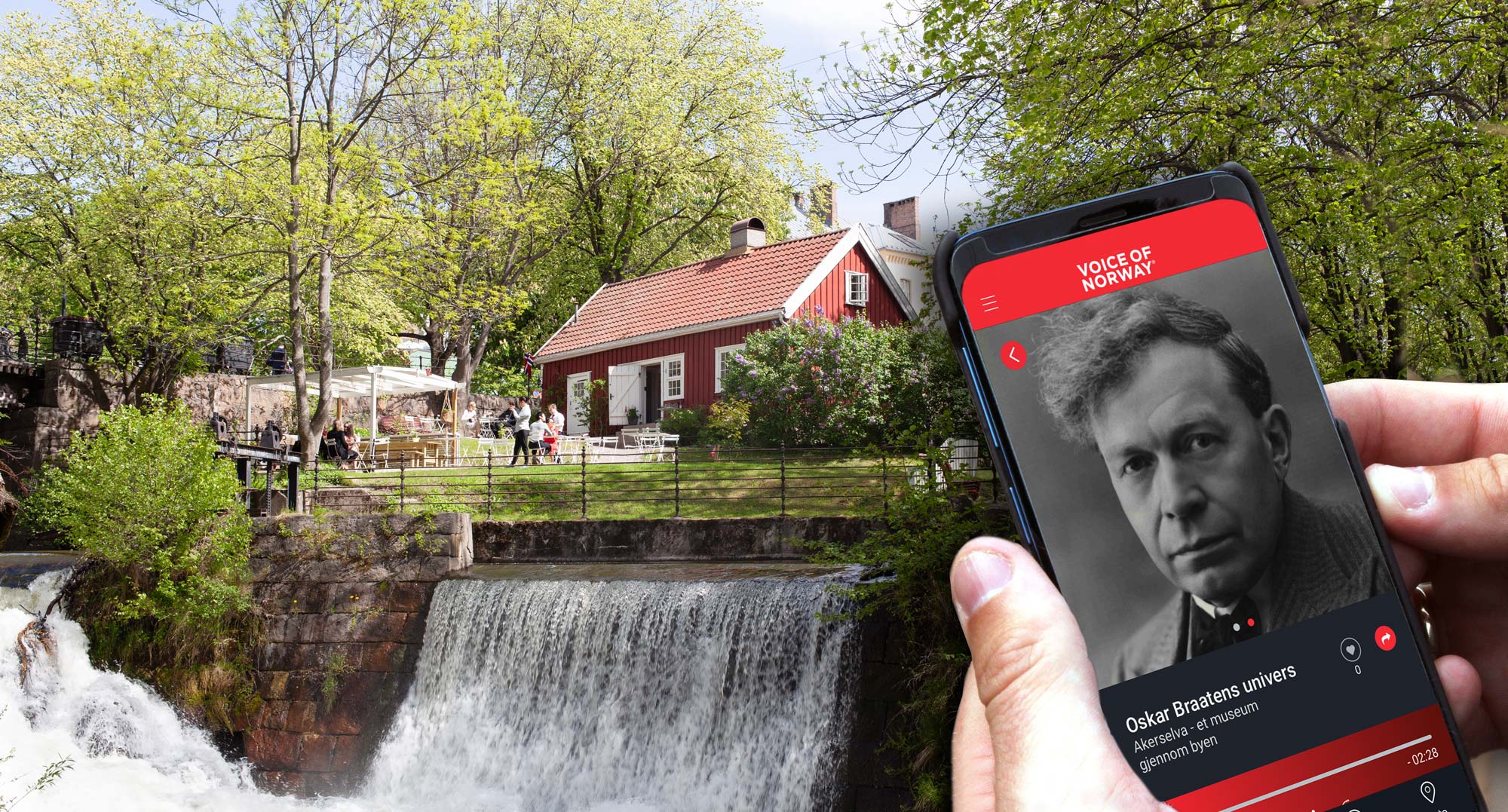 – The students get to know their city. On a sculpture walk with the mobile phone as a guide.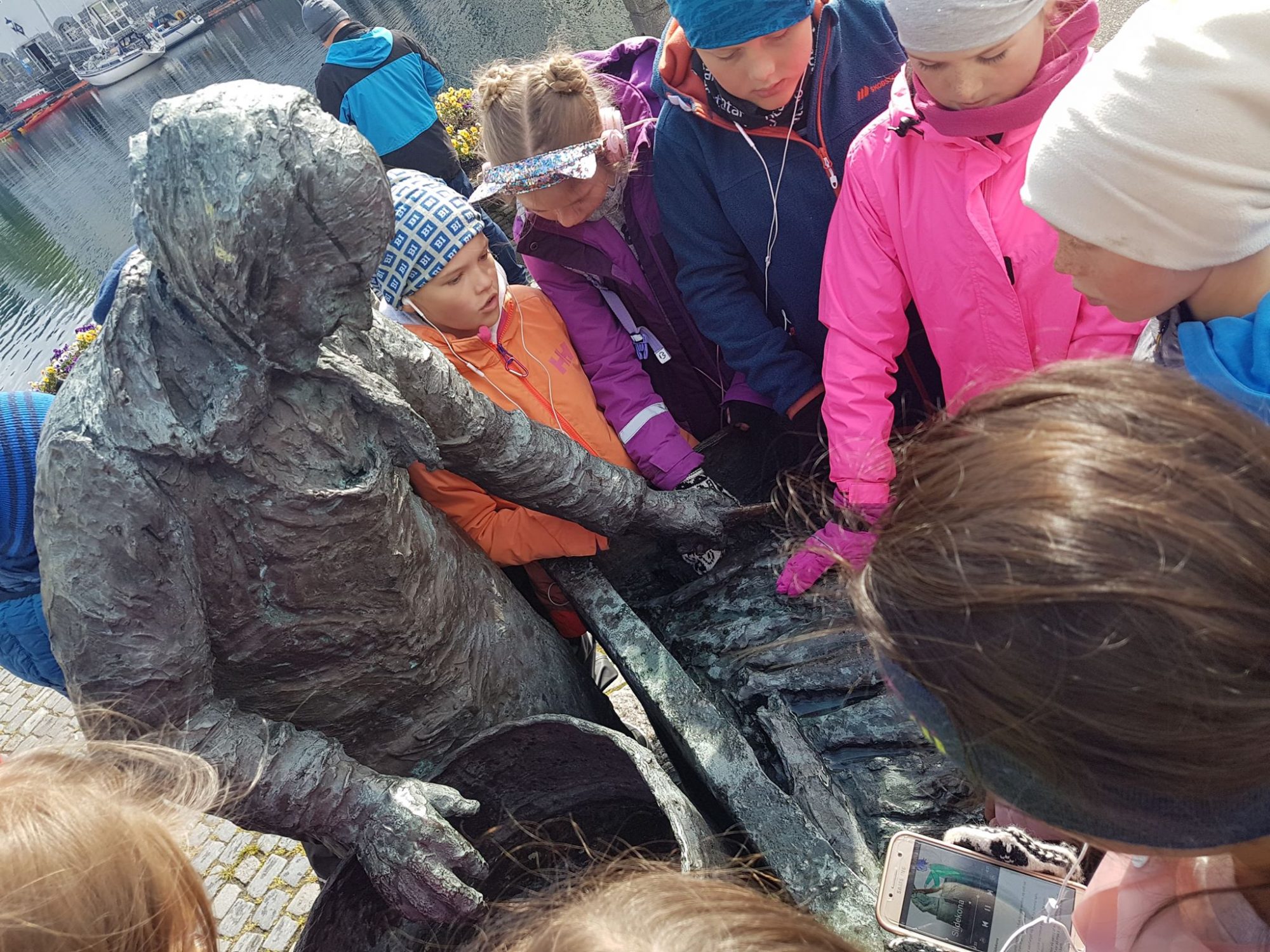 Learn about the local environment, architecture, construction techniques, myths, events and celebrities, while walking the streets.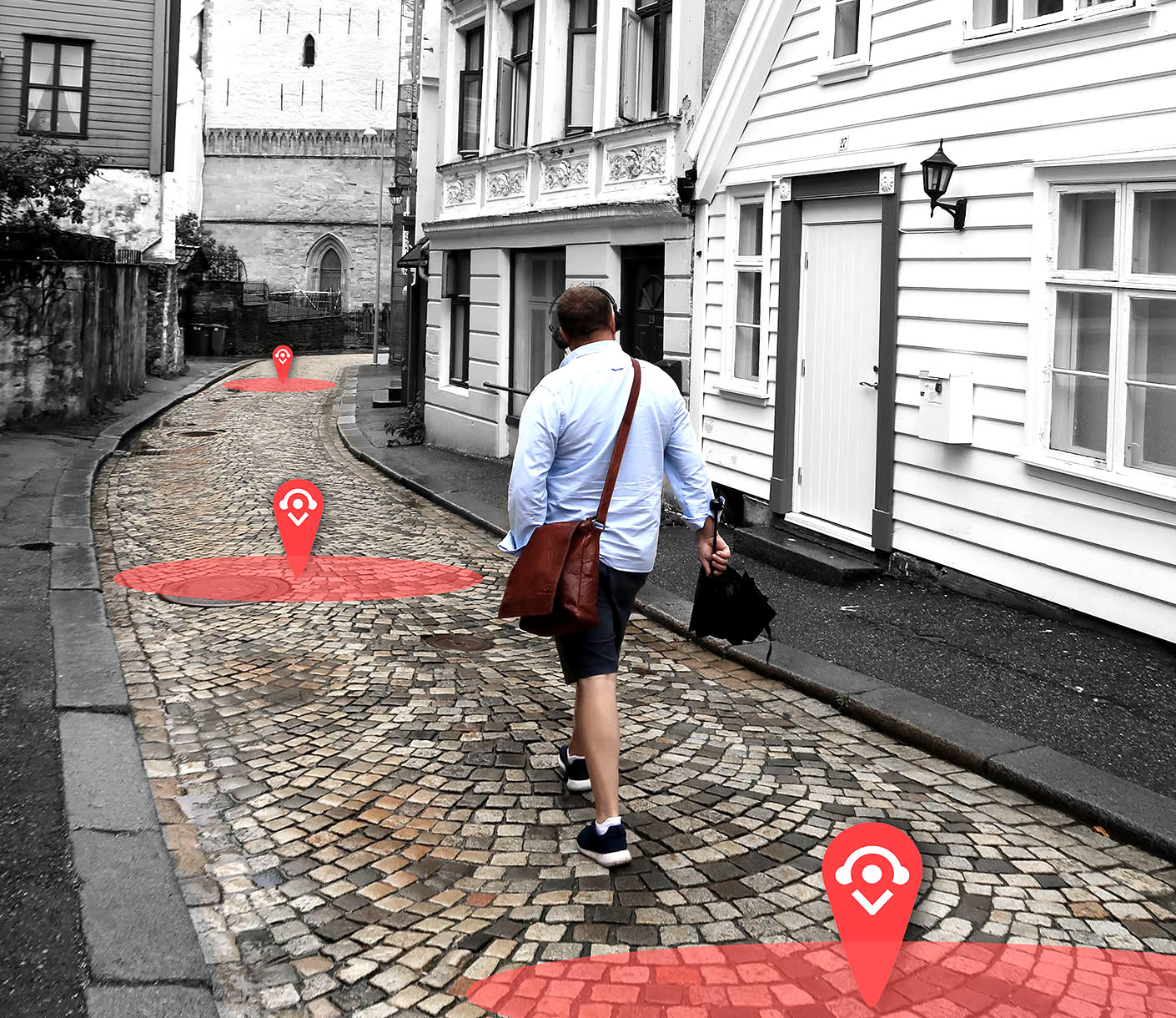 Both street art, sculptures and artists can be learned about on a walk where the art is.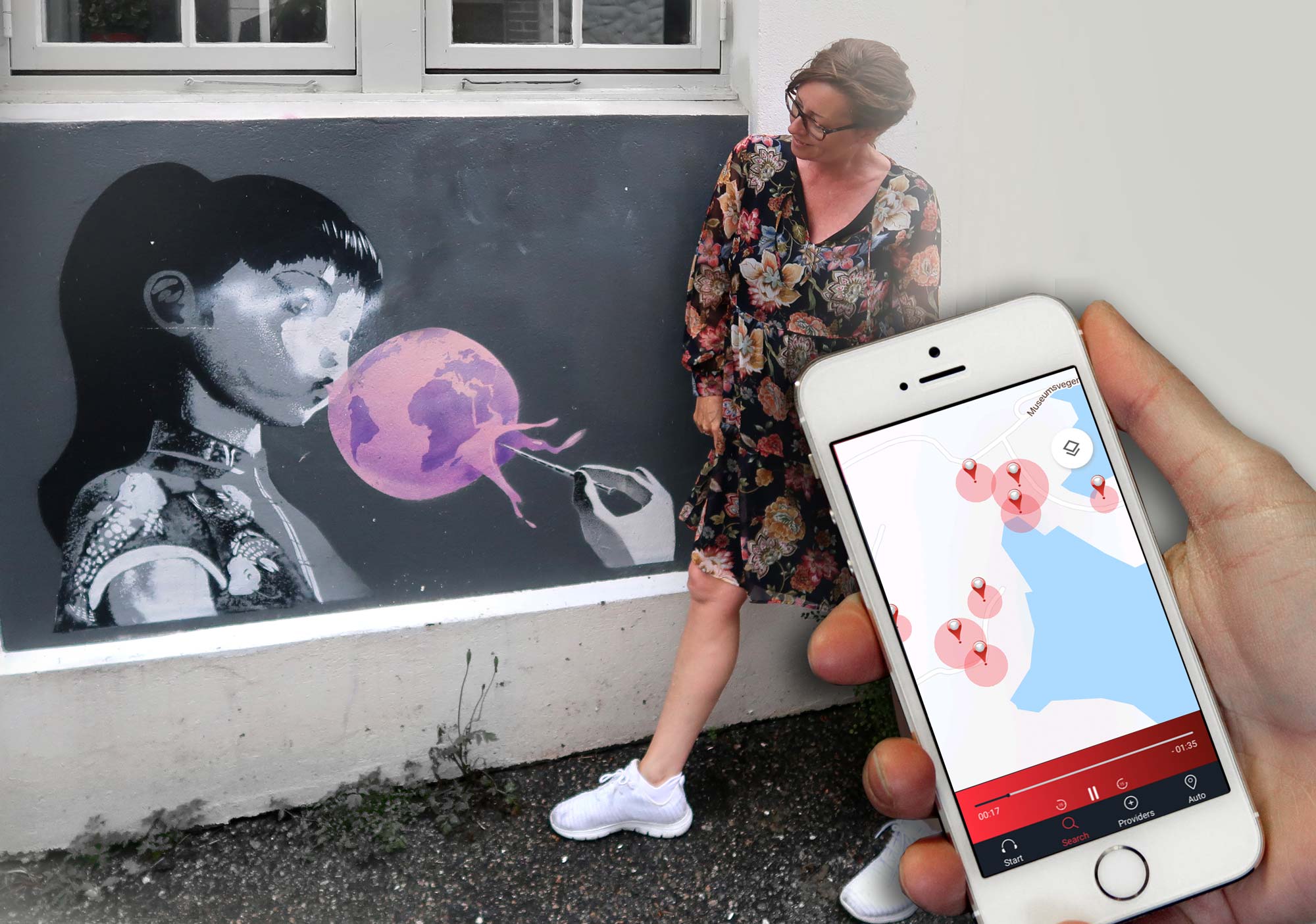 Women's cause routes, environmental routes, yes, here the only limits are the imagination.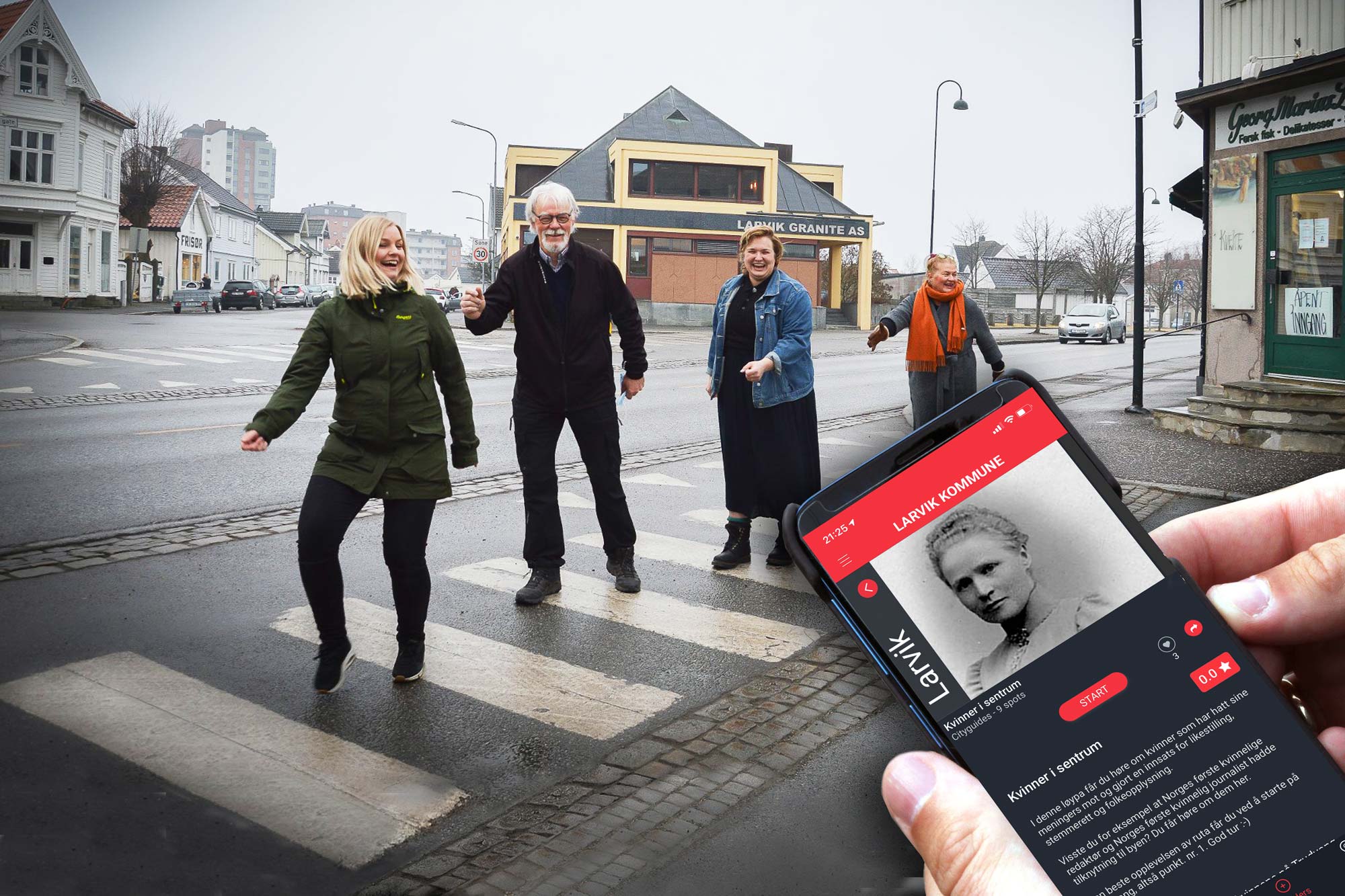 All stories can be linked to quizzes, multiple choice and competitions. To learn even more and to compete. Have you missed mathematics as a subject? Yes, then you can easily bring it here both with the youngest and at universities.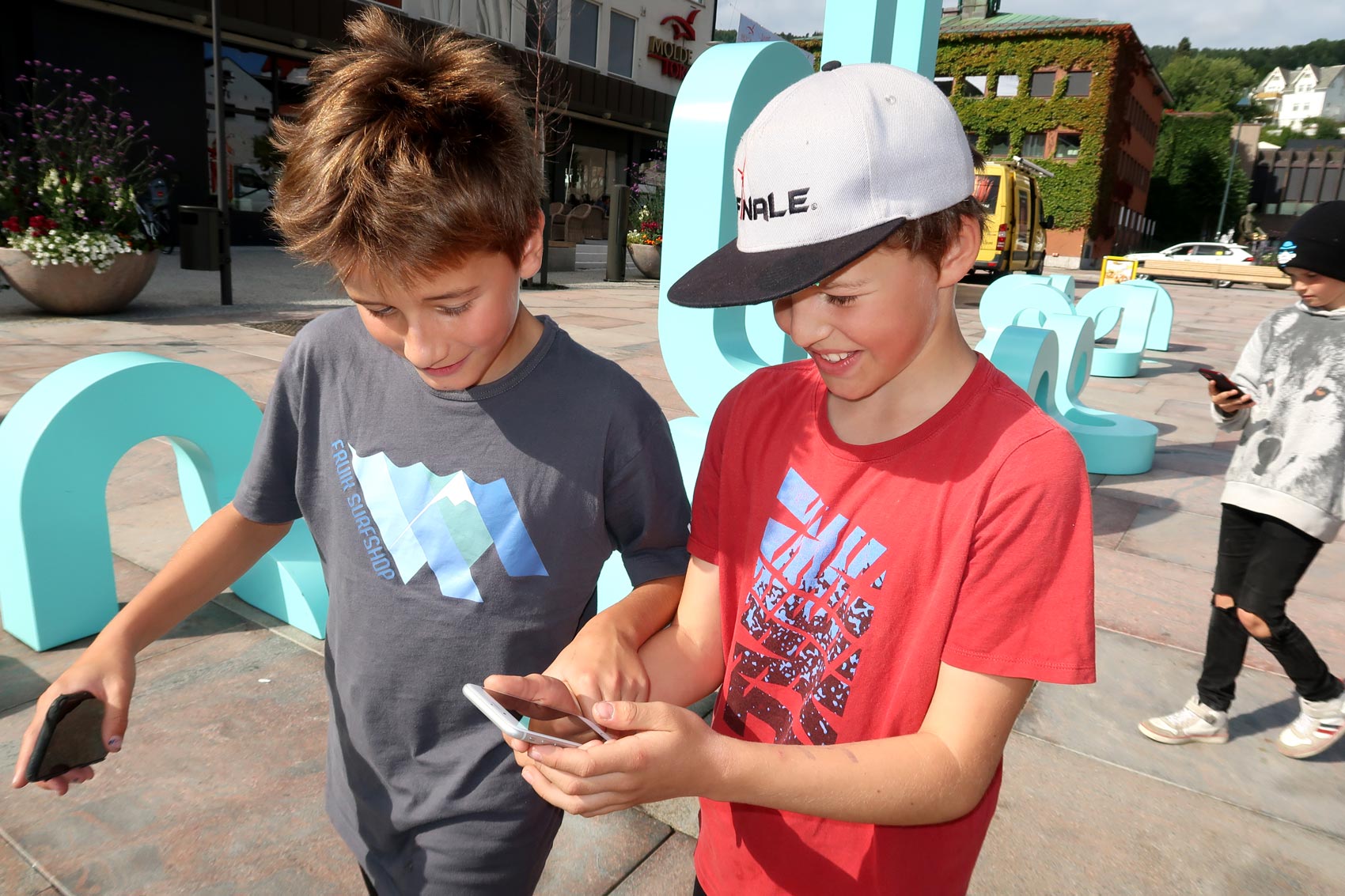 Check which stories have already been made in your local area, and use them in teaching.
Cooperation with actors in your immediate environment, municipal administration and county.
Make trips to your school and collaborate with the tourism industry, museum and other players.
Your school/place of study can create their own routes.
This is how the audio guide works
With an audio guide on your mobile, you can easily find sights and other hidden gems nearby.
The map shows where you are and where all sights are located.
When you get to the point of interest, the story of this particular place is automatically told in a pleasant voice.
In addition, you get to see supplementary images that enhance the experience.
The guide is available around the clock.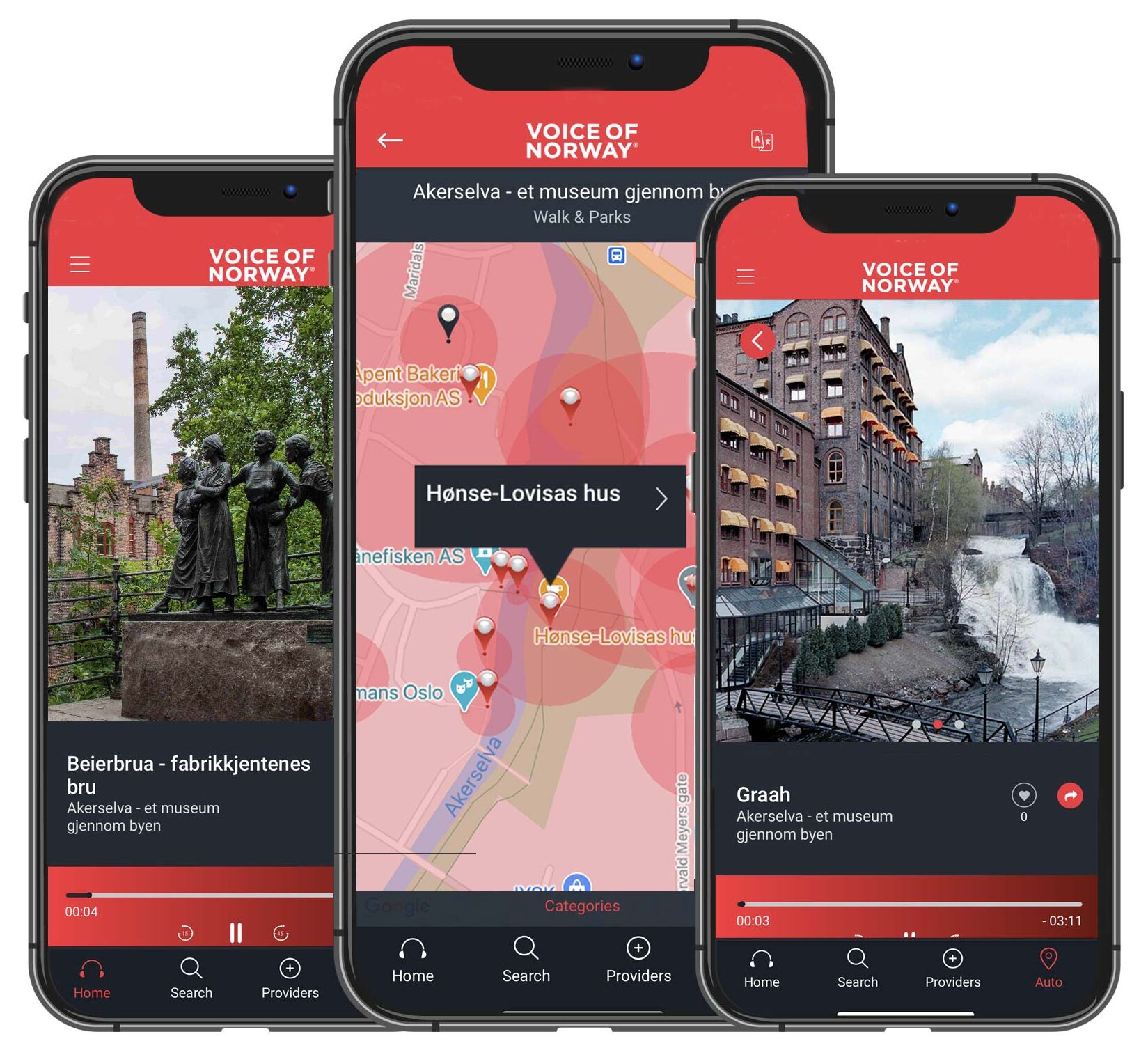 The guide routes in the Voice Of Norway app
- a collaborative project with the whole of Norway
The Voice Of Norway app is used throughout Norway. Here's how it becomes a joint service for everyone: to make the stories visible in their place – designed by yourselves.
Ta kontakt med oss for å få vite mer om hvordan du kan legge til rette for denne typen formidling i din region eller område!
Team Voice Of Norway
Telefon: 94096772