View the taxes for the tourists
-This year we will have a Zipline from Tverrfjellet, a city bridge over the strait and, last but not least, we have now launched guiding with a mobile phone via the Voice of Norway app. With her, she has a proud rural community that happily shares its treasures with tourists, Bakke continues. The new tourism developer in Fosnavåg and Herøy is betting big. After 12 years as head of tourism in Rauma and "mother of" Romsdalseggen, she is now in the process of facilitating more tourism in Fosnavåg .
It has been an adventure to work with the Voice of Norway app
– The work of displaying attractions in the app has helped to build identity in the local community. There was a lot we didn't know about the cities themselves, says Merethe Hjertø Flusund, head of business in Havlandet AS . She was born and raised in Herøy and is now happy about the tourism investment in the municipality.
With the mobile app, you can learn more on the go
Did you know that: Puffins can live up to 40 years old and that they stick to the same partner their whole life? That they come back to the same nest every time and that they only lay one egg?
That they are good at swimming and can dive to a depth of 60 m and hold their breath for one minute? Or that they can fly up to 90 km per hour?
Havlandet offers tourists 50 points of experience - and more to come
– Now the app guides our visitors when they travel to sea, are in the mountains, on a road trip or on a walk in the city centre. The app starts automatically in the vicinity of the attraction and tells you the story of the place with the pleasant narrator's voice of journalist Jon Henriksen. The app is available all the time and gives you a lot of fascinating information about the area that you would otherwise not have known, explains Bakke. We now offer the Norwegian language, but both English and German will be available. New points appear in the app as soon as they are available.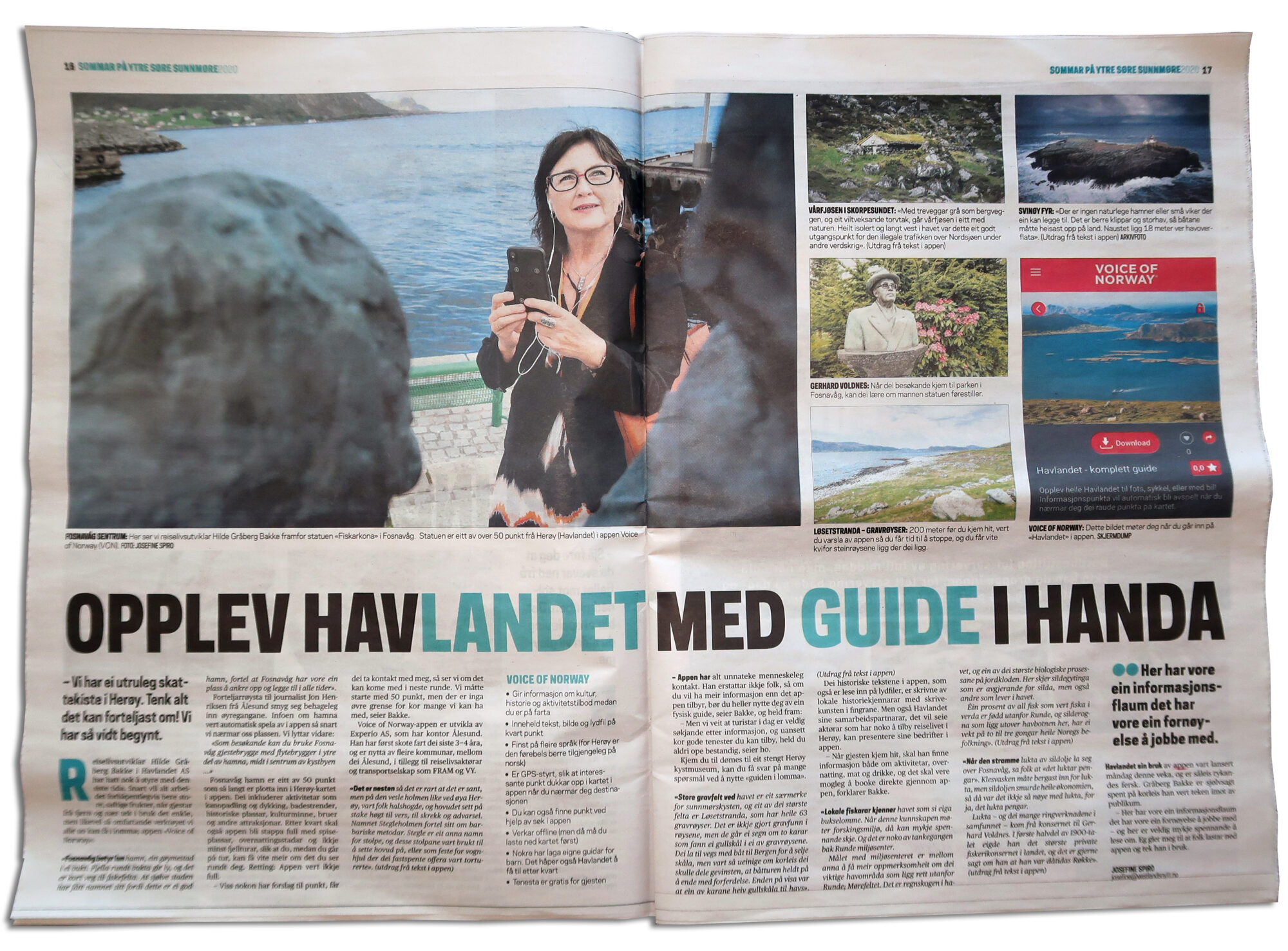 Newspaper Vestlandsnytt on 16 June 2020
This is what the app looks like
The stories are written by local historians who know the art of writing. We enter images and text into the app ourselves, but the input is done by professional actors through Voice of Norway. The solution is easy to deal with and we easily adjust the radius on point and insert several images.
Well route based on interests and subject
– We have put together several routes based on the type of trip you want to take. If you come by sea, there are interesting stories about both fish and the round treasure. You can also choose routes that tell about the trip from "Fosnavåg to bird island Runde" or "Coastal culture and stories from Havlandet". More routes will be created gradually, she says.
Rundskatten - excerpt from the app
With a dramatic narrator's voice we can hear:
The storm roars and rips the sails. Captain Nicolaas de Roy fails to save the Dutch schooner. She is thrown into the rock wall in Goksøyra the night between 7. and 8 March 1725. All on board drowned. Crew, officers – their wives. Down in the depths, close to two tonnes of gold and silver, spread over nineteen chests, also disappear…
75 kilos of coins, that means 57,000 coins and equipment from ships have been found and transported on land and perhaps there are more treasures there. Furthermore, we hear:
…If you don't find this treasure, it is still a treasure to be able to dive in this area with crystal clear water and an adventurous kelp forest.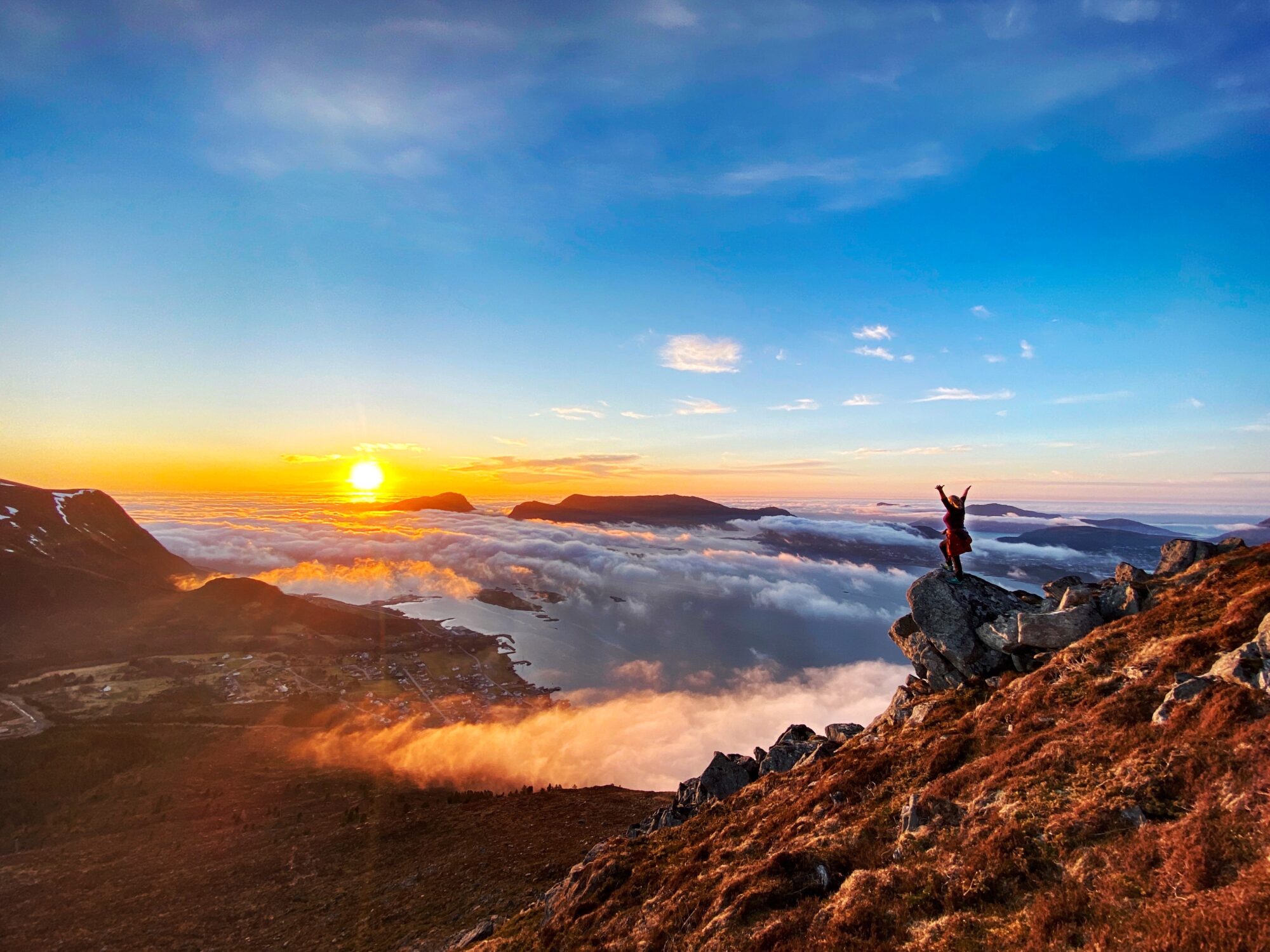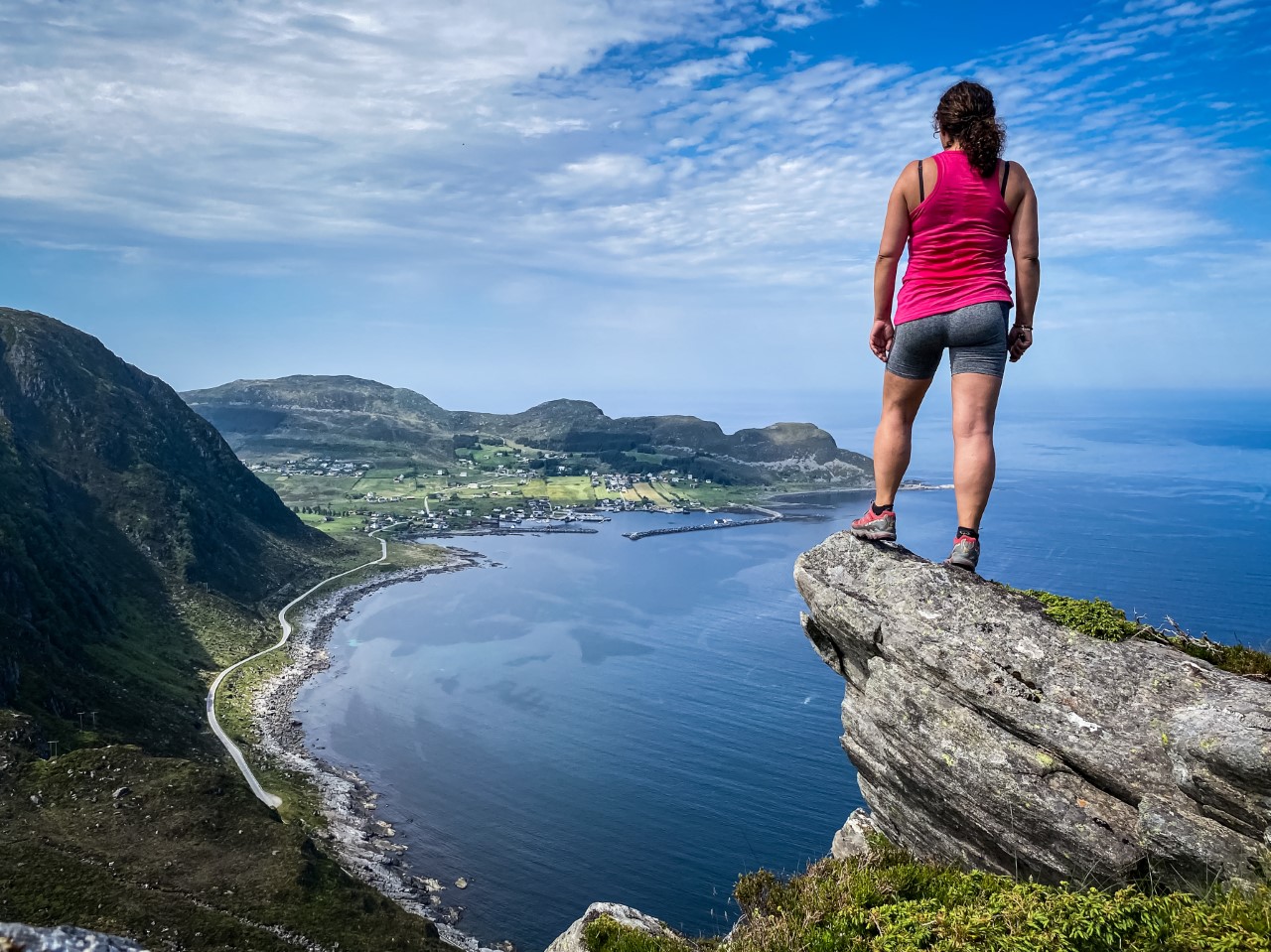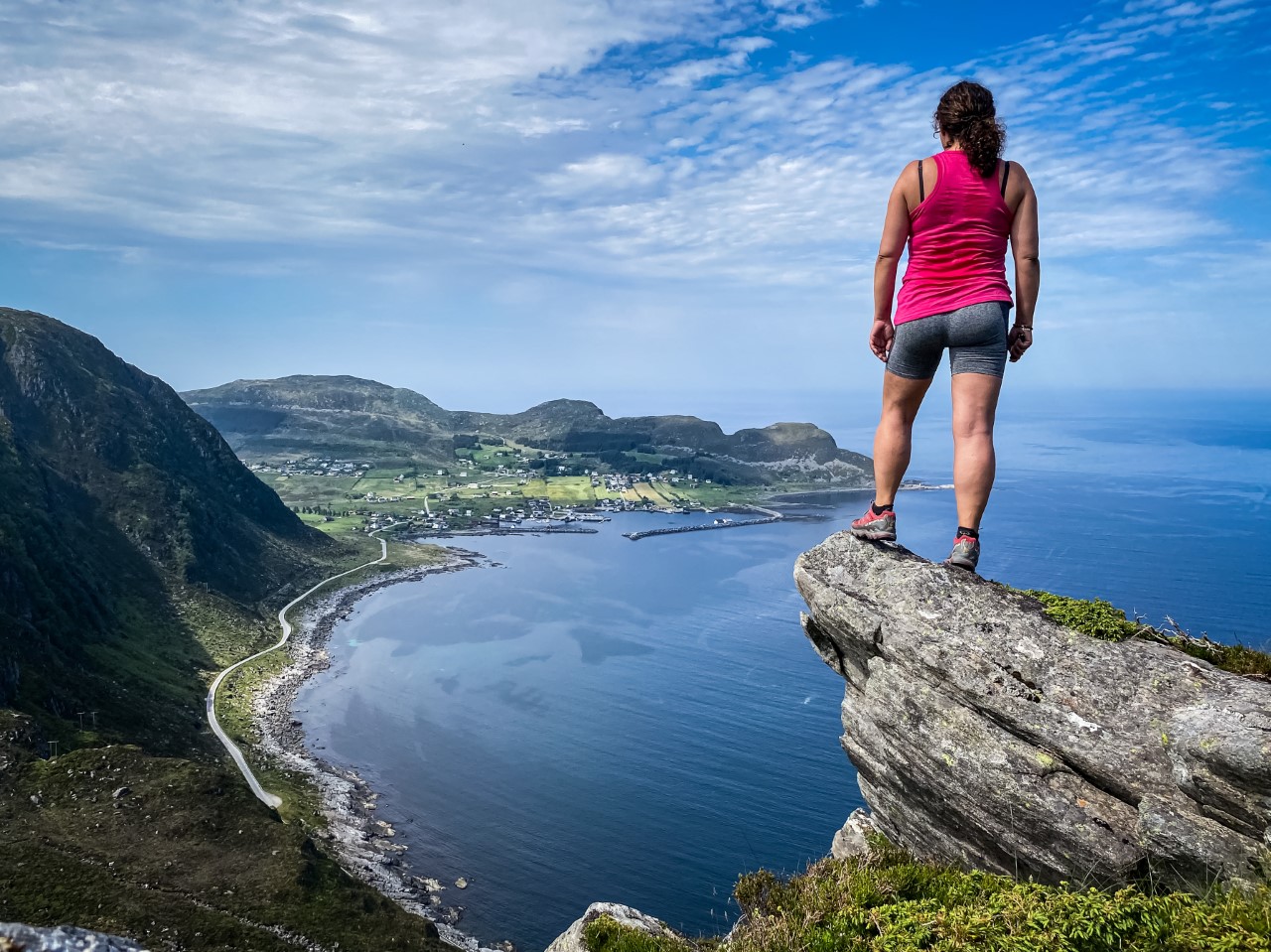 Photo: Mariann Skorpen Berge
-Around 100 business actors have received the offer to become partners in this venture. Everyone should be able to tell their story. The fishing capital in the past was Fosnavåg. We still do a lot of fishing and have a plan for the future. In the app, you can download a route called "Industry and commercial buildings", and learn more about business life here, says Hilde, who is clearly proud of the commitment and team spirit with which she has been met out here in the sea gap.
Guide routes across municipalities and counties
– The whole of Søre Sunnmøre is an exciting area to travel in. Since several players use the app, it gives us the opportunity to create routes across municipalities and in collaboration with others. This makes the experience of holidaying here in the county much better for tourists, concludes Hilde Gråberg Bakke, who has already received "WOW" from tourists who have tried the app. Now she is happy that more people download the app and come to visit Havlandet.
Runde Miljøsenter - excerpt from the app
… One percent of all fish caught in the world is born outside Runde, and the herring roe that lie beyond the seabed here weigh two to three times the entire population of Norway. …
Photo: Kristoffer Nærø Ytterland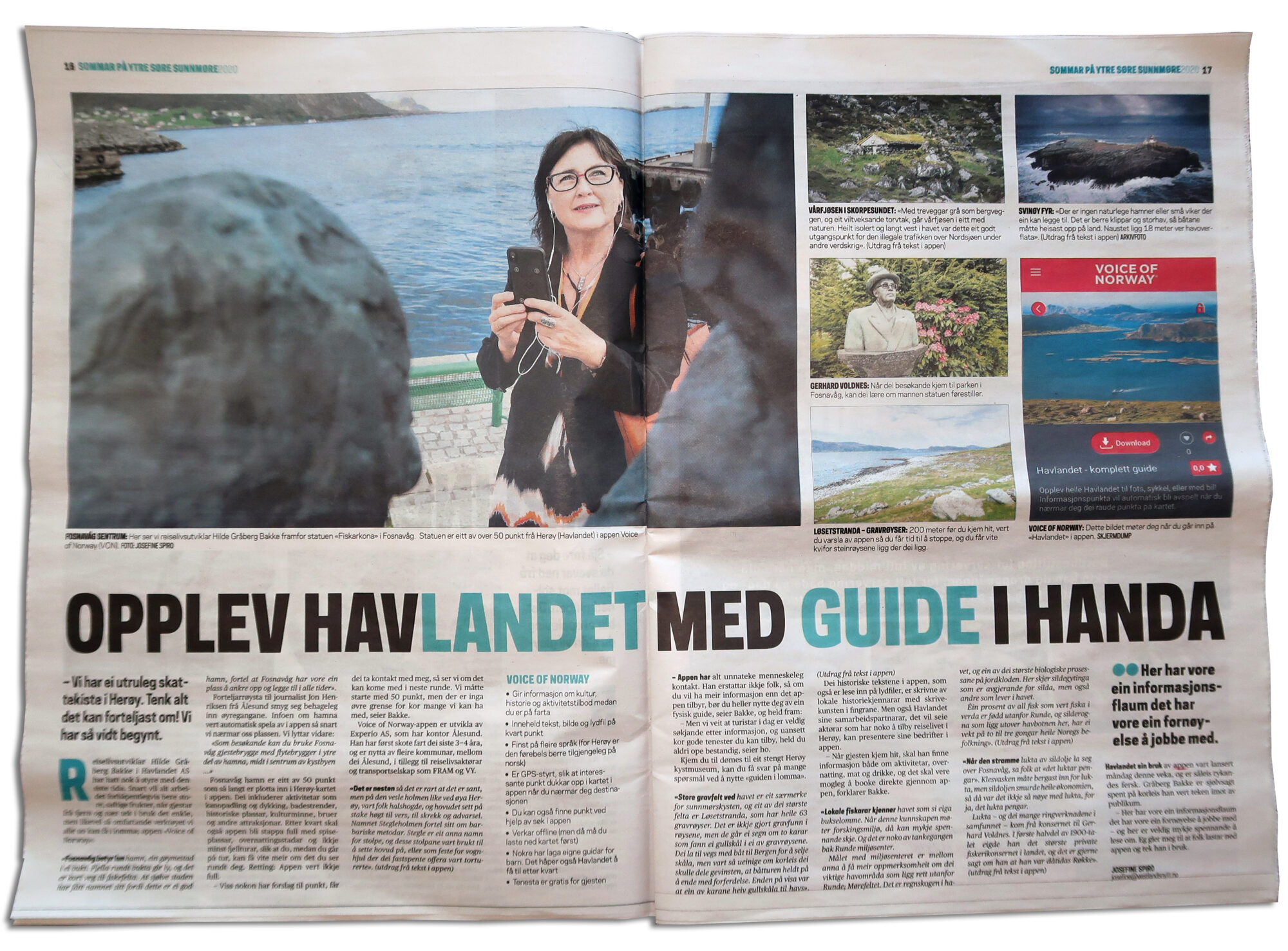 Vestlandsnytt newspaper on the 16 June 2020
Bruk samme App på reise gjennom hele Norge
Ta kontakt med oss for å få vite mer om hvordan du kan legge til rette for denne typen formidling i din region eller område!
Team Voice Of Norway
Telefon: 94096772